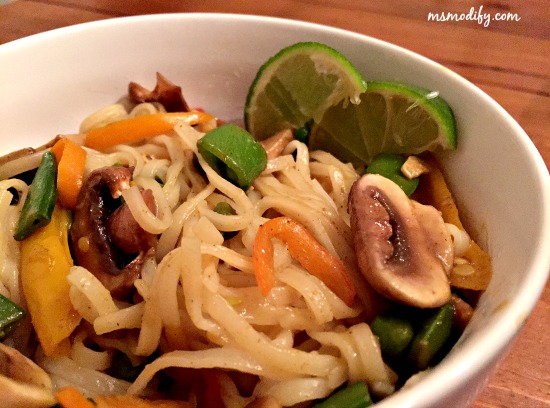 You know I love my one plate/bowl dinners. Veggies and noodles all in one bowl, not having to worry about side dishes… my kind of weeknight dinner!
This honestly came about by looking inside my refrigerator and seeing what I could throw together for dinner. It came out really good, so I've made it many times!
I hope you enjoy it!
Ingredients:
I box rice noodles
1 Tbsp olive oil
2 bell peppers, thinly sliced
¼ red onion, diced
1 cup snap peas, cut in thirds
1 cup frozen peas
1 cup mushrooms, sliced
1 ½ tsp curry powder
Lime wedges, to garnish
For the Sauce:
1 cup low sodium chicken broth
¼ cup low sodium gluten free soy sauce
1 Tbsp honey
1 Tbsp Sriracha sauce (optional and adjust amount to heat preference)
½ tsp ground ginger
2 tsp garlic, minced
Instructions:
Heat oil in skillet over medium-high heat. Add bell peppers, onion, snap peas and curry powder; stir fry for 4-6 minutes. Add in the mushrooms and peas; stir fry 2-4 minutes.
Add half of the sauce and continue to cook until most of sauce evaporates and vegetables soften.
Cook noodles according to back of the box. Don't overcook.
Once noodles are cooked, rinse and place back into pot. Pour vegetables into pot over noodles. Slowly add the remaining sauce, moving the noodles around as you do.
Top with lime juice.
Enjoy!