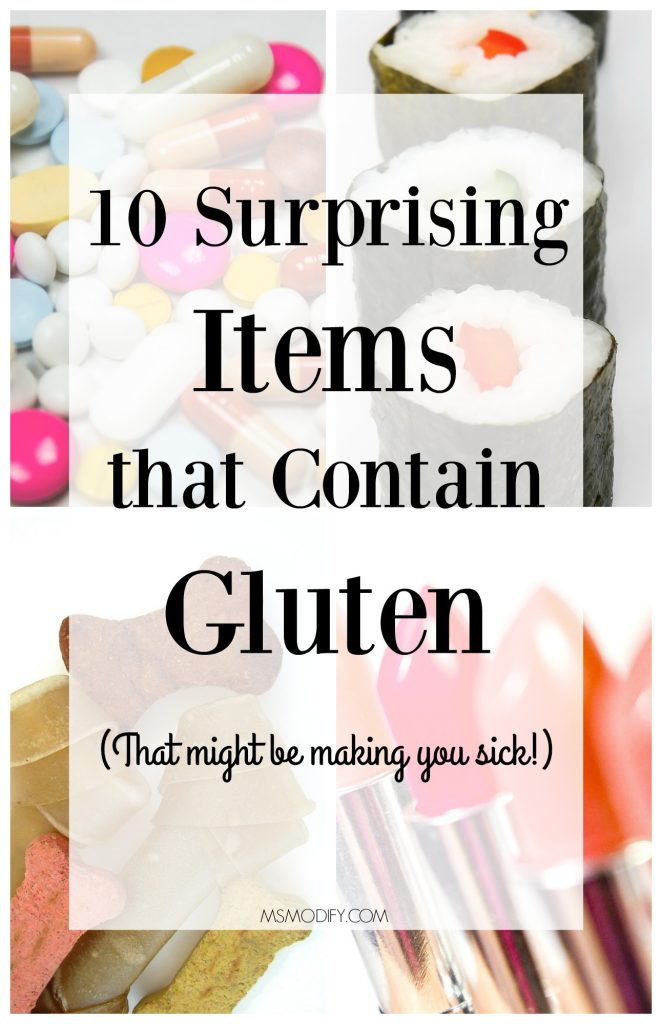 For those of us following a strict gluten free diet, reading food labels is a part of life. Gluten is something we think about often, especially before we put anything into our mouths. Typically when you think of gluten being used in items, you think of it as a "glue" that holds food together or a sticky binding substance. The first items that come to mind are bread and pasta, since they have that elasticity texture.
Sorry to tell you, gluten is found in many items that may shock you! Manufacturers often add gluten to products as a stabilizer and thickener. You may be surprised to learn that many of these products, some non-food, contain hidden sources of gluten.
10 Surprising Items that Contain Gluten:
Imitation Seafood: Often times imitation crab you may find in sushi contains fillers made from wheat.
Licorice: Many brands of licorice contain wheat, such as Twizzlers.
Beauty Products: Even though you're not ingesting beauty products, some products such as lipstick can easily enter your mouth. Many beauty products contain gluten in the form of wheat germ oil or hydrolyzed wheat protein. Hydrolyzed gluten is used to make emulsifiers and stabilizers. Ingredients containing gluten in beauty products are listed under a variety of names. To see specific ingredients to avoid, click here!
Stamp and envelope adhesive: This one is up for debate. Some say they contain gluten as a "glue" for the adhesive, and others say the glue is made out of corn. My feeling is licking envelopes is gross anyway, and I'd rather proceed on the side of caution, so I don't lick them! 
Play-Doh: Wheat flour is a main ingredient of Play-Doh. Even though you can't absorb gluten through your skin, many children place their hands and toys in their mouths, which can cause contamination.
Medication: Some medications contain gluten-based filler ingredients. These ingredients are often added to the active drug, so many pharmaceutical companies won't list this on the bottle. It's important you discuss the ingredients with your pharmacist or call the pharmaceutical company directly. It's recommended that you do this each time you get a new medication because pharmaceutical companies often change the inactive ingredients without warning. Generic drugs are more likely to contain gluten.
Vitamins and Supplements: As with medication, gluten may be used in vitamins and supplements as a binding agent.
Pet Food: Many brands of dog food, cat food (and kitty litter!) and fish food contain gluten. If you touch the food and then forget to wash your hands or if your pet licks you after eating, you could be getting contaminated.
Communion Wafers: Communion wafers are traditionally made from wheat, but now you can find some that are gluten free such as these.
Spices and Seasonings: In their pure form, spices and seasonings should be safe. However, be aware of spices with "declumping agents" as these often contain gluten. To see a complete list of gluten free seasonings click here.
As always, make sure you read labels and contact the manufacturer if you're unsure. Also, when in doubt… go without!
Question:
Which item on this list surprises you the most?