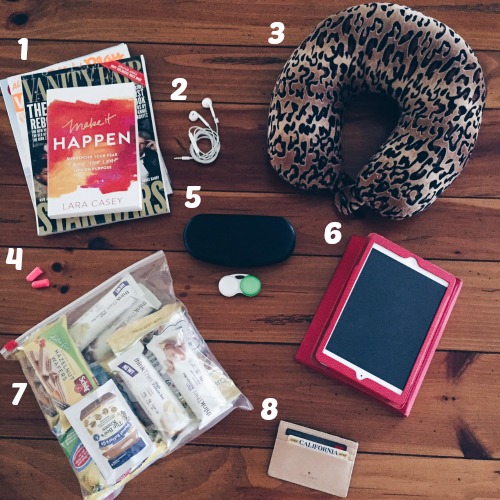 Since today is the last day of my Texas trip, I thought I would share with you what I put inside of my carry-on bag. I admit it, I over pack.. always! I pretty much always check luggage in. But now with all the fees being added to check-in bags, I may have to rethink my over packing ways! For now, here is a look at what goes in my carry-on:
1. Magazines/Book: These are a must for me. I normally pick up some magazines at the airport store.
2. Earbuds: It seems like I always forget to pack these and end up buying them in the airport (and paying way too much)! These are so important to have to listen to music, watch a movie, etc. My favorite ones are these.
3. Neck Pillow: I always bring my travel pillow for flights, especially long ones. There is nothing worse then not having it and falling asleep with your head back, and then waking up when your head falls to the side! I love my leopard print one. (Everything is better in leopard print!)
4. Ear Plugs: These are a lifesaver! Not only do I wear them on the plane when I want to sleep, but also at the hotel at night. This brand is my favorite! They are really soft and comfortable (and cute)!
5. Glasses/Contacts: This is really important. Since I'm one for checking luggage in, I always bring my glasses just in case my luggage gets lost. Unfortunately I learned this the hard way! Once my bags got lost and I didn't have my glasses on me, so I was stuck wearing my contacts for four days (I'm blind without them)! That was not fun!
6. iPad: This really needs no explanation other then it's nice having it on the plane and during a trip. The case I have makes it really convenient to watch Netflix on it!
7. Gluten Free Snacks: This is a must! I always pack a large bag filled with gluten free snacks (protein bars, cookies, crackers, peanut butter packs, etc). Not only is this good for the flight, but also during the trip and the way home.
8. Card Holder: In addition to having my purse with wallet in it, I always travel with my card holder wallet. This is helpful when at the airport, it securely holds my id but it's easy to get it out when I need it. Once I was in a rush at the airport and put my id in my front pocket and bent down to get something… my id bent in half. Yup, and then later it broke in half!
So there you have it… my carry-on bag essentials! I would love to hear any tips you have when packing your carry-on! Next time I'll share pictures from our trip!