A twist on a comfort food favorite. This shepherd's pie is made with sweet potato and is paleo, gluten free and Whole30 friendly!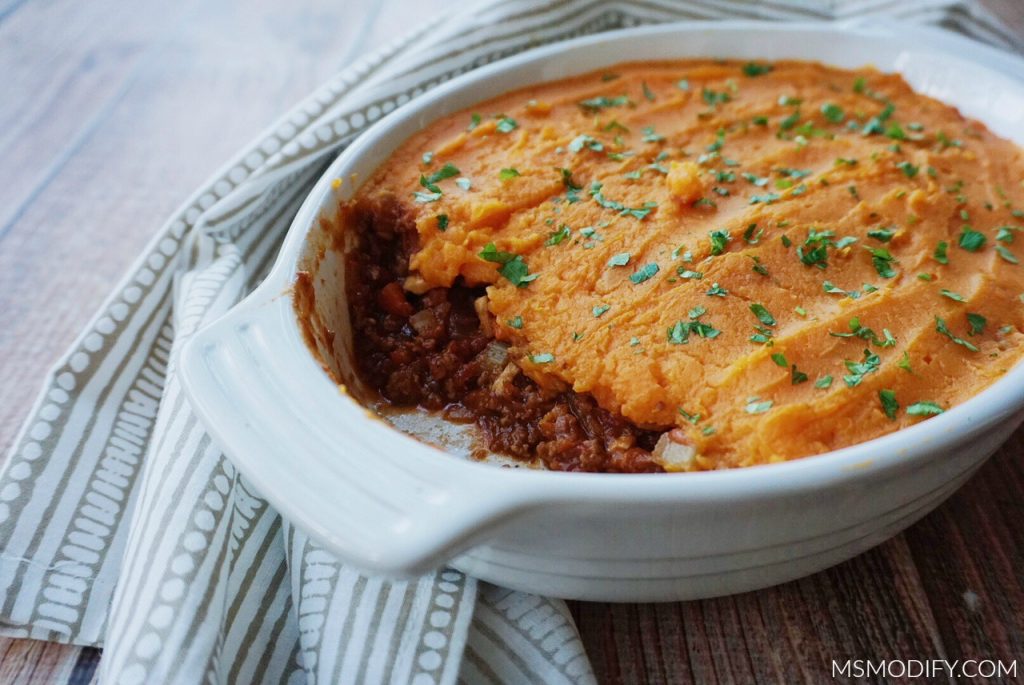 I didn't grow up with shepherd's pie. In fact, I didn't even know what it was until recently! Ya, apparently I've been living under a rock. I grew up in a Greek house, so that was not on the menu!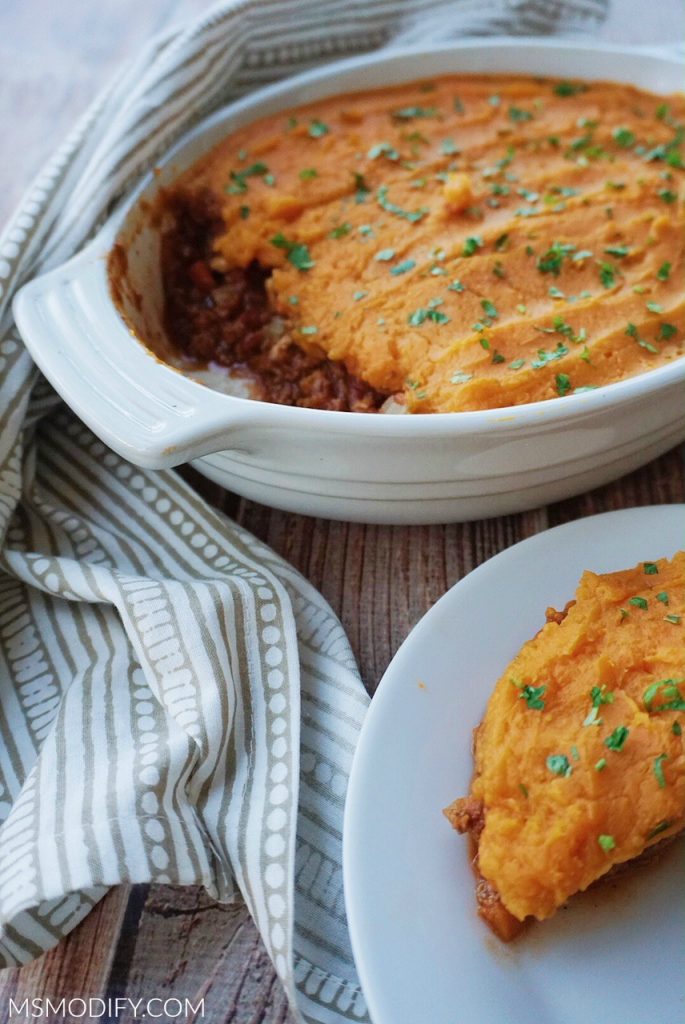 I saw a recipe for shepherd's pie in a magazine and it caught my attention, except it had many things in it that I don't eat, such as cream sauce and flour. The idea of potatoes over meat intrigued me, especially for Erik who is a meat and potatoes type of guy!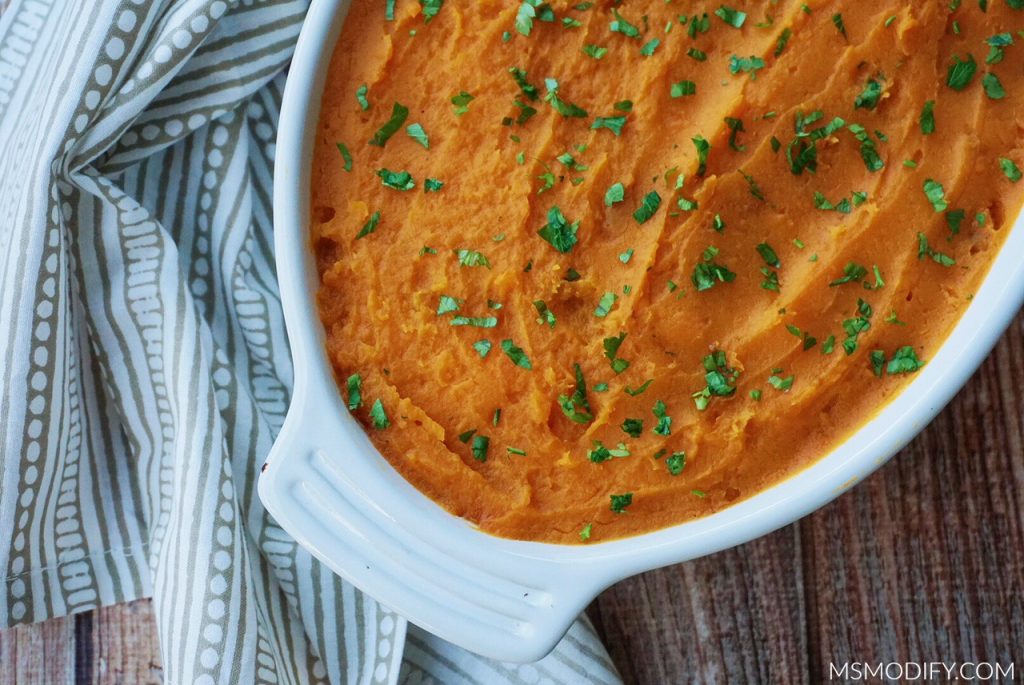 I decided to modify a traditional shepherd's pie, making it a healthier version that is friendly for certain dietary needs…all while keeping it hearty!
This sweet potato shepherd's pie is now a staple in our house! It's so simple and also makes for great leftovers!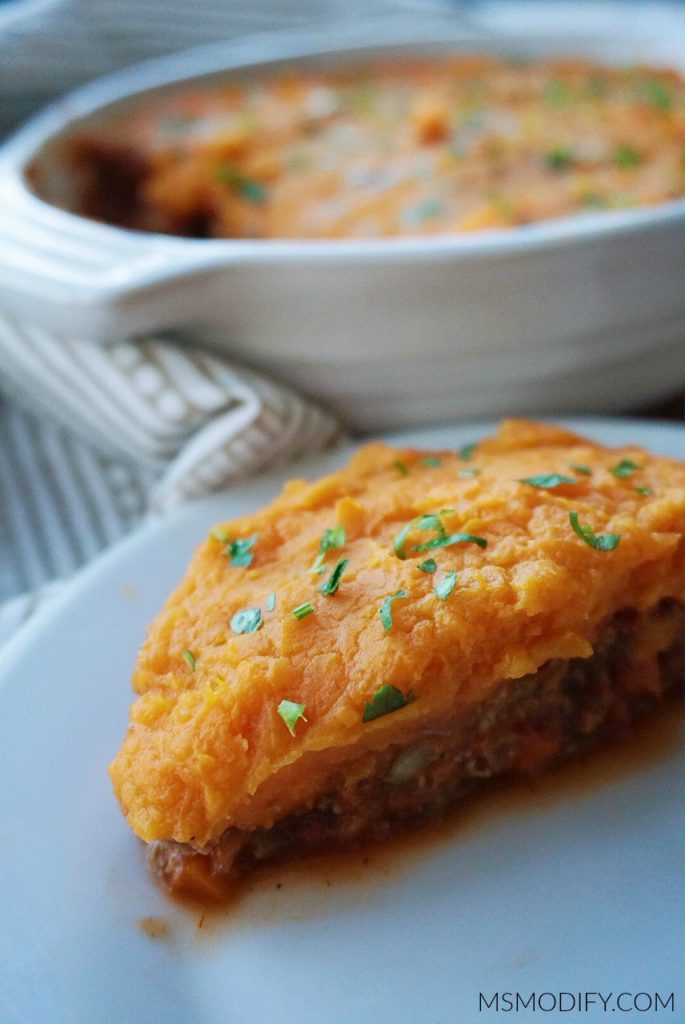 Ingredients:
1 Tbsp olive oil

1 lb grass-fed ground beef (or ground turkey if you prefer)

1 yellow onion, chopped

3 cloves of garlic, chopped

3 stalks of celery, chopped

3 carrots, peeled and chopped

½ bell pepper, chopped

1 cup mushrooms, chopped

1 tsp Italian seasoning

¾ tsp chili powder

1 cup beef broth

1 can (14 oz.) diced tomatoes

1 can (6 oz) tomato paste

Salt & pepper, to taste

3 sweet potatoes

1 Tbsp butter or coconut oil

Salt

Chopped parsley, to garnish
Instructions:
Preheat oven to 375 degrees.
Bake sweet potatoes for about 45-60 mins, or until you can put a fork in them.
While the sweet potatoes are baking, heat olive oil over medium heat in a deep skillet.
Add the beef and cook until browned. Add the onion, garlic, celery, carrots, bell pepper and mushrooms. Continue cooking so the veggies soften.
Add in Italian seasoning, chili powder, beef broth, diced tomatoes, tomato paste and salt & pepper. Bring to a boil and cook until most of the liquid has evaporated. Lower heat and let simmer to thicken. Stir frequently.  
When the sweet potatoes are done, place in a food processor (or you can mash my hand) with butter (or coconut oil) and process until smooth. Add in salt to your liking.
Transfer meat filling into a 9×13 baking dish and top with sweet potato. Smooth so the sweet potato evenly covers all of the meat.
Bake for 10 minutes.
Remove from oven and sprinkle parsley on top.

Enjoy!