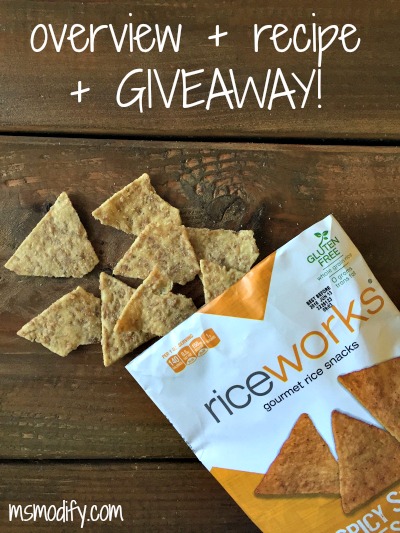 You all know I'm a big snacker! Hands down my snack of choice is always chips! I never crave sweets… just the salty goodness of chips! I recently discovered Riceworks and let me tell you, I no longer feel guilty about my chip obsession!
Riceworks are gourmet chips that are a healthier alternative to classic favorites. They are always gluten free and with no artificial flavors or preservatives.
The texture is harder than your average chip, closer to rice crackers but the flavors are bold. They remind me of a healthier version of Doritos.
Riceworks Crisps have:
• No gluten
• No high-fructose corn syrup
• No cholesterol
• No preservatives
• At least 1 gram of fiber per serving
• Milk-free flavor options
They come in 8 great flavors: Sweet Chili, Sea Salt, Salsa Fresca, Sundried Tomato Mediterranean Herbs & Cheese, Wasabi Soy & Ginger, Olive Oil Parmesan Basil, Rosemary Garlic Balsamic Vinegar and Spicy Spanish Cheese Blend.
You can find where to buy them near you by clicking here!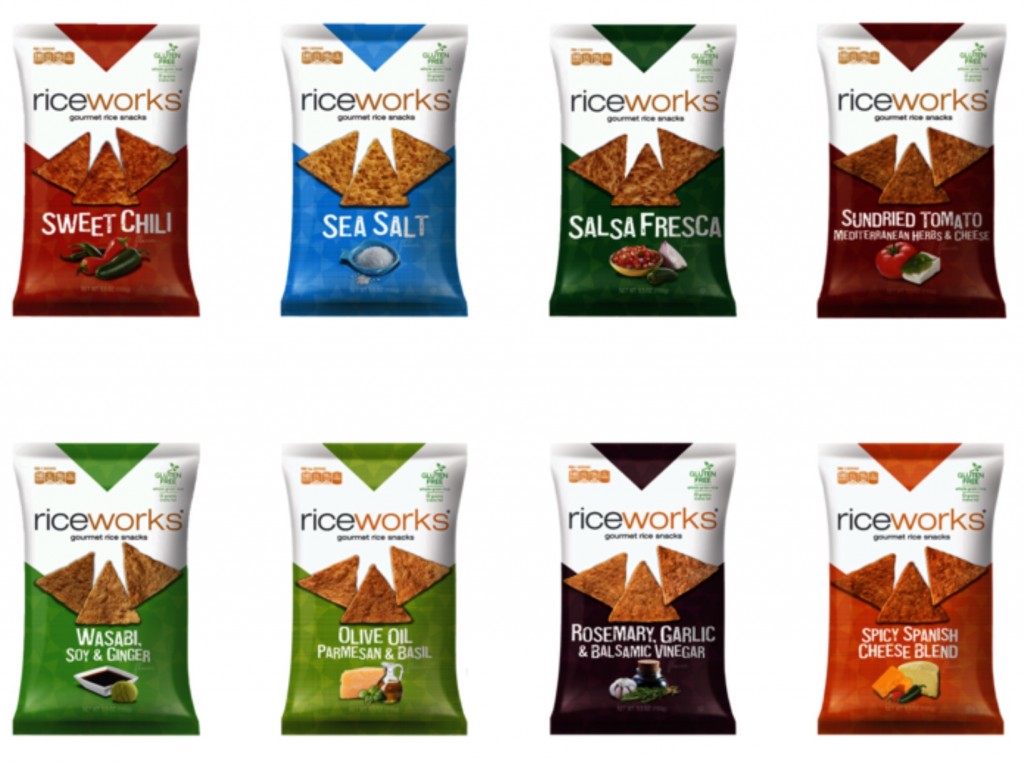 I made a healthy snack using the Wasabi Soy & Ginger Riceworks Crisps that I want to share with you! Here are Baked Green Bean Fries with Creamy Sriracha Sauce… let me tell you, I ate a huge plate of them… and didn't feel guilty! 🙂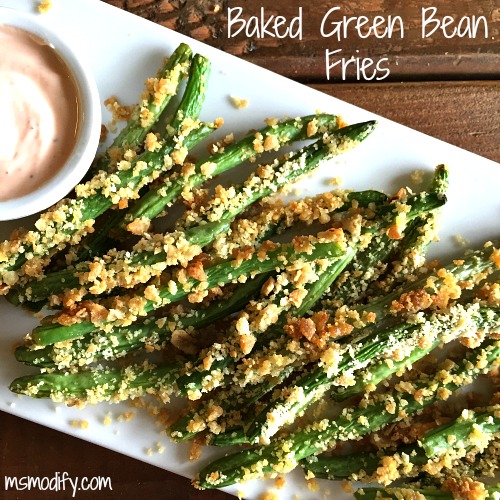 Ingredients:
1 lb green beans
1 egg
2 Tbsp olive oil
1 bag Riceworks Wasabi Soy & Ginger Chips
Creamy Sriracha Sauce:
½ cup plain Greek yogurt
1 ½ tsp Sriracha sauce
¼ tsp GF soy sauce
¼ tsp honey
Salt & pepper, to taste
Instructions:
Preheat oven to 425 degrees. Grease baking pan (or use parchment paper) and set aside.
Put chips into a Ziploc bag and crush (I used a meat tenderizer). Then place crushed chips into a bowl.
In another bowl, whisk egg and oil together until evenly combined.
Dunk green beans in egg mixture, then place into chip mix. Press chips into green beans to make sure they stick.
Place green beans on baking pan in a single layer.
Place in oven and bake for around 15 minutes, or until crispy.
In a small bowl, mix all ingredients for dipping sauce. Stir together so everything is evenly mixed. Set aside.
Serve green bean fries with creamy sriracha sauce.
Enjoy!

Riceworks is giving away 6 bags of chips and a $25 Visa Card to TWO of you!!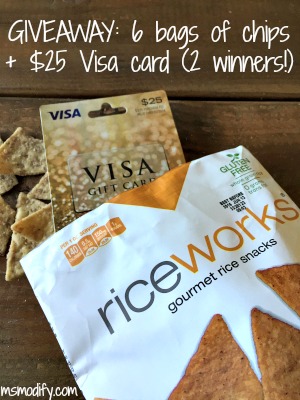 All you need to do is enter the Rafflecopter below to be entered to win! You have one week to enter.  A winner will be selected and announced next Friday. Best of luck!! Must be a US resident to enter Giveaway.
*Thank you to Riceworks for kindly sponsoring this post. All opinions are 100% honest & completely my own.