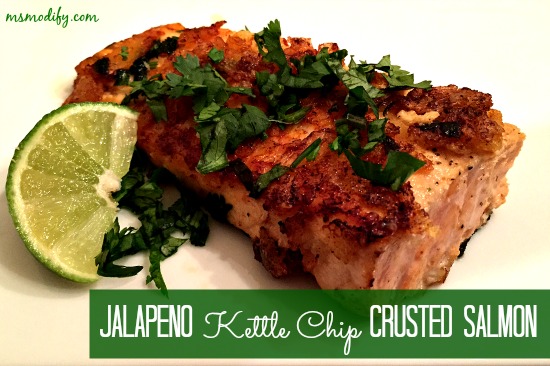 I'm excited about this one! Chips are my weakness (okay French fries too!)… I think it's the saltiness I love. Kettle Brand chips in my opinion are the best… and they're certified gf.  Salt & Vinegar and Jalapeno are tied as my favorites!
Just the thought of them makes my mouth water!
I really don't think this recipe needs much explanation! Don't worry…if you're not someone that loves spicy things, it's not too hot. Just enough kick.
I hope you'll love this as much as I do! 🙂
Ingredients:
4 pieces salmon
3 Tbsp cilantro, chopped (separated in half)
1 bag Kettle Brand Jalapeno Chips, crushed
½ lime, juice of
3-4 Tbsp olive oil
Pepper, to taste
Lime wedges, to garnish
Instructions:
Mix olive oil and lime juice into a small bowl. In another bowl, mix crushed chips and half of the cilantro.
Dip salmon into oil mixture then roll in crushed chips.
Drizzle olive oil in pan over medium heat. Place fish in pan and sprinkle with pepper. Cover and let cook around five minutes on each side, or until fish is cooked through and flakes apart.
Top with remaining cilantro and serve with a wedge of lime.
Enjoy!