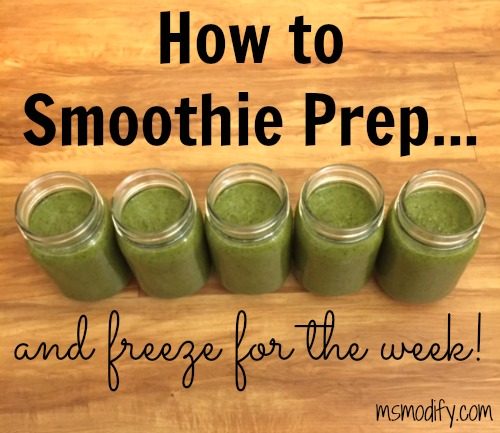 I've shared before that I'm a big fan of green smoothies to get my day going. I swear when I start my day with one of them I have way more energy and it holds me over until lunch. The only downside to making smoothies each morning, is that if I'm in a hurry it's a pain to prep and make one… or even wash my blender if I've pre-made frozen smoothie bags.
Recently I made a big batch, poured them into freezer-safe mason jars and froze them. The night before we wanted them, we put two into the fridge and then in the morning they were the perfect consistency! This is my new favorite way to make green smoothies… no more washing the blender every morning!
Here's what I've been blending up recently!
1 bunch of kale
2 green apples, peeled
1 banana
1 sliver ginger
1 cucumber, peeled
1 large handful parsley
3 stalks celery
1 pint strawberries
3\4 cup Greek yogurt
1 cup water (more if needed)
Instructions:
Depending on your blender (I use a Ninja and love it!), you may need to put a little of each item at a time and blend smaller batches. Add more water as needed in order to get the consistency of your choice. Once it's all blended, pour into a mason jar, leaving some room at the top. Then, add the lids and place in the freezer. The night before you want them, put into fridge and then enjoy in the morning!
Happy blending!! 🙂