These Greek holiday cookies, called Kourambiedes, are covered in powdered sugar, melt in your mouth and have been modified from my grandma's recipe to be gluten free!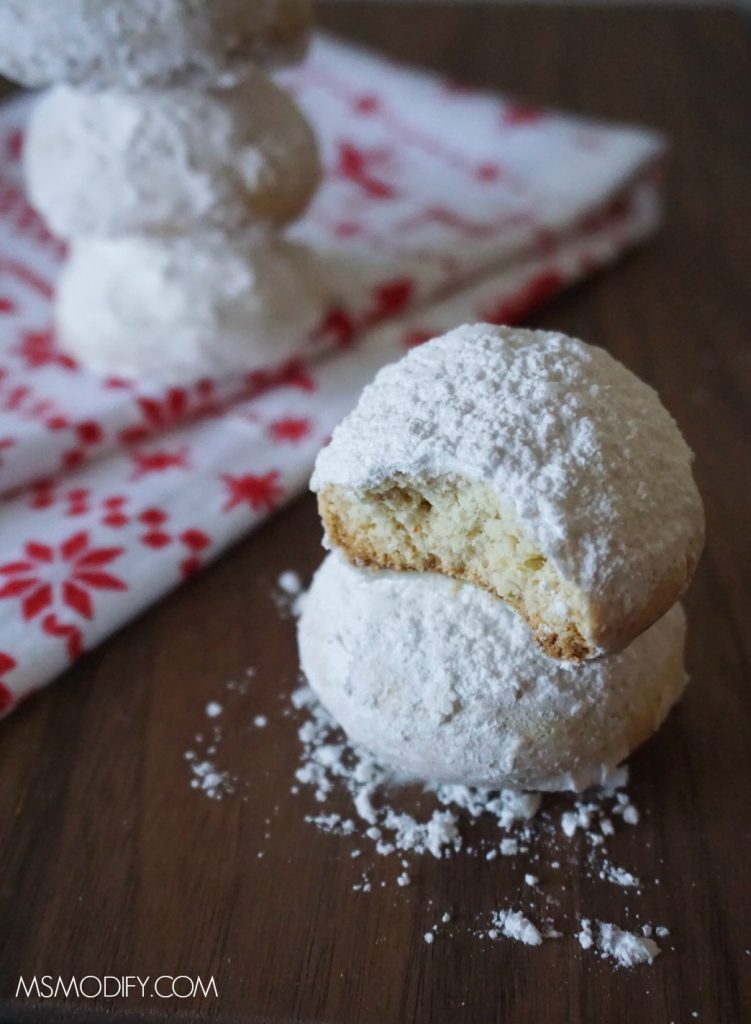 This recipe is bittersweet for me to share. These Greek Christmas Cookies, called "Kourambiedes" are something I've made every year with my grandma ("yia yia") since I can remember. This being our first holiday season without her, it was hard to make them alone. But at the same time, I knew she'd want me to carry on our tradition.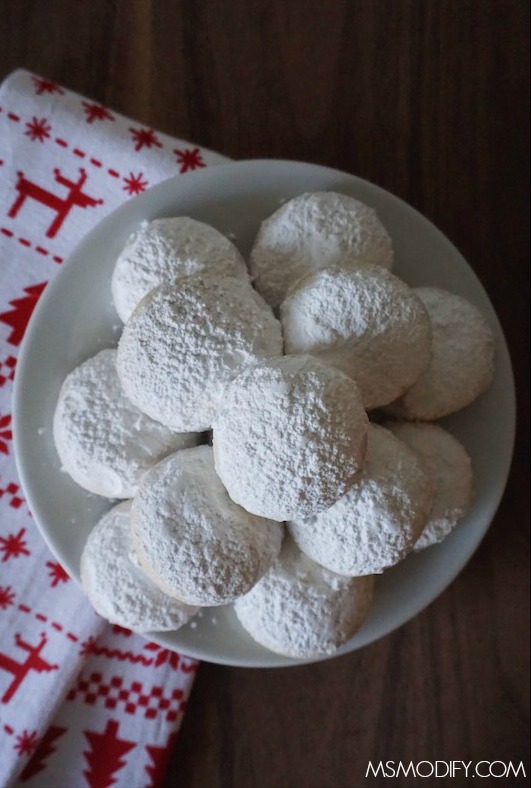 I decided to modify them to be gluten free so that I can enjoy them too! Even though she was not here making them with me, I felt like a part of her was. As I tried to figure out and adjust her measurements, I could envision her saying "this much sugar!"… holding out her hand and getting mad when I tried to put everything into measuring cups!
These Kourambiedes are a staple in every Greek house during the holidays, and I hope you enjoy them as much as we do!
Ingredients:
1 cup unsalted butter, at room temperature
2/3 cup sugar
2 egg yolks
1 tsp vanilla extract
1/2 tsp baking soda
2 Tbsp brandy
3 cups gluten free flour (I always use Cup4Cup)
1 cup almonds, coarsely chopped
3 cups confectioners sugar
Instructions:
Preheat oven to 350 degrees. Line a cookie sheet with parchment paper and set aside.
Cream the butter and sugar in mixer for about 15 minutes, until light and fluffy.
Beat in the egg yolks one at a time.
Add the baking soda, brandy, vanilla and gradually add the flour until you have dough (add more flour as needed).
Stir in almonds and knead lightly.
Break off small pieces of dough (about 1 1/2 tsp), form into ball (or whatever shape you'd like).
Place on baking sheet and lightly flatten each dough ball.
Bake for 15-20 minutes, or until pale gold. You do not want them to brown.
While the cookies are baking, cover serving plates with about 1 1/2 cups of confectioners sugar (just make sure the plates are covered).
As soon as the cookies come out of the oven dust them generously with half of your remaining confectioners sugar.
Let them cool only for a couple minutes (you want them warm), and carefully transfer them to sugar-coated platter. Sift the remaining sugar on the cookies, making sure they're completely covered.
Let cool and then serve!
*My yia yia always served them in cupcake liners because they're quite messy and this way if you hold up the the liner to your mouth as you bite into the cookie, all the sugar gets caught.

Enjoy!
Question:
Does you family have a tradition of making certain cookies during the holidays?