This moist gluten free bread loaf made with eggnog, brandy and nutmeg, topped with a brandy glaze makes the perfect Christmas morning treat or holiday gift!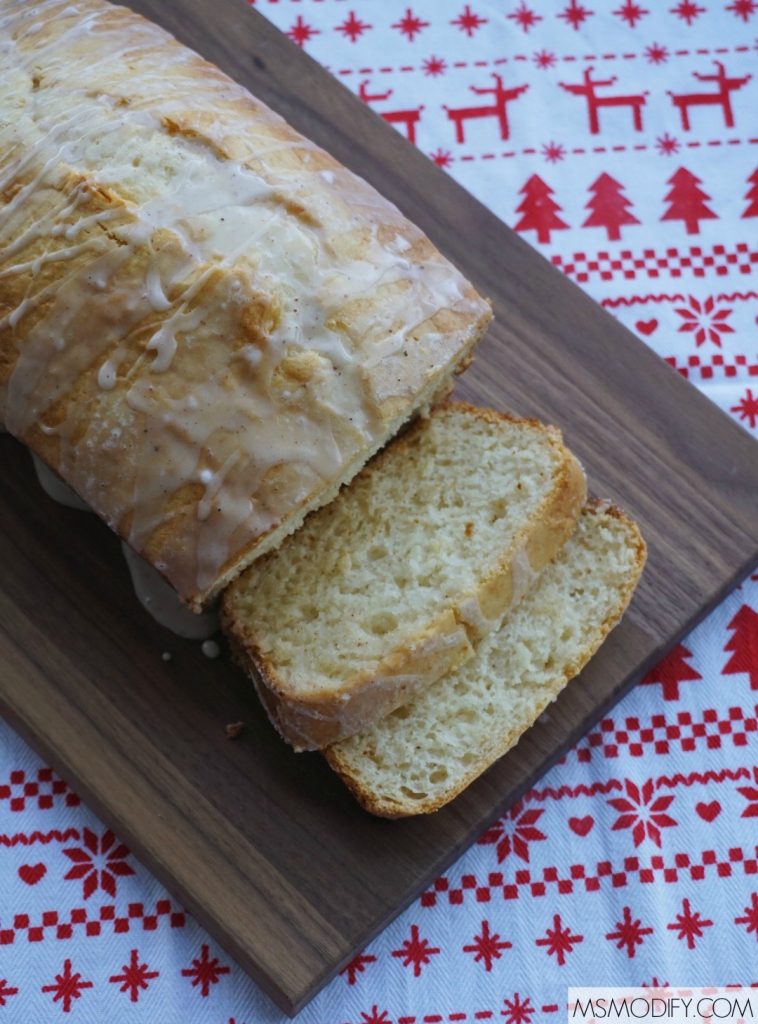 I'll be honest, I always thought I hated eggnog because I remember trying it as kid and not liking it. But, one day I was grocery shopping and saw a large display of eggnog and thought I would give it a try again… and guess what?! It's pretty darn good!
I don't think I could drink a large glass of it because it's a little too rich for me, but when used in baking it's pure perfection! Even if you think you're not an eggnog fan, I say give this gluten free eggnog bread a chance! The eggnog flavor is subtle enough to not overpower the bread, yet the mixture of the eggnog, brandy and nutmeg is enough to make a lasting impression!
This bread is moist and light, almost like a sponge cake, rather than a dense loaf of gluten free bread!
Toasting slices and topping it with butter is the perfect simple breakfast on Christmas morning.
Ingredients:
For the Bread:
2 cups gf flour (I used Cup4Cup as always)
1 Tbsp baking powder
½ tsp salt
1 cup sugar
1 egg
1 ½ cups eggnog
1/3 cup Greek yogurt (I use plain, but you could use vanilla if you prefer it sweeter)
1 tsp vanilla
2 tsp brandy
1/2 tsp ground nutmeg
For the Glaze:
½-1 cup powdered sugar
2 Tbsp eggnog
2 tsp brandy (optional)
1/4 tsp nutmeg
Instructions:
Preheat oven to 350 degrees. Grease a 9 inch bread pan and set aside.
Mix sugar, egg, vanilla, Greek yogurt, brandy and eggnog in bowl until combined.
Then stir in dry ingredients until evenly mixed.
Pour batter into your prepared pan.
Bake in oven for 60-65 minutes or until toothpick comes out clean when inserted. (*This is based on using Cup4Cup flour. I've heard from people when using other brands, timing may need to be longer. If using another brand of gf flour, please time based off checking with a toothpick until it comes out clean!)
Allow bread to cool.
Mix glaze and pour over loaf of bread.

Enjoy!
Question: