If Almond Joy candy bars are a favorite of yours, then this cake is meant for you! Chocolate, coconut and almonds all wrapped into one gluten free cake!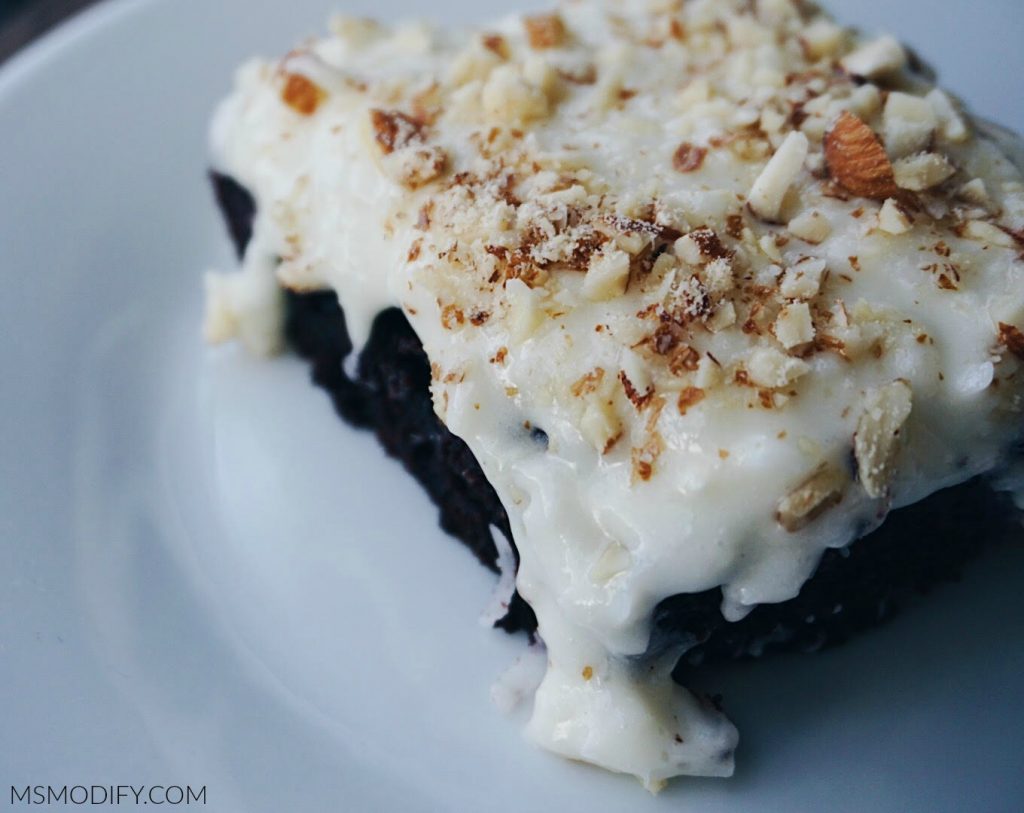 When my husband told me to surprise him with any cake for his birthday last week, I instantly knew I wanted to make an Almond Joy inspired cake.
Although you wouldn't think so based off this cake, we do eat really healthy at home and never have candy in the house, so I thought it would be a fun surprise for Erik to have this cake since Almond Joy is one of his favorites.
Let me tell you… this did not disappoint! I'm not a huge chocolate fan and even I devoured my piece! 🙂
Side note: Our non-gf-eating friends were over and couldn't believe this was gluten free!
Ingredients:
1 box gluten free chocolate cake mix (& everything you need to make it)

1 can coconut milk

1 (8 oz) package cream cheese, softened

½ cup butter, softened

3 Tbsp coconut milk, plus more as needed

3 cups powdered sugar, plus more as needed

1 tsp vanilla extract

1 (7 oz) package shredded coconut 

½ cup chopped almonds
Instructions:
Preheat oven to 350 degrees. Grease a 9×13" pan and set aside.
Prepare cake mix according to box instructions, pour into your prepared pan and bake 28-30 mins or until toothpick comes out clean when inserted into cake.
Remove cake from oven and immediately poke holes throughout cake with the back of a wooden spoon or fork (for smaller holes).
Pour ½ cup coconut milk all over cake.
Set cake aside to cool to room temperature.
Beat cream cheese and butter with an electric mixer until creamy.
Add coconut milk and vanilla, continue beating.
Gradually add powdered sugar, beating until smooth.
Stir in shredded coconut.
Spread frosting over cake and top with chopped almonds.
Refrigerate for one hour before serving.
Enjoy!