Simple, yet healthy frozen treats made with fresh blueberries, Greek yogurt and honey. These protein-filled popsicles are perfect to beat the summer heat!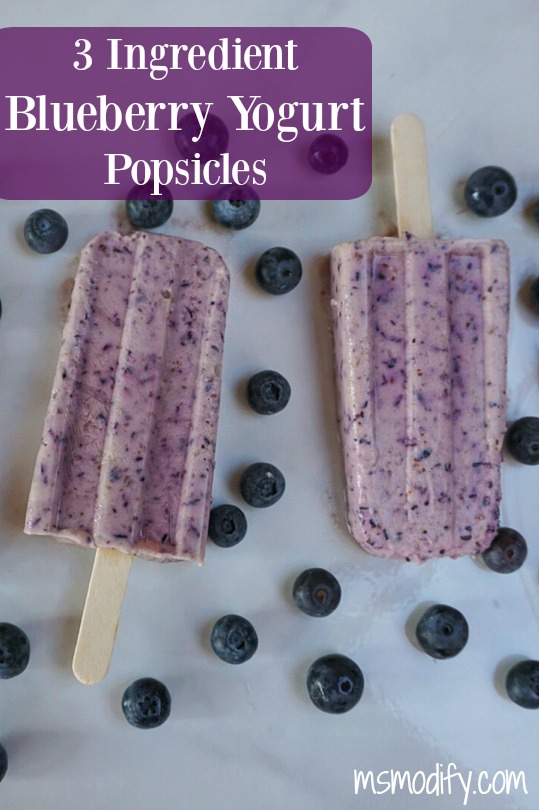 Summer screams frozen goodies, yet they're often filled with lots of sugar and empty calories. I decided to make a healthier version and came up with these blueberry yogurt popsicles. Not only are they super easy to makes… hello 3 ingredients… but they also have protein in them!
Ingredients:
2 cups blueberries
2 cups Greek Yogurt (You can use plain or vanilla for a little more flavor)
2 Tablespoons honey
Popsicle molds (I use this one!)
Popsicle sticks
Instructions:
Popsicle molds should be room temperature before using them.
Blend blueberries in your food processor or blender until they're the consistency of a smoothie.
Add blueberry liquid, Greek yogurt and honey into a bowl and mix until evenly combined.
Pour mixture into the molds, leaving about an inch at the top.
Put molds in freezer and after about one hour, place wooden sticks inside each mold and continue to freezer for at least 6-7 hours.
Run bottom of popsicle molds under hot water for about 30 seconds to remove popsicles. If they don't remove run them under hot water for a few more seconds.

If you don't have time to make your own popsicles, don't forget to check out the list of gluten free popsicle flavors!
Enjoy!