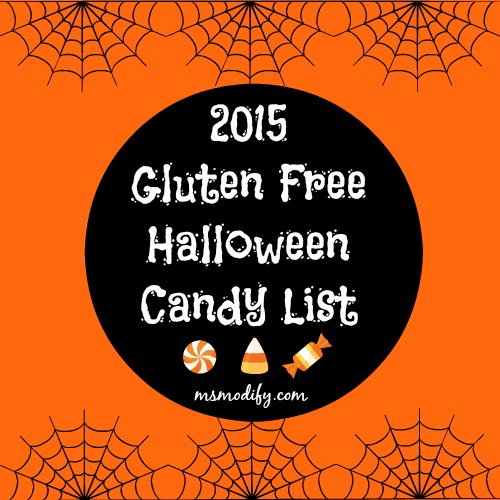 It's that time of year again! We need to buy candy for Halloween, but don't want to get sick and don't want to spend hours at the store reading labels trying to figure out what we can and cannot eat. Don't worry, I've got you covered! 🙂 I've put together a list of some of the more popular brands of candy you may be wondering about. I also put all the contact info for each company. Remember as always, when in doubt go without!!
Hershey's
1(800) 468-1714
• Almond Joy (all except almond joy pieces candy)
• Heath Bars
• Hershey's Milk Chocolate Kisses
• Hershey's Filled Chocolate Kisses
• Hershey's Milk Chocolate Bar (1.55 oz. only)
• Hershey's Milk Chocolate with Almonds Bar (1.45 oz. only)
• Hershey's Nuggets
• Milk Duds
• Mounds
• Payday
• Reese's Peanut Butter Cups (all except for seasonal shaped items)
• Reese's Pieces Candy (all except egg shaped)
• Rolos (all except minis)
• YORK Peppermint Pattie – (All Except YORK PIECES Candy, YORK Minis, and YORK Shapes (5 oz.)
Just Born
1(888) 645-3453
• Mike & Ike:
o Assorted Fruits
o Berry Blast
o Hot Tamales
o Italian Ice
o Jelly Beans
o Jolly Joes
o Lemonade Blends
o Mummy Mix & Vampire Variety Treats
o Mummy Mix Tube
o Original Fruits
o Redrageous
o Strawberry Reunion
o Tangy Twister
o Tropical Heat
o Tropical Typhoon
o Vampire Variety
o Zours
• PEEPS:
o Chocolate Crème mini
o Chocolate mousse flavored cats
o Flavored Marshmallow chicks (except snack size)
o Marshmallow ghosts
o Strawberry Crème mini
o Sour Watermelon mini
o Sweet lemonade
o Sugar free marshmallow pumpkins
o Vanilla Crème
Nestle
1(800) 225-2270
• Baby Ruth
• Bit-O-Honey
• Butterfinger (original flavor only, not giant bar)
• Goobers
• Milk Chocolate Goobers
• Nips (including both regular and sugar-free)
• Oh Henry!
• Raisinets (all flavors)
• Sno-Caps
• Wonka Pixy Stix
• Laffy Taffy
• Laffy Taffy Rope
• Wonka Lik-M-Aid Fun Dip
Tootsie Roll Industries:
1(773) 838-3400
• Andes
• Caramel Apple Pops
• Cella's Dark Chocolate Covered Cherries
• Cella's Milk Chocolate Covered Cherries
• Charms Blow Pops
• Charms Candy Carnival
• Charms Pops
• Charms Sour Balls
• Charms Squares
• Charms Super Blow Pops Child's Play
• Dots
• Fluffy Stuff Cotton Candy
• Frooties
• Fruit Rolls
• Fruit Smoothie Pops
• Junior Caramels
• Junior Mints
• Pops Galore
• Sugar Babies
• Sugar Daddy Pops
• Sugar Mama Caramels
• Tootsie Peppermint Pops
• Tootsie Pops
• Tootsie Rolls
• Tropical Dots Tropical
Mars
1 (800) 627-7852
They no longer provide a gluten free list. According to their website:
"1) We will always declare the presence of any of the top allergens (peanuts, tree nuts, milk, egg, soy, wheat, fish and crustacean shellfish) whenever they are part of the recipe regardless of the source (e.g., flavors, spices, colors, other minor ingredients, etc.).*
2) We label these allergens in commonly understood terms at least once within the ingredient listing (e.g., casein (milk)"
Surf Sweets:
1(224) 676-1070
According to their website: " Our products are both manufactured without wheat and made in a facility that is free of wheat, making them suitable for people with celiac disease or following a gluten-free diet."
Jelly Belly:
1(800) 522-3267
According to their website: "All flavors of Jelly Belly beans are free of gluten. We do not use any wheat, rye, barley, or oats in the basic recipe for Jelly Belly jelly beans. The modified food starch listed on the package is cornstarch."
Smarties:
According to their website:
"All Smarties® products are gluten-free and safe to eat for people with Celiac Disease. Furthermore, Smarties® products are manufactured in facilities that produce exclusively gluten-free candies."
For a more extensive and complete list check out:
If you know of any other candies that are gluten free I'd love to know! Happy trick-or-treating friends!
**This list is for the US. If you're in another country, please contact the manufacturer first.