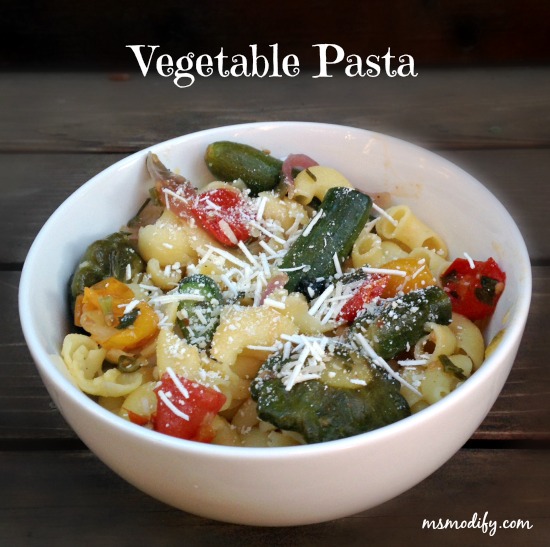 I don't know about you, but I love when I can make dinner when it's just one thing…not having to make a main dish and then sides to go with it. Most nights I work late, so this type of meal is much easier for me to make when I'm in a hurry to get dinner on the table.
Feel free to modify the vegetables you put into the pasta! Also, I  try to get the most bang for my buck (nutritionally speaking) so I almost always use quinoa pasta instead of corn or rice pasta… why not get a little protein from my pasta!? If you haven't tried quinoa pasta I highly recommend you do.
Ingredients:
Sauce:
*3 medium zucchini, cut
*3 medium yellow squash, cut
½ red onion, sliced thinly
1 cup cherry tomatoes, cut in half
½ cup fresh Italian parsley, chopped
½ cup fresh basil, chopped
2 Tbsp olive oil
Salt and pepper, to taste
Parmesan cheese, to top, optional
*I use half a bag of mini zucchini and squash medley from Costco.
Pasta:
1 (8oz) box of quinoa elbow pasta (I use Ancient Harvest)
1 tsp olive oil
1 tsp butter/margarine
2 garlic cloves, minced
Instructions:
Put all sauce ingredients into a sauce pan and sauté over medium heat until vegetables are tender, or cooked to your desire.
In a separate pot, bring 4 quarts of water to a boil. Add pasta to boiling water, return to a boil, stirring frequently. *Cook uncovered for 6-9 minutes. Drain pasta in a colander. Place butter, olive oil, and garlic cloves in pot and sauté for a few minutes. Add pasta and mix well. Put pasta in a bowl and top with vegetables. Sprinkle with parmesan cheese.
*Don't over cook pasta. Water will turn yellow and get a little thick, that's normal!
 Enjoy!