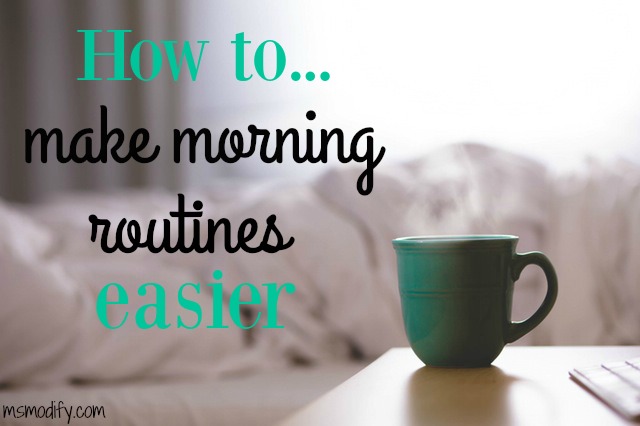 When your alarm goes off in the morning are you someone who runs around frantically to get out of the house… hoping not to forget anything, having everyone fed and get to school/work on time? Whether you have kiddos to get ready and get to school in the morning, or just need to get yourself to the office in time, I've got you covered!
Here are some simple tips to make morning routines easier:
Pack Lunches the Night Before: This goes along with meal planning. Whether you're planning on packing leftovers or even a sandwich for lunch, don't wait until the morning… chances are if you do you won't take a lunch! Pack lunches the night before, pop them in the fridge and then just grab them in the morning!
Pick Clothes the Night Before: Take a few minutes the night before and plan out everyone's outfit for the next day. If something needs to be ironed, do it then too! Either put the outfit in the front of the closet or lay it out on the dresser.
Do Grocery Shopping Over the Weekend and Meal Plan: People often plan out dinners for the week, but you rarely hear someone talk about breakfast/lunch meal plans. This is so important in order to ensure everyone eats breakfast. You can't expect to make a homemade gourmet breakfast during the week, however you can plan to whip something simple up within 5-10 mins.
Set Out your Gym Clothes: If working out is part of your morning routine (or if you wish it was!) put your gym clothes on top of your dresser and even set out your shoes. Chances are if you see them staring at you in the morning… you'll wear them and work out!
Set Important Belongings by the Front Door: Make sure homework, your laptop, the bag of clothes that needs to be returned during the day, etc is all put together and placed by the front door the night before.
If you're prepared the night before, your morning routine will go smoothly and that sets the tone for your whole day!
It's true what they say, breakfast is the most important meal of the day! Taking 5-10 mins to make something healthy to eat will hold you and/or the kiddos over until lunch and help everyone focus on their day!
I've teamed up with Van's Foods in honor of TODAY being NATIONAL WAFFLE DAY to share with you a couple of my favorite recipes using their gluten free waffles!
Gluten Free Berry Waffle Kabobs
With little prep time, these berry waffle kabobs are the perfect grab-and-go breakfast for kiddos and adults! Who doesn't think food is better on a stick?! These are so easy to make and you can modify them by switching out the fruit. 
Ingredients:
(makes 4 mini skewers)
4 small skewers
2 frozen Vans gluten free blueberry waffles
4 strawberries, cut in half
12 blueberries
Maple syrup

Instructions:
1. Toast the waffles until golden brown.
2. Cut into small pieces.
3. Skewer the waffles, strawberries and blueberries (alternating ingredients).
4. Optional to serve with maple syrup.

Gluten Free Peanut Butter Waffle Sandwich
This creamy, yet crunchy peanut butter waffle sandwich puts a twist on a classic favorite. This is the perfect simple breakfast sandwich with lots of flavor, and a boost of protein!
Ingredients: 
(makes one sandwich)
2 frozen Vans gluten free waffles
2 Tbsp peanut butter
1/2 banana, cut into slices
1 tsp honey
cinnamon
1 tsp butter/margarine
Instructions:
1. Toast the waffles until golden brown.
2. Spread 1 Tbsp of peanut butter on each waffle.
3. Layer on the banana slices, drizzle honey and sprinkle cinnamon.
4. Heat butter in pan.
5. Put sandwich together and cook in pan for a couple minutes, until peanut butter melts.
6. Remove from pan, cut in half and top with more cinnamon.

Enjoy!
Question:
Now I'd love to hear from you…
Are mornings easy for you?
What tricks help you get out of the house on time and not frazzled?
What's your go-to healthy, yet quick breakfast?