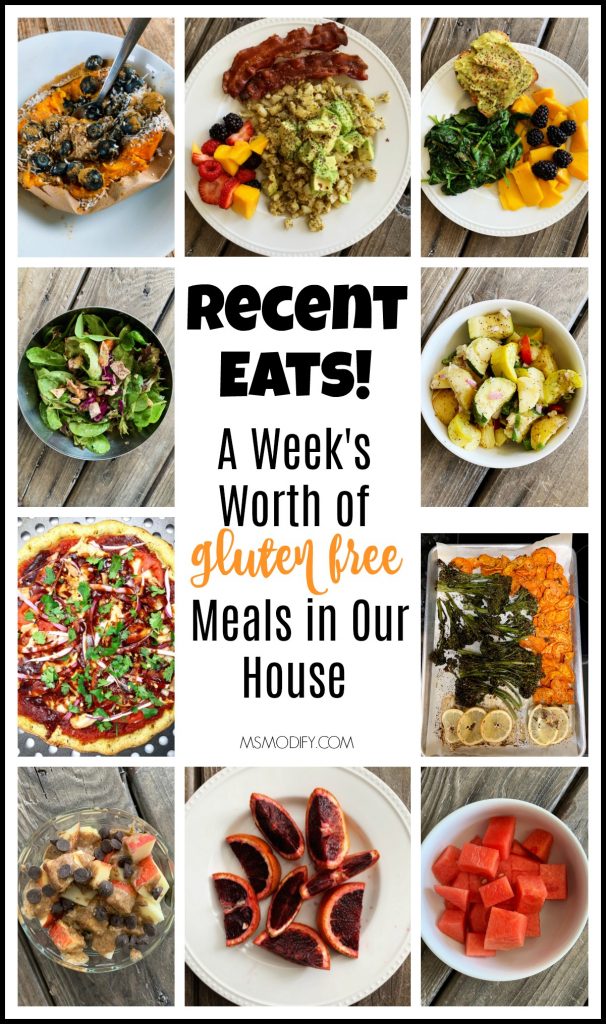 Some of my favorite posts that I read on other blogs are ones that consist of "life lately", "recent Amazon buys", "a day in the life", etc…you get the idea. I love getting a peek into other's lives, especially those I follow online because it gives me a better understanding of who they are and makes me feel like I know them (not just in the "internet" world)!
Going along with those types of posts, I thought I would share with you what I've been cooking/eating lately without fancy camera pictures or props. During this unusual time of social distancing I've been cooking every single day (3x/day) since we're not going out to eat (yes, most restaurants are open here in AZ in limited capacities but I'm not quite comfortable eating out yet… but we have bought gift cards to our favorite places in order to support their business and will use them at a later time).
When I was younger I used to always laugh at my mom and yia yia (grandma) because they would talk to each other every night about what they cooked for dinner and how they made it… guess what?! I've officially turned into them! Ha. My mom and I literally text every day about what we're going to cook or to share ideas and then at night we always text pictures to each other, so many of these pics are ones I took to send my mom!
If I've blogged any of these recipes or similar ones, I'll link them, otherwise feel free to let me know if you'd like any of the recipes and I'm happy to make them again (and measure!) to post.
Here is a look into what we've been eating in the Schumacher house lately!
Breakfast: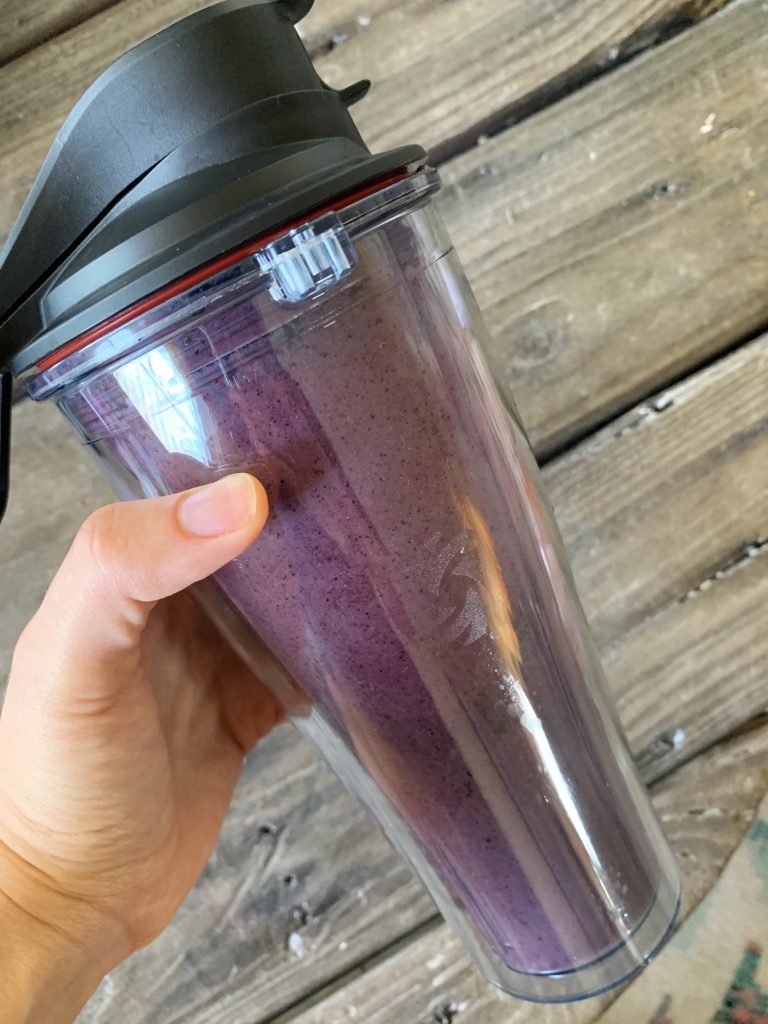 I always try to kick off my week with a smoothie. Here is a blueberry smoothie. I found pre-frozen smoothie packs from Costco that include berries, kale and spinach so all I have to do is throw it into my blender with almond milk and I add chia seeds and collagen peptides.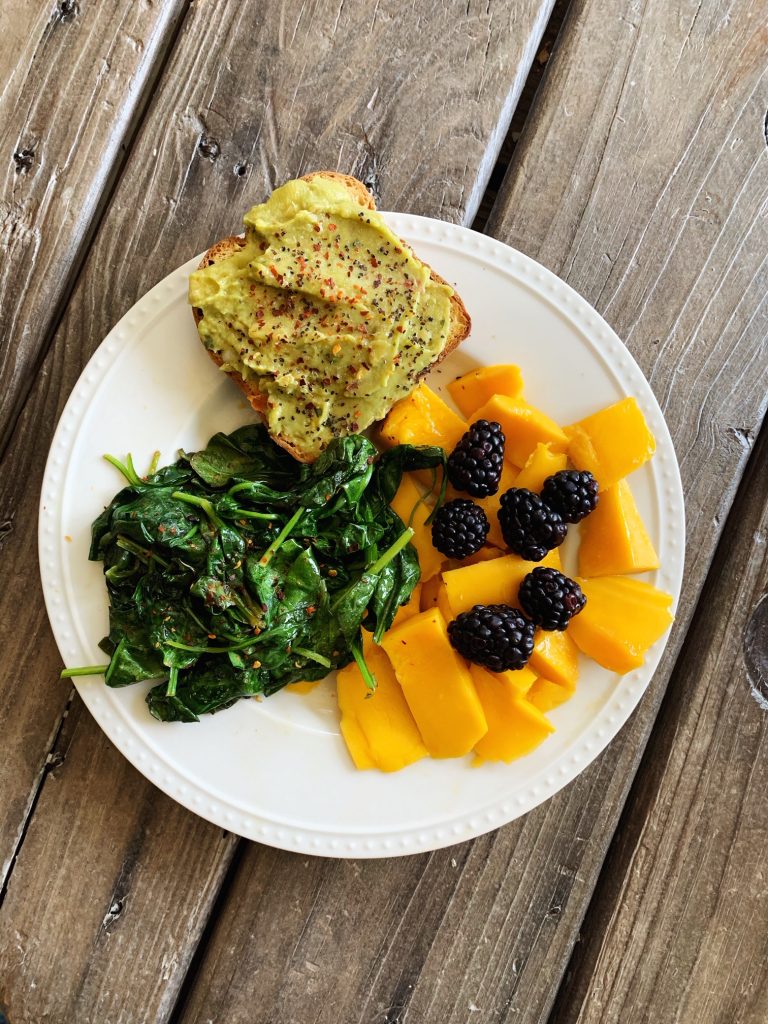 Avocado toast on my favorite gf bread, sautéed spinach with olive oil, lemon and salt, with mango and blackberries.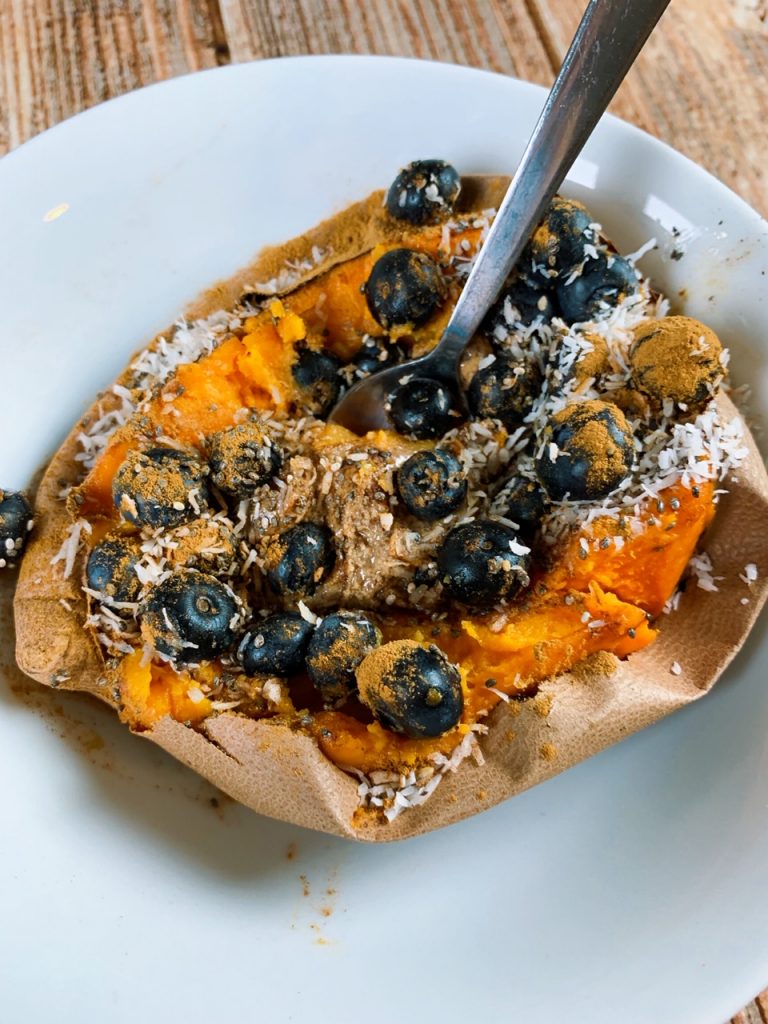 Baked sweet potato with almond butter, blueberries, cinnamon and coconut. I have a similar recipe on my blog here!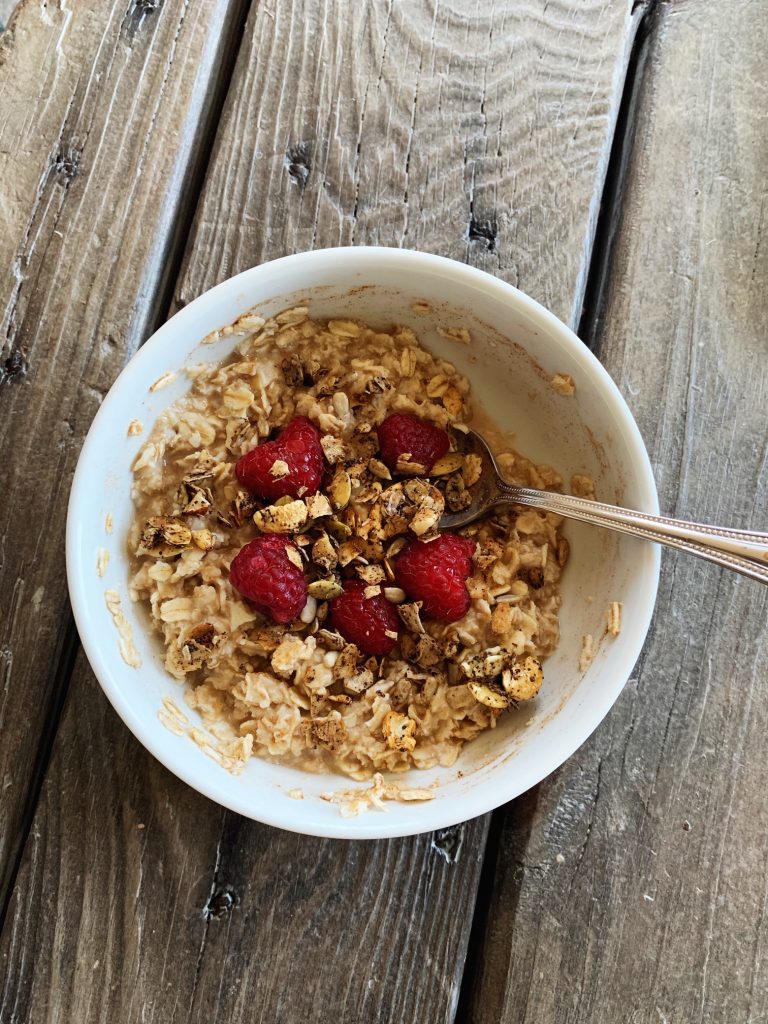 I don't eat oatmeal (I miss it, but that many oats hurts my stomach… I can eat them in moderation, like an oatmeal cookie! Ha) but Erik eats oatmeal during the week, so I make him GF oats, with cinnamon, chia seeds, broken up coconut clusters and raspberries.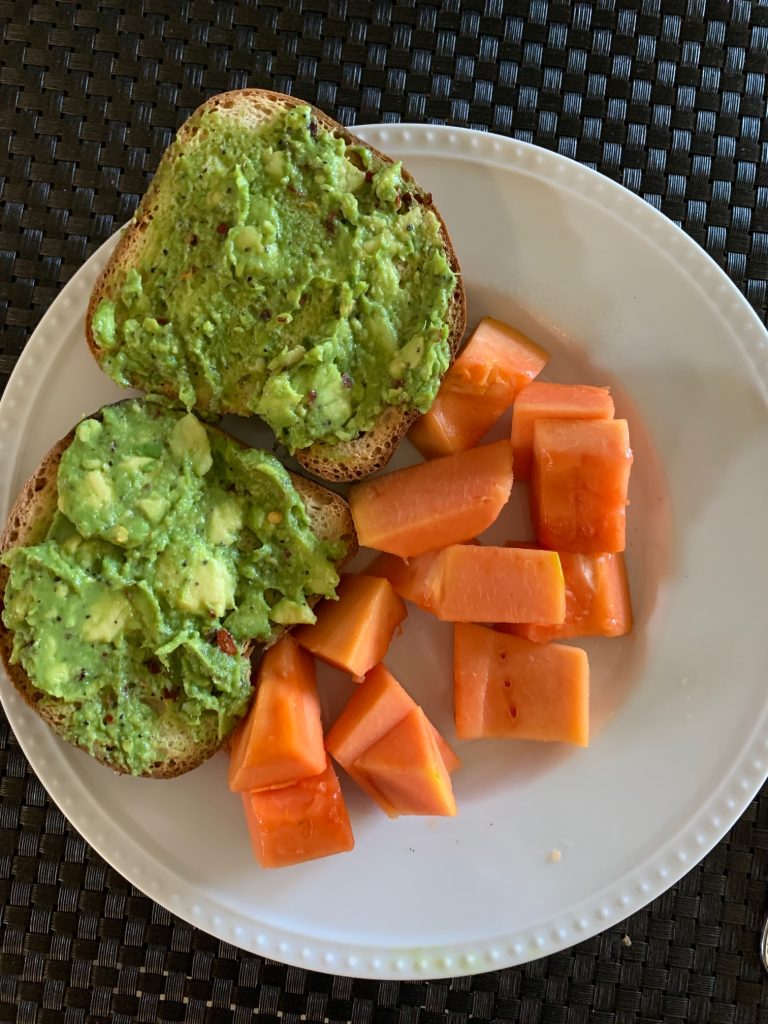 Avocado toast with papaya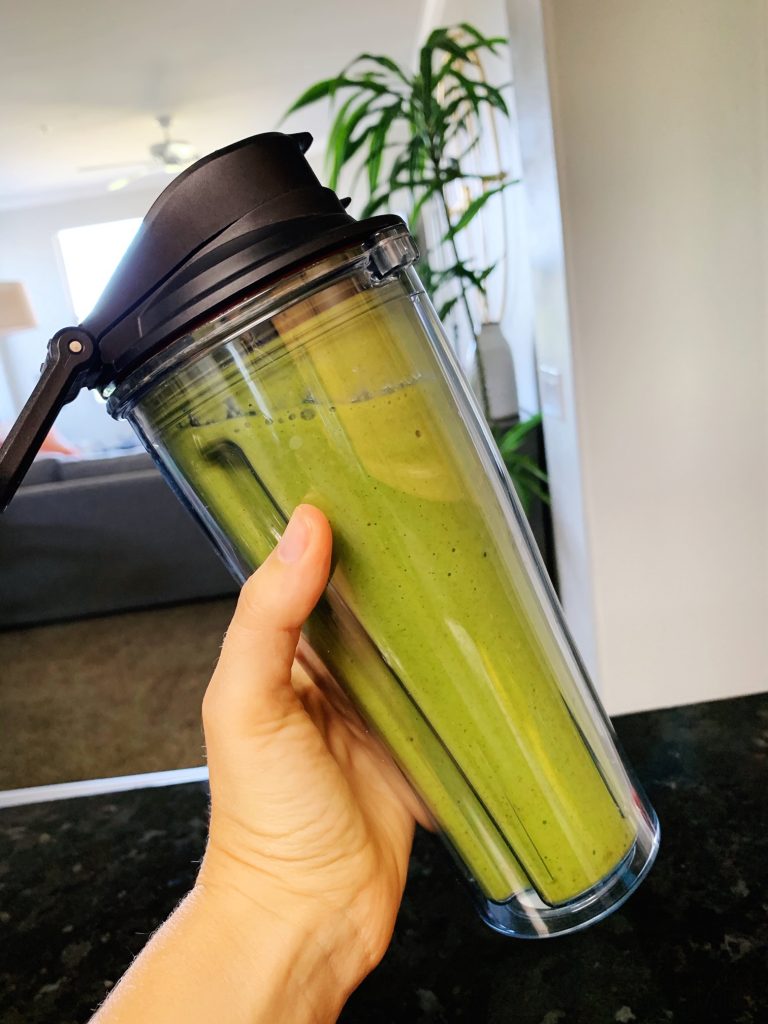 Tropical smoothie with spinach, frozen pineapple, mango and banana with almond milk, chia seeds and collagen peptides. Getting our blender and tumbler attachment was seriously the best investment!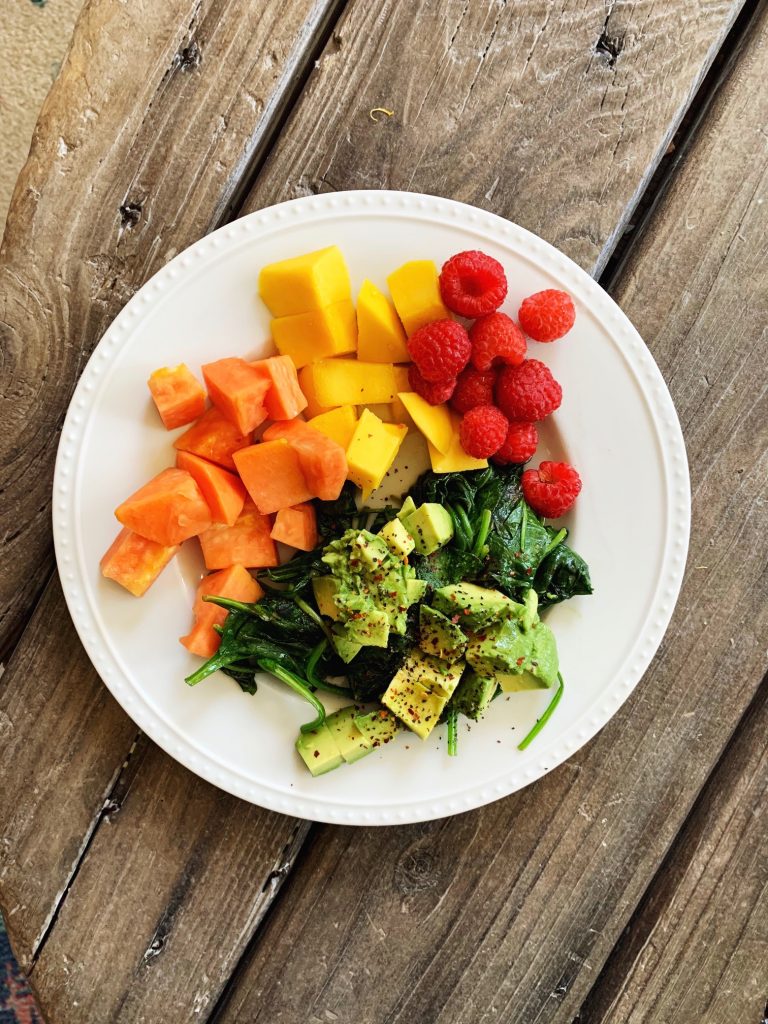 Sautéed lemon spinach topped with avocado, salt/pepper and chili flakes, with papaya, mango and raspberries.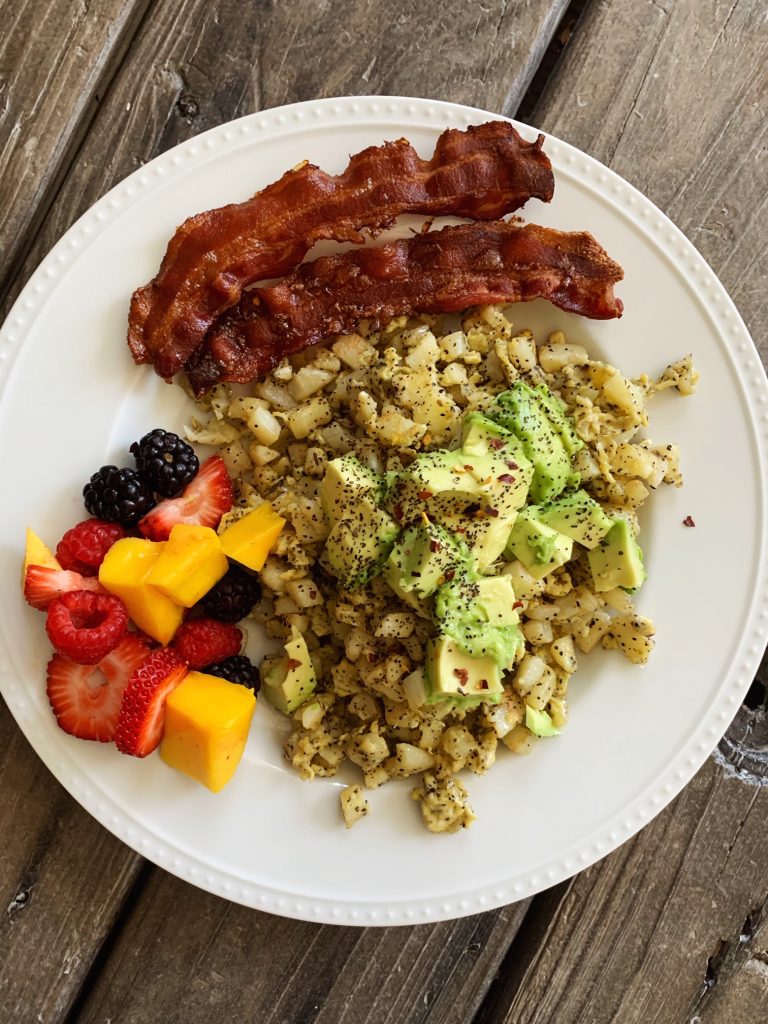 This is a weekend breakfast! Frozen potato hash scrambled with eggs, topped with avocado with baked bacon and fruit. YUM!
Lunch:
When life is "normal" I meal prep on Sundays and typically grill chicken and make salads for the week or pack leftovers, but since we're both home now during quarantine we're just having leftovers or I'll make some sort of pasta salad, quinoa salad, etc and have it for a couple days.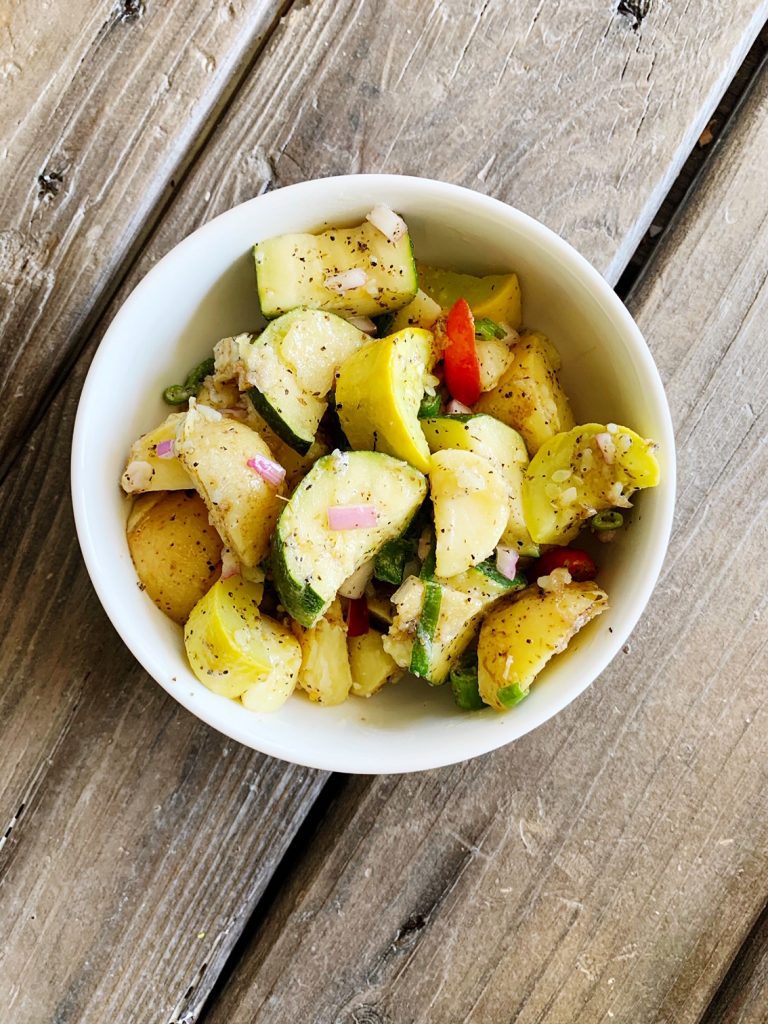 If you follow me on Instagram, you can see me make this Greek Pasta Salad (it's saved under my highlight "Pasta Salad").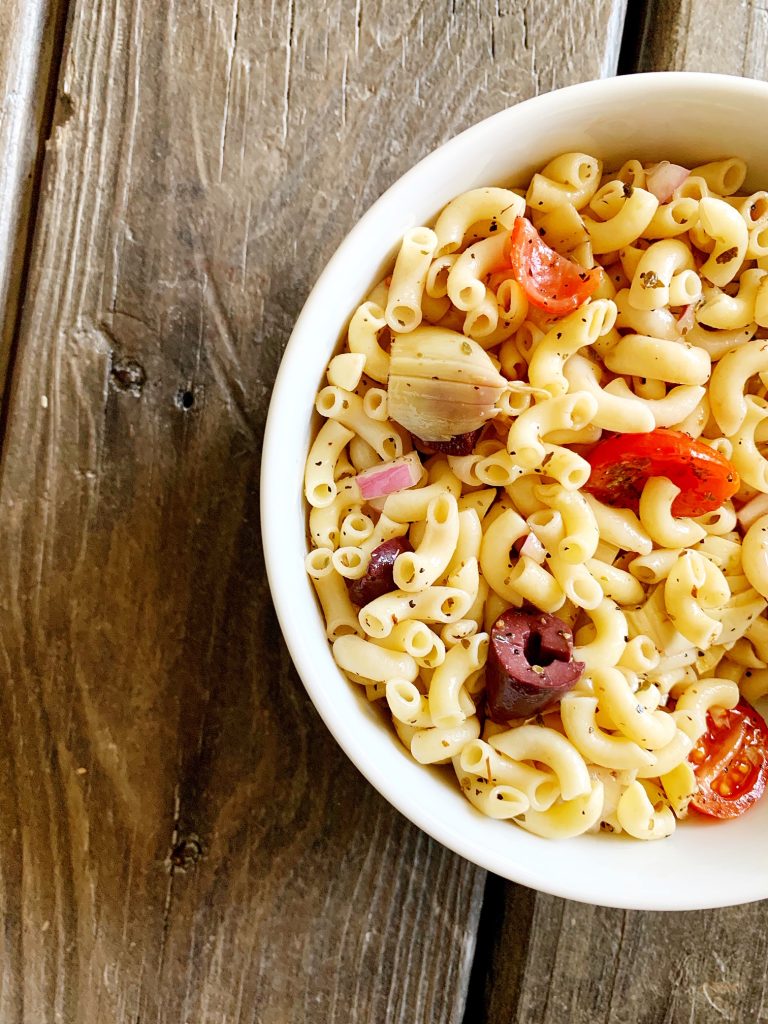 A quick and easy gluten free pasta salad with tomatoes, cucumber, red onion, kalamata olives, marinated artichokes with s&p, oregano, garlic powder, olive oil and red wine vinegar.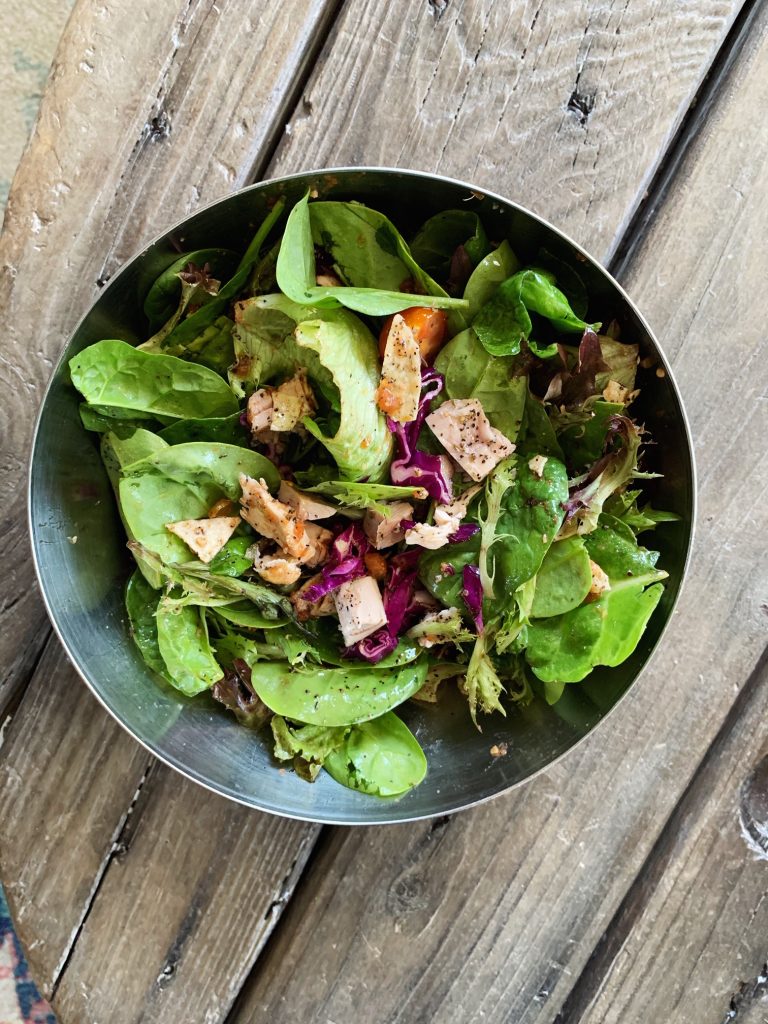 This is my go-to salad for lunch- mixed greens, purple cabbage, red onion, tomatoes, cucumber, chicken (leftovers), broken up Siete chips or Simple Mills crackers with the same homemade dressing as above.

Dinner:
Meatballs- I used my Turkey Baked Meatballs recipe but did one pack ground turkey and one ground beef (so it would make a lot for leftovers) and I left the parsley out since I didn't have any. They turned out great!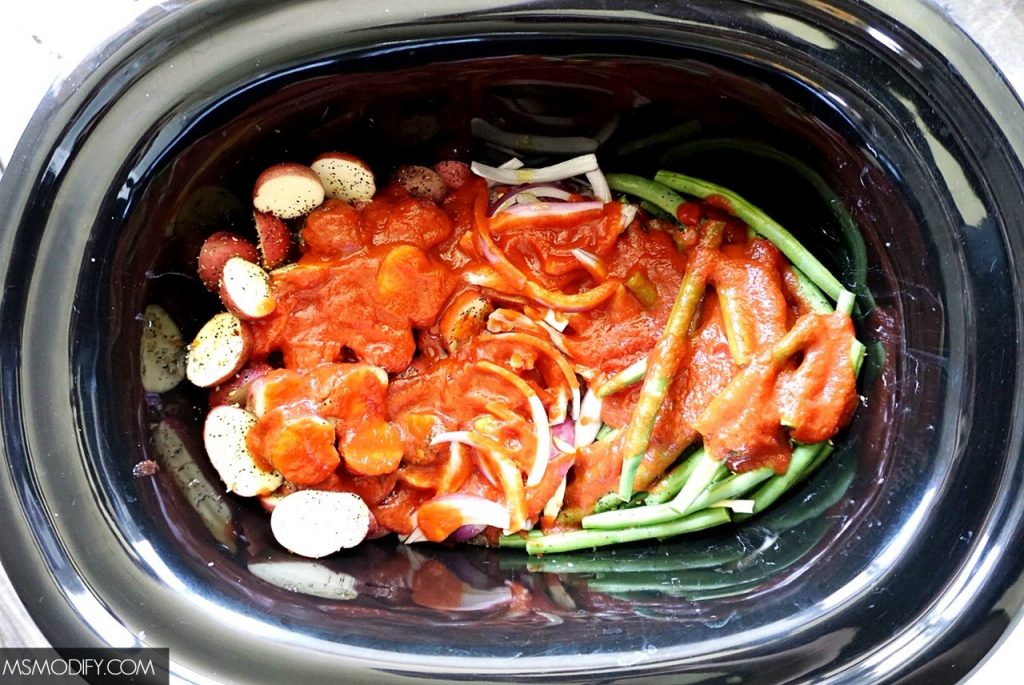 I'm obsessed with my Slow Cooker, Potatoes & Green Beans. It's so simple and makes for great leftovers!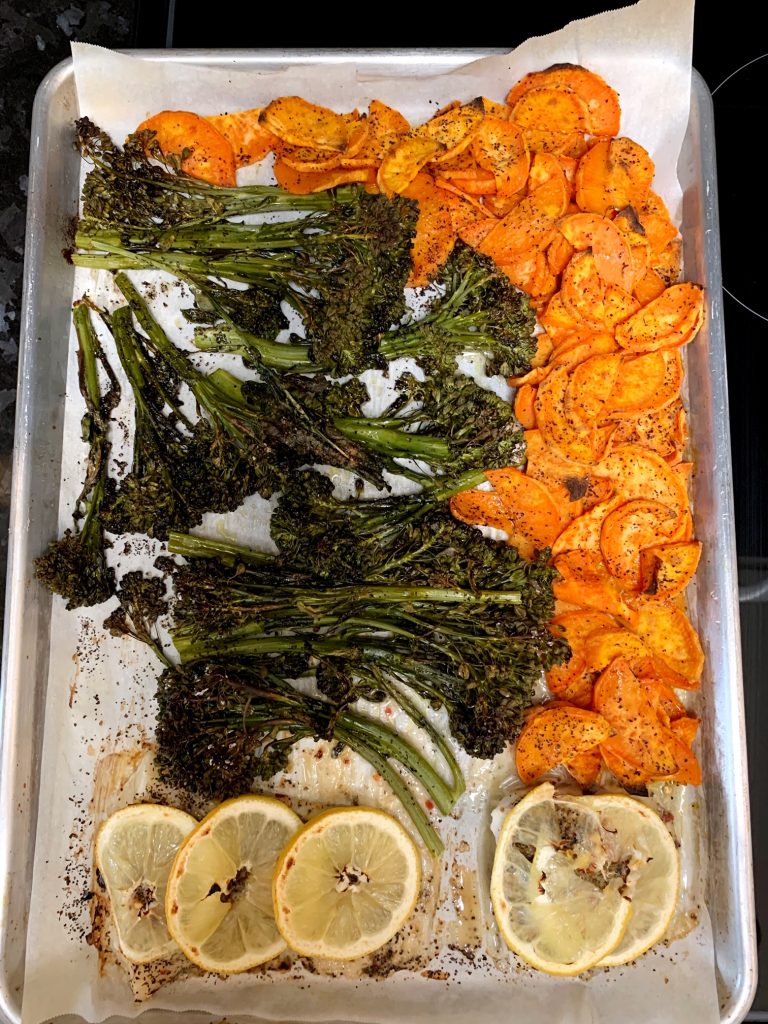 You know I'm all about a simple one-pan meal! Here I made baked lemon cod with sweet potatoes and broccolini.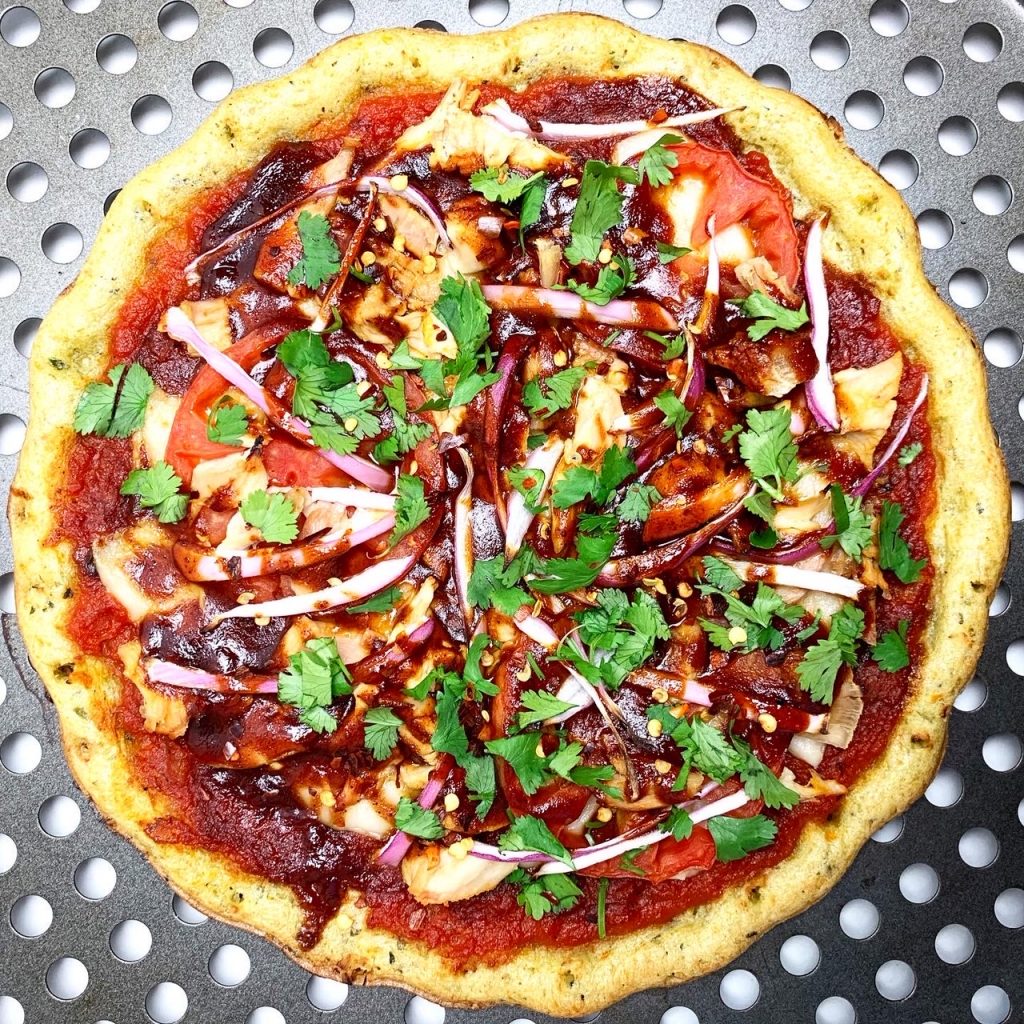 BBQ Chicken Pizza was a big hit! I tried Chloe Vegan Pizza crust for the first time (I found it in the freezer section at Sprouts) and I was shocked at how good it was! I also used vegan cashew cheese since I'm dairy free, and it all turned out great!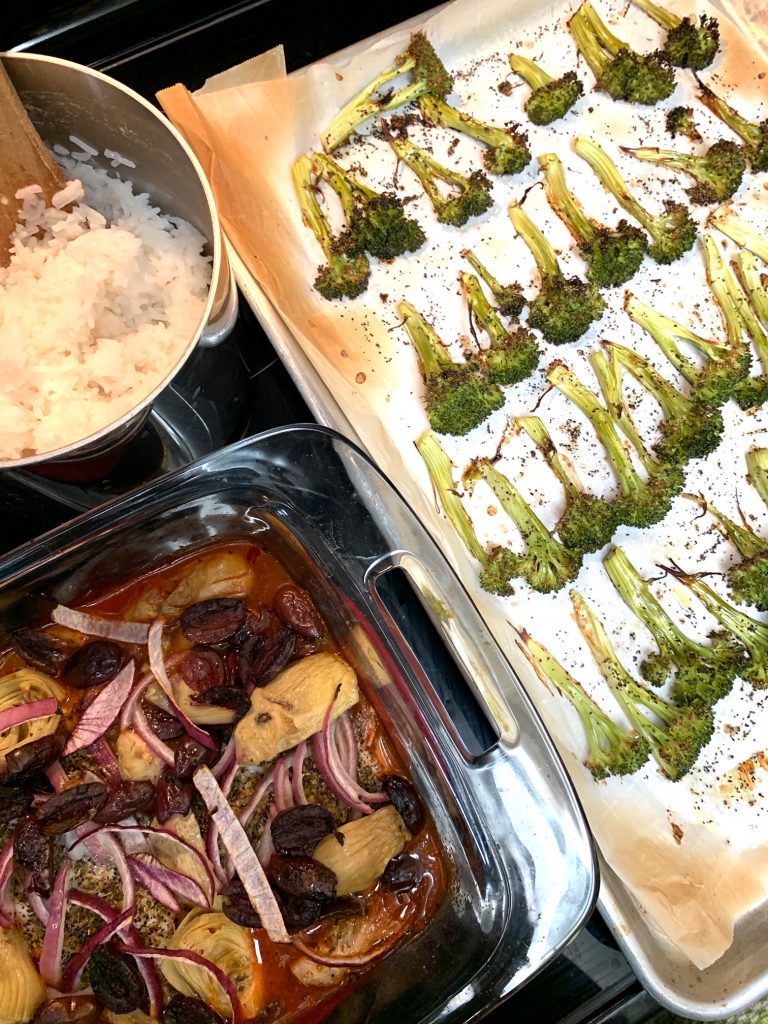 This was something I just put together quickly and it was SO good… I will definitely make it again so I can blog it for you. It's Mediterranean cod (with kalamata olives, artichokes and onions) with rice and crispy broccoli.
Snacks:
We're big snackers over here, so this is just a little glimpse into typical snacks we have.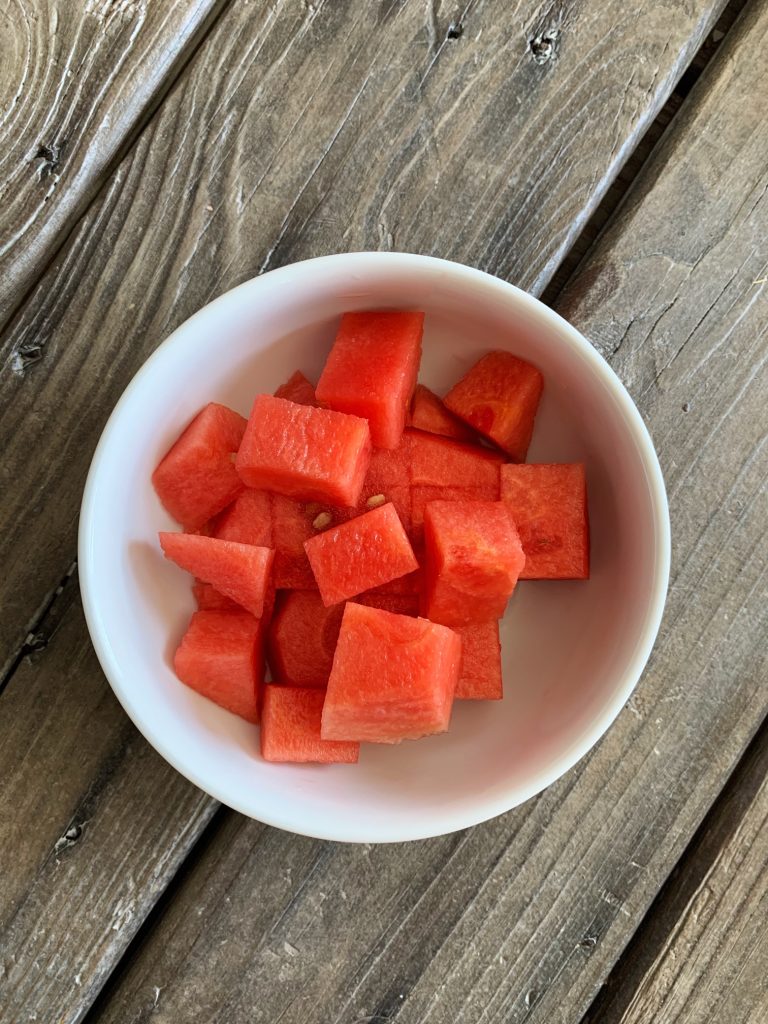 We can't get enough watermelon this time of year!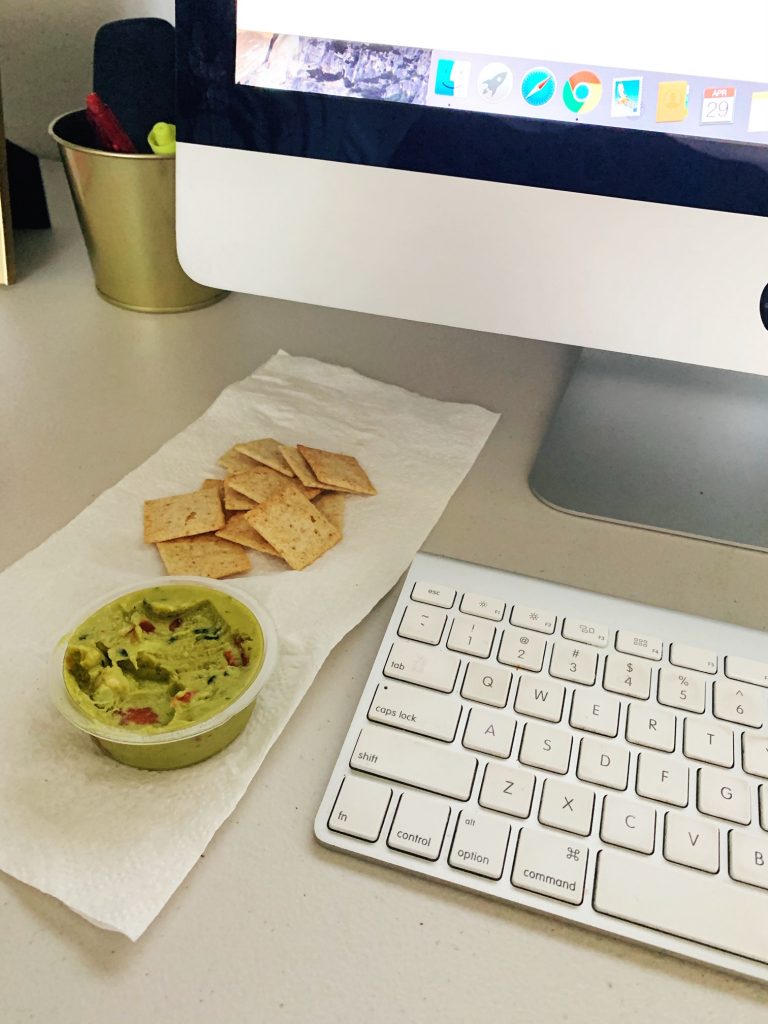 Here is the Kirkland Chunky Organic Guac (from Costco) with Simple Mills crackers.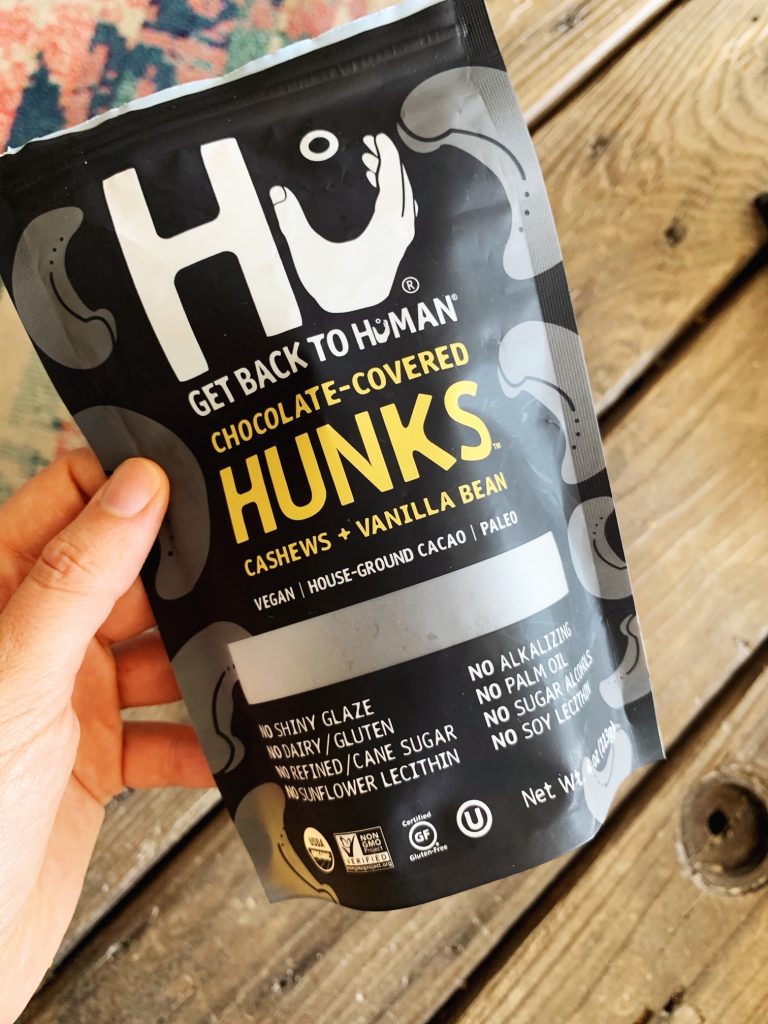 These Hu Hunks need no explanation! SO good! They are made in a facility with wheat, but I spoke with them and they take strict measures to avoid cross-contamination and they're all certified gluten free (less than 10ppm gluten). So I personally trust them!
This Birthday Cake Granola also needs no explanation…. YES, it's as good as it sounds! I buy this big bag from Costco but you can also order it here!
Baked sweet potato fries! I soak them in cold water before I bake them to get them extra crispy!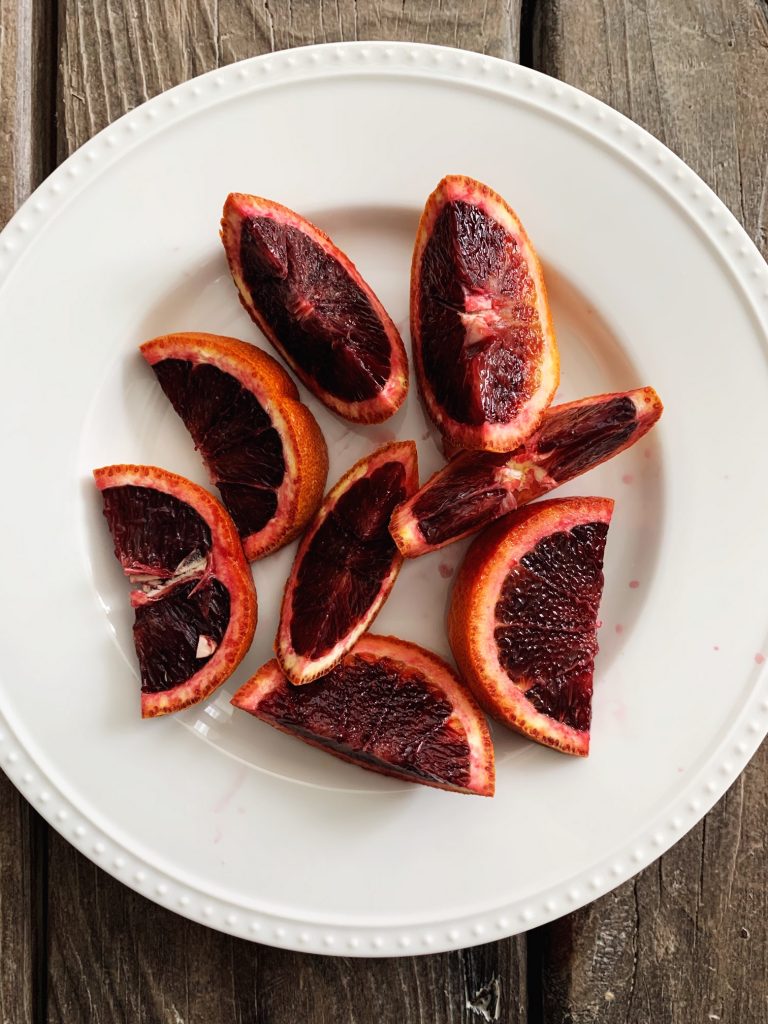 Blood oranges are so good!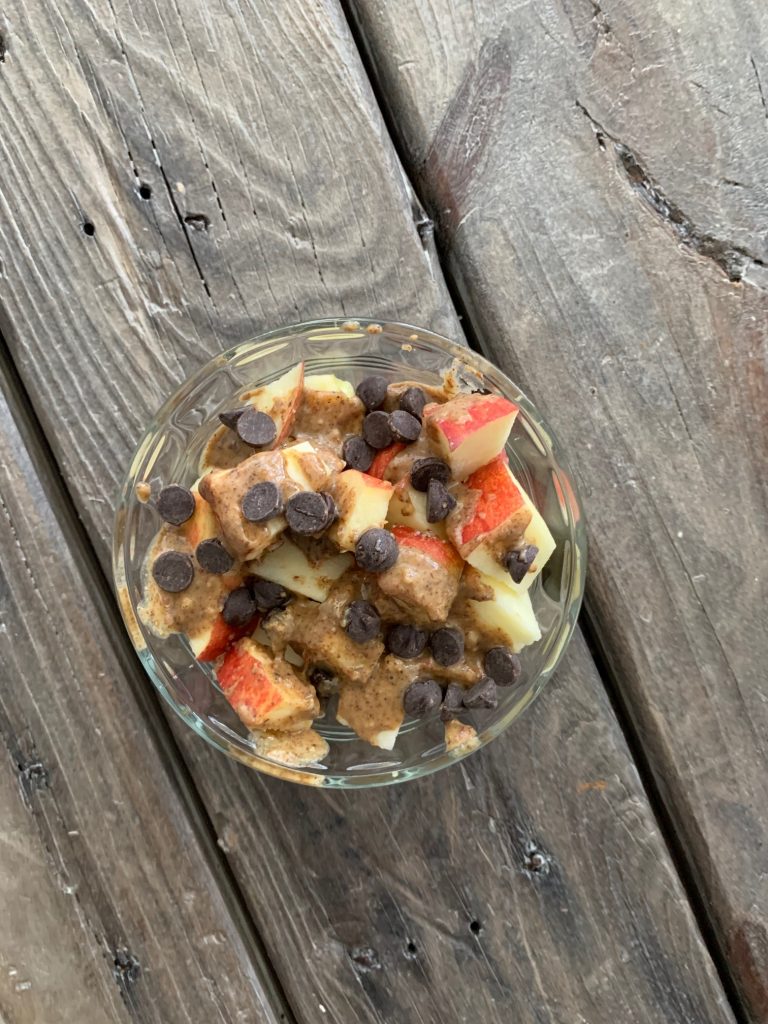 A sweet treat I love! An apple topped with NuttZo butter with dairy free chocolate chips.
There you have it, what we've been eating lately! If you don't already, be sure to follow me on Instagram and Facebook where I share lots of our meals!
I'd love to hear what you've been cooking lately! Have you been getting take-out/eating at restaurants if they're open in your area? Also, are you having a hard time finding certain food (I couldn't find rice near me, so my mom sent me some!)?