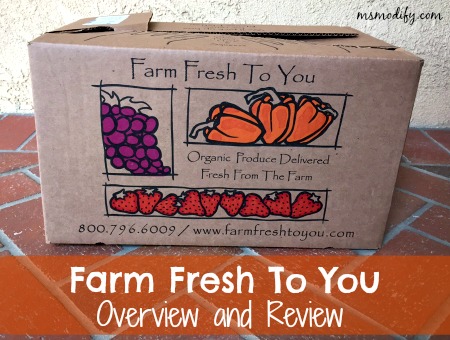 As you may remember, Farm Fresh To You was one of my favorite products from the Gluten Free Expo. I had heard from people about Farm Fresh To You, but didn't know many details. I had the opportunity to chat with them and get more info. I also ordered a box! If you've been considering getting this service or if you have no clue what it is, take a look at what's inside my Farm Fresh To You box!
Farm Fresh To You is a family run food service business since 1976 based out of Copay, California. All of their produce is certified organic and they harvest over 60 types of fruits and vegetables and offer over 14 types of produce boxes to be delivered to homes and offices throughout California.
How it works:
By becoming a member, you can customize each order. Everything from the size of box, delivery options (weekly, every other week, three weeks, or four weeks), to what is inside your box. Online you can customize your order based off what works best for you.
Boxes are delivered at night, so it's a great treat opening the door in the morning with your box waiting on your doorstep!
If you refer a friend to Farm Fresh To You, they save $10 off their first order and you receive $25 produce credit to your account.
No Commitment is required. You can suspend or cancel your membership at any time.
Types of Boxes:
Mixed Fruit & Veggie|$26-58 based on size
No Cooking|$26-$46 based on size
Fruit Only|$26-$46 based on size
Veggie Only|$33-$46 based on size
Organic Snack Pack| $35-$110 based on size
Here is a peak into my box:
I ordered the Regular Mixed box which costs $33.  The box was neatly packed with my items and a list of everything in it on top.
Inside was: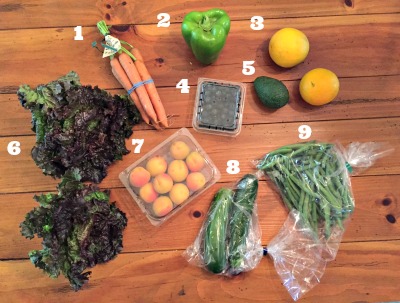 1) 1 bunch carrots
2) 1 green bell pepper
3) 2 Valencia oranges
4) 1 package blue
5) 1 hass avocado
6) 2 heads of lettuce
7) 1 package apricots
8) 2 zucchini
9) 1 lb green beans
Pros:
-Farm Fresh To You is a very convenient to service to have. I literally woke up in the morning and my grocery shopping (for produce) was done!
-I love the fact that I can trust their farming process and the high level of organic certification that is used.
-I love supporting a family run business!
-You can customize your order to fit the needs of you and your family.
-Everything was very fresh! Nothing was wilted or looked old.
Cons:
-I was a little disappointed in the amount of produce in my box. I think I can buy more for that price at my local farmers market or Wholefoods.
-My oranges were not ripe, they were still green.
-I personally like to look at the produce before I buy it.
Overall:
Overall I give Farm Fresh To You a big thumbs up! Even though it is a little pricey for the amount you get, the overall quality and convenience is worth it!
For more info or to see where they deliver check out their website!