Happy Friday, friends! We just got home from a week long vacation with my family to the Oregon Coast and since I haven't shared much about my personal life lately, I thought it would be fun to recap my trip today! If you follow me on Instagram, you've probably seen some of these pics.
Sit back and enjoy the pics (I have a lot of them!). I'll share what we did (and ate!).
When my family decided to take a trip together, we were all trying to decide where to go and it was my suggestion to go to the Oregon Coast. Why you ask? Erik and I live in Arizona now so 1. we miss the beach and 2. it's hot as heck here right now! My mom suggested Hawaii, but we went there last year and honestly, I really needed a break from the heat so I figured the PNW was our best bet! I'm SO happy we decided to go there! Yes, it was a little random… but it did NOT disappoint!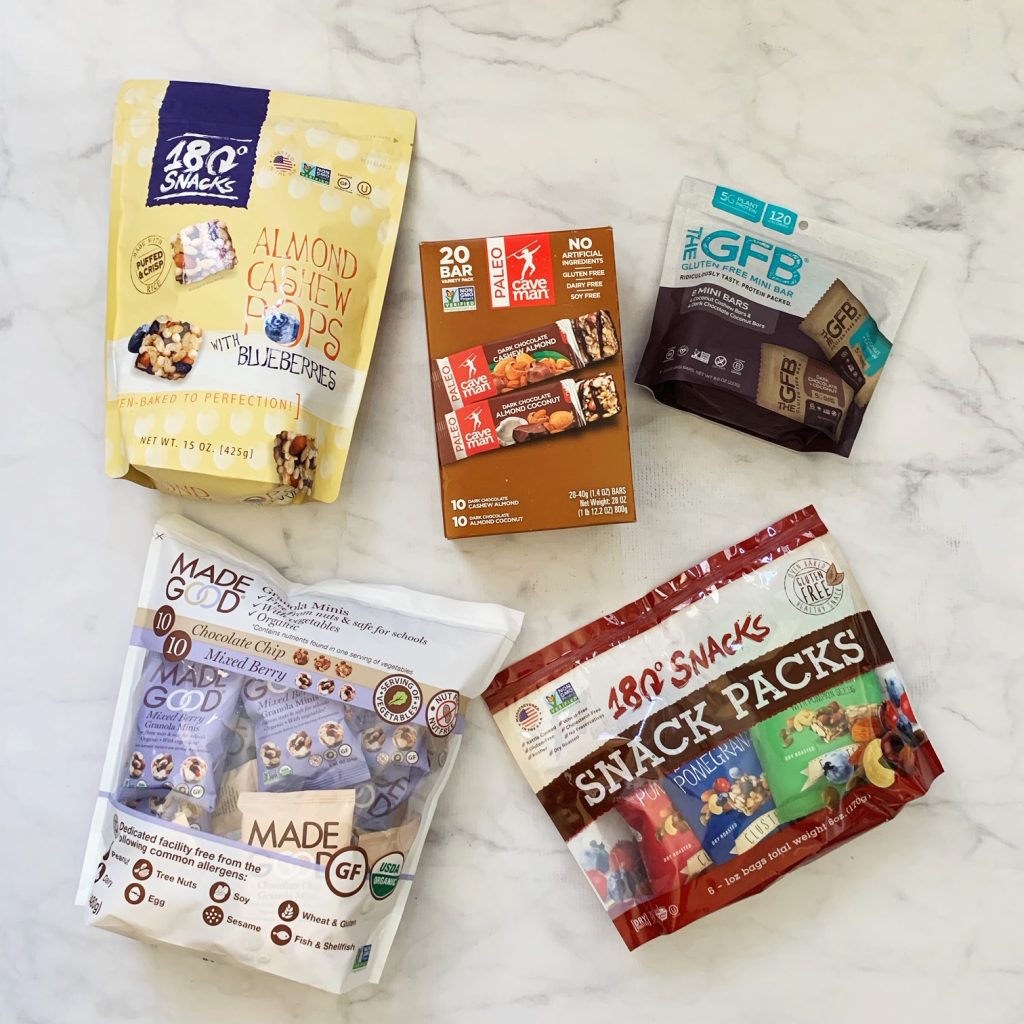 As with any trip when you have celiac, planning ahead is key! I loaded up on snacks to pack with me that I found at HomeGoods and Costco.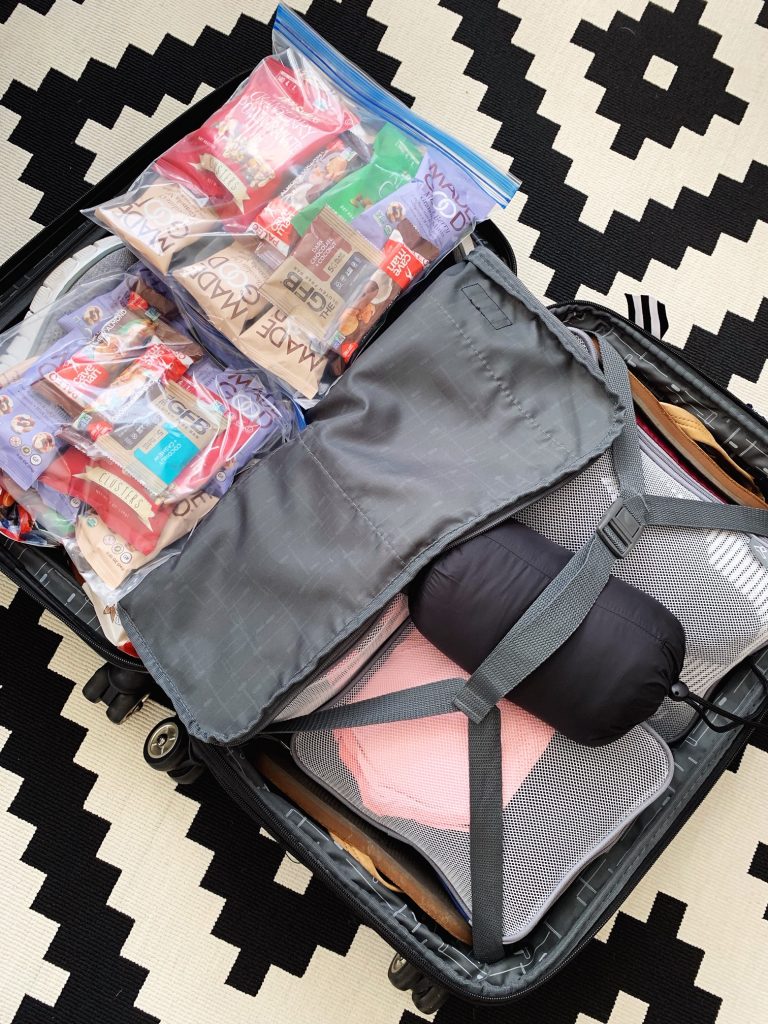 You know you have celiac when… half of your suitcase is food! I also packed Tupperware and a plastic cutting board (we stayed at an Airbnb so we had a full kitchen). Also, notice my life-changing packing pods! 
Who thought it was a good idea to have a 5:50AM flight?! I did! Ahh! Erik and I had to wake up at 2:45 the morning of our flight to give us time to get ready, drive to the airport, park the car and then all the usual chaos at the airport (thankfully we have TSA pre-check!). We flew out of Phoenix and met my parents, brother and his girlfriend in Seattle since they flew out of LAX.
Even though the Portland airport would have been closer to where we stayed, we decided to fly into Seattle since my mom has never been, and in all honesty I just like Seattle better than Portland. However, it did back fire on me a little because when I researched it and recommended it to my family I didn't take into consideration how bad Seattle traffic is!
Seattle: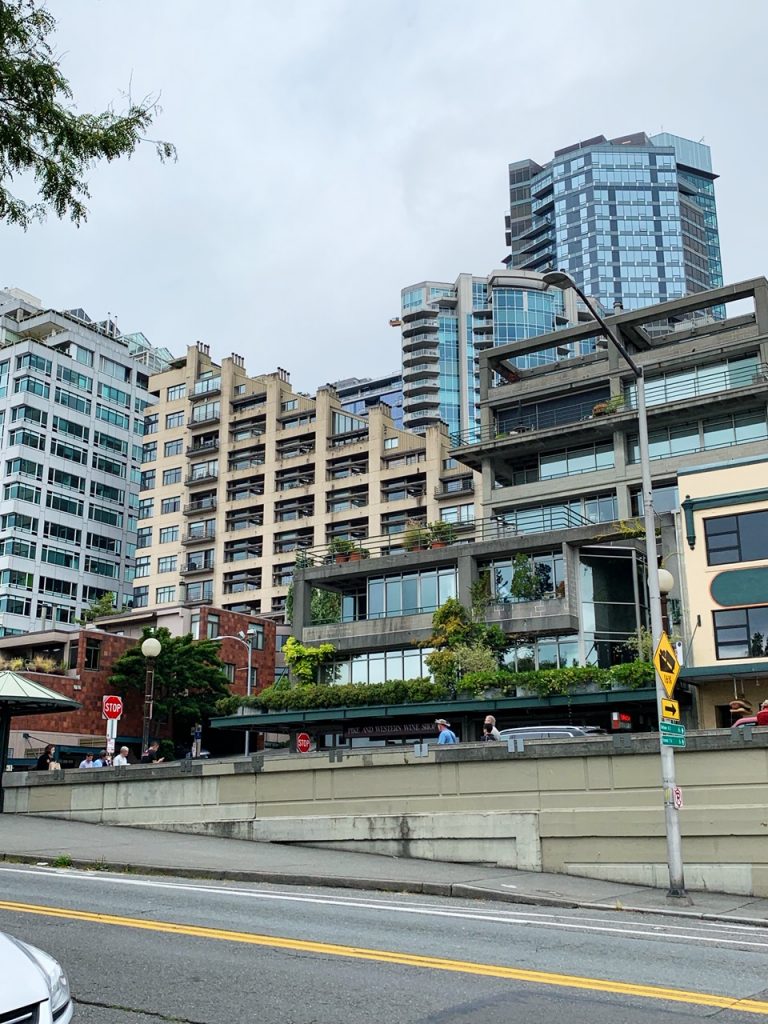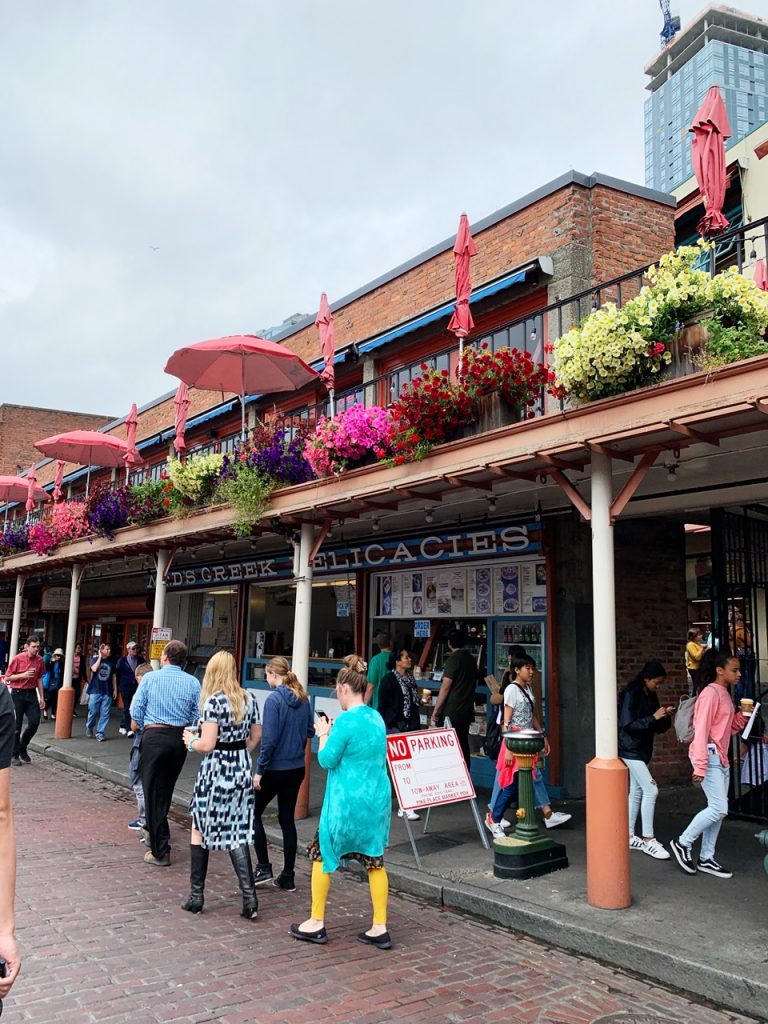 I love all the flowers in Seattle, so pretty!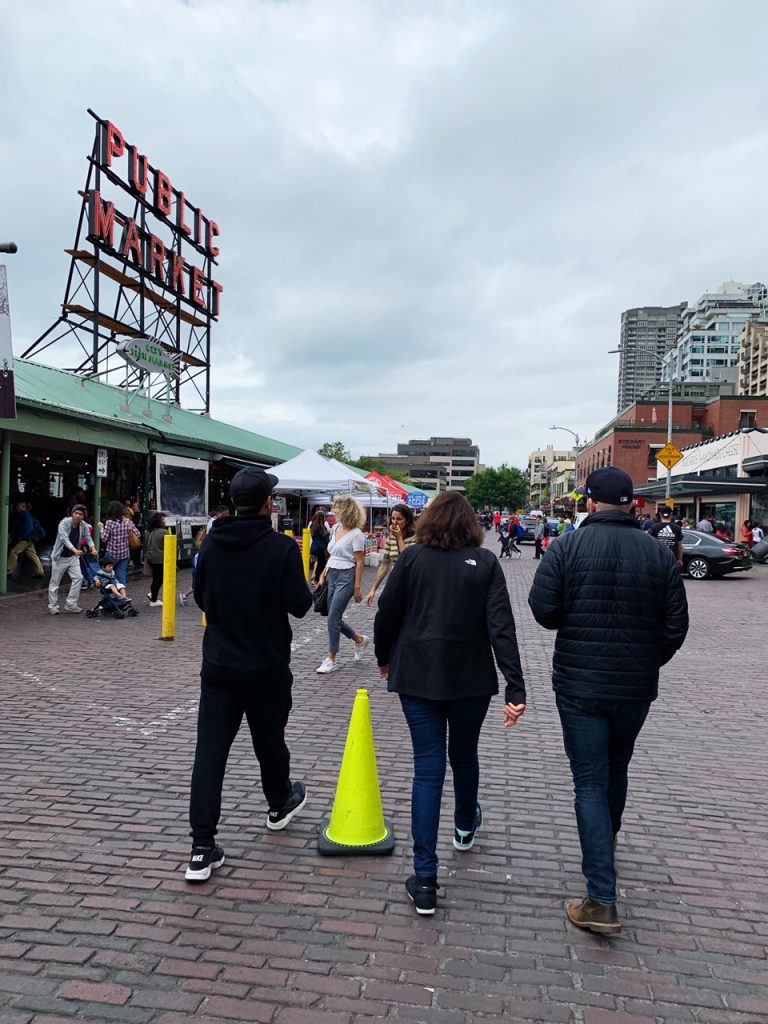 My brother, mom and Erik on a mission! My poor mom broke her toe on Mother's Day and it's still not healed and has been quite painful for her! She was such a trooper on the trip with her boot and trying to walk everywhere. If you have tips on how it can heal faster, please share! (she's a nurse, so standing 10 hour days is not helping the situation!)
My favorite travel partner! 🙂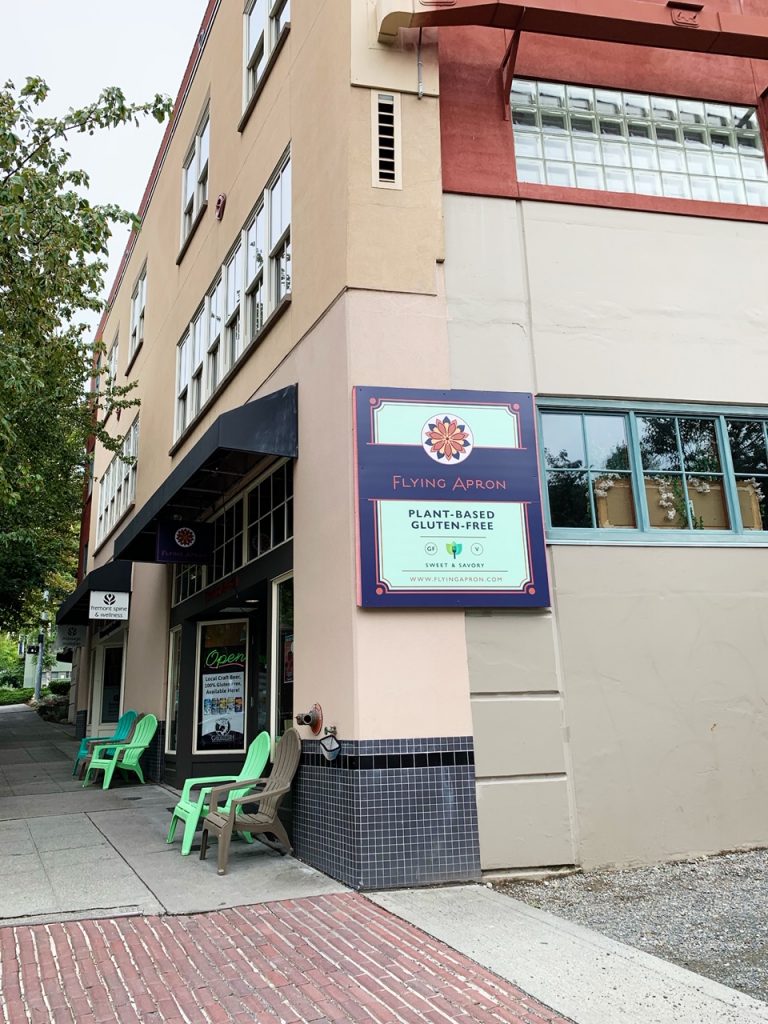 I made a stop by the Flying Apron, which is 100% gluten free & plant based.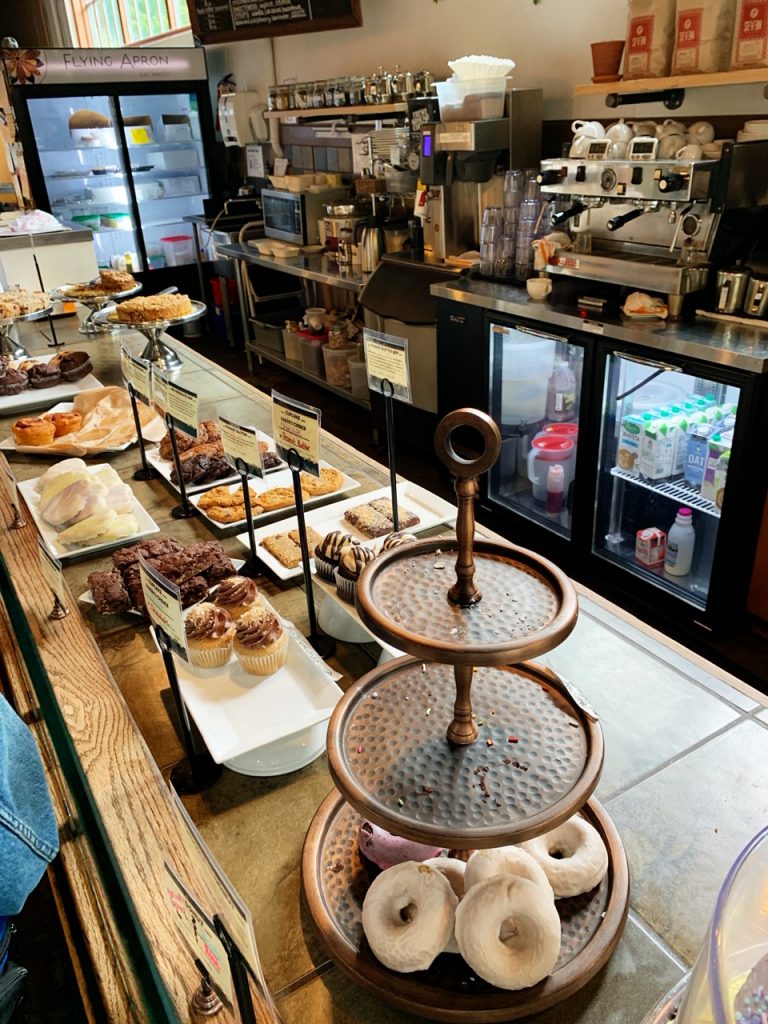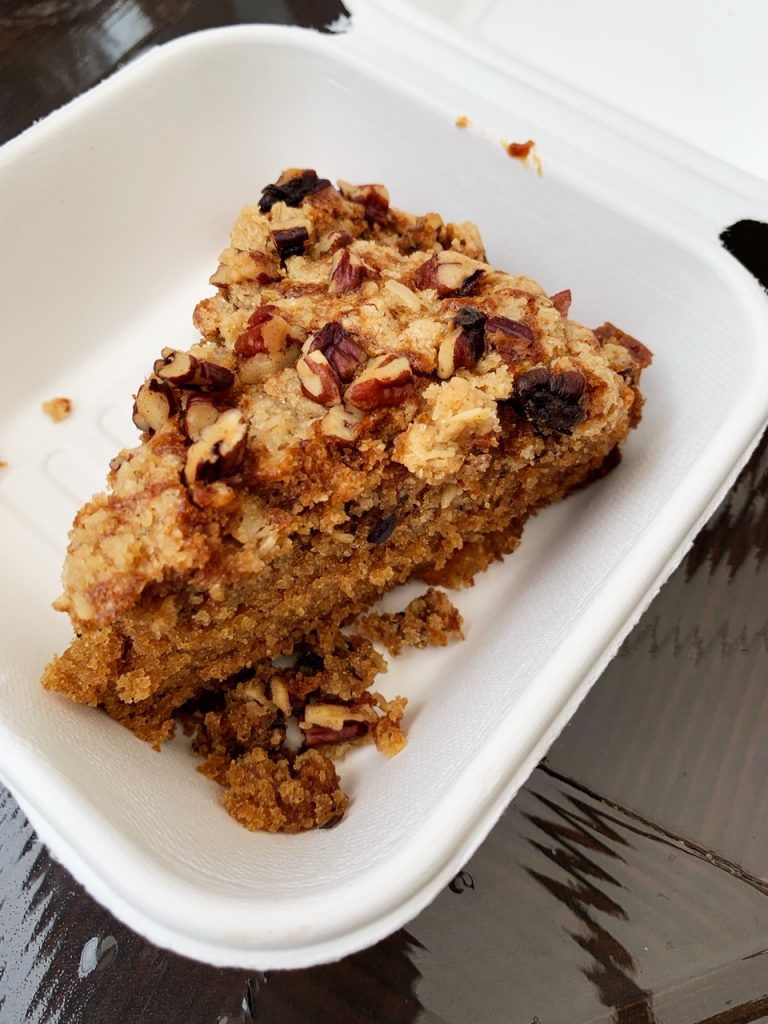 I got their eggplant lasagna (I was so hungry that I forgot to take a pic for you!) and maple pecan coffee cake! It was delicious!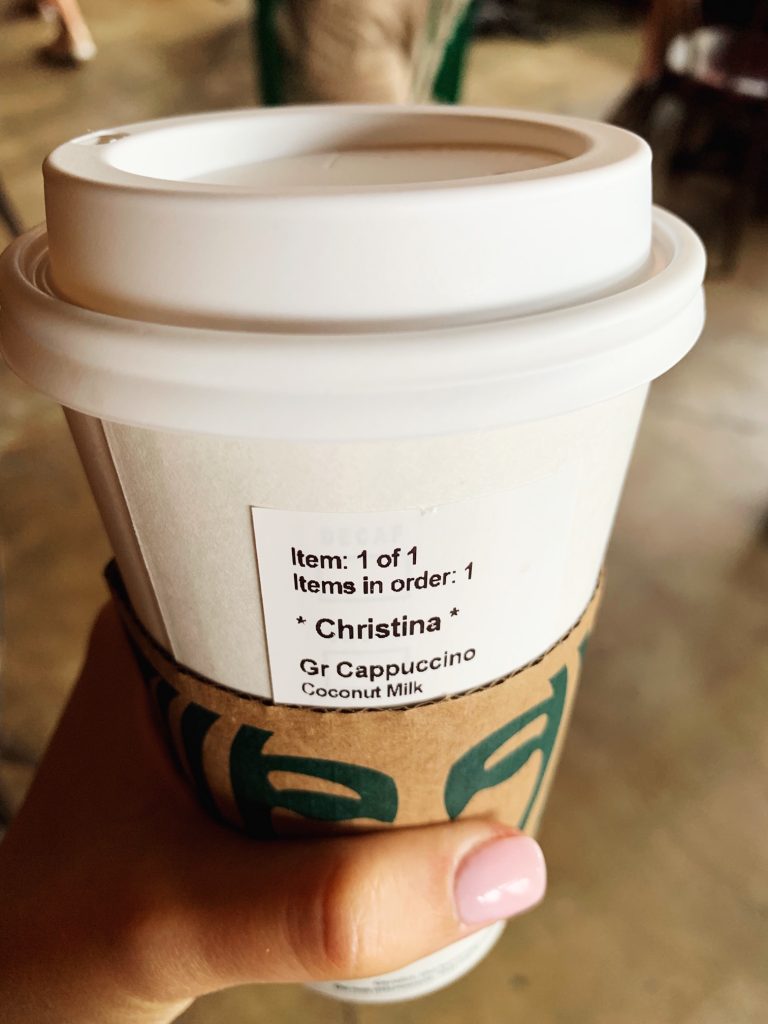 And then coffee was a must! That 2:45 am wake up was starting to hit me. Typically when traveling, I prefer to go to a local coffee shop but since Starbucks originated in Seattle we thought it was appropriate! My go-to drink is always a coconut milk cappuccino. (Of course they spelled my name wrong.. it's with a "K"!)
Drive to Seaside, OR
After spending the day in Seattle, we drove to our Airbnb in Seaside, OR. Besides the terrible traffic, it was a beautiful drive.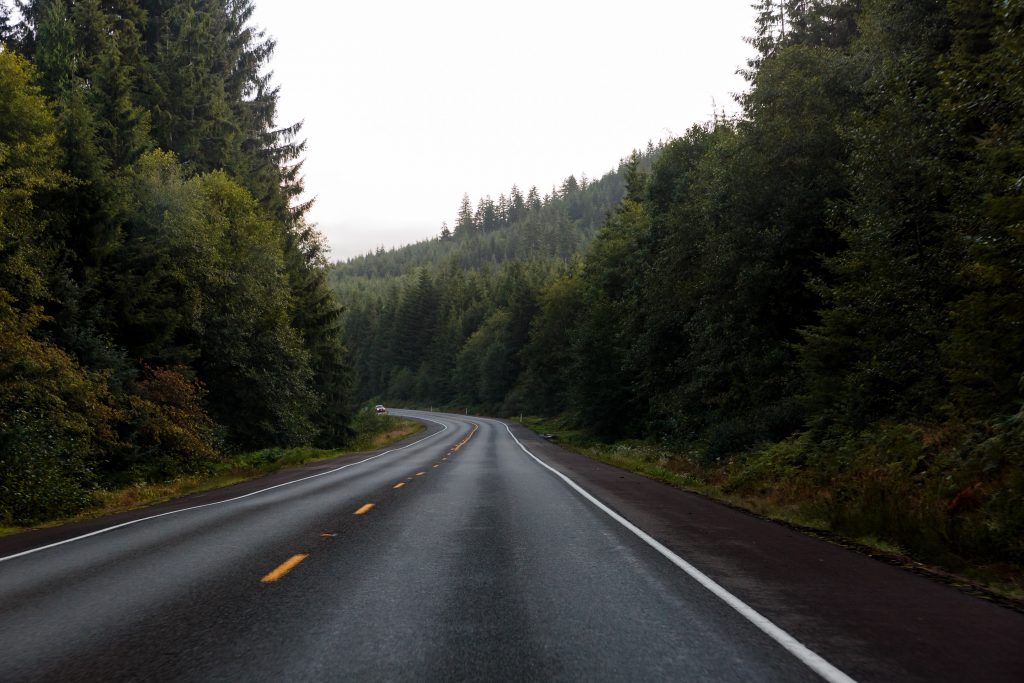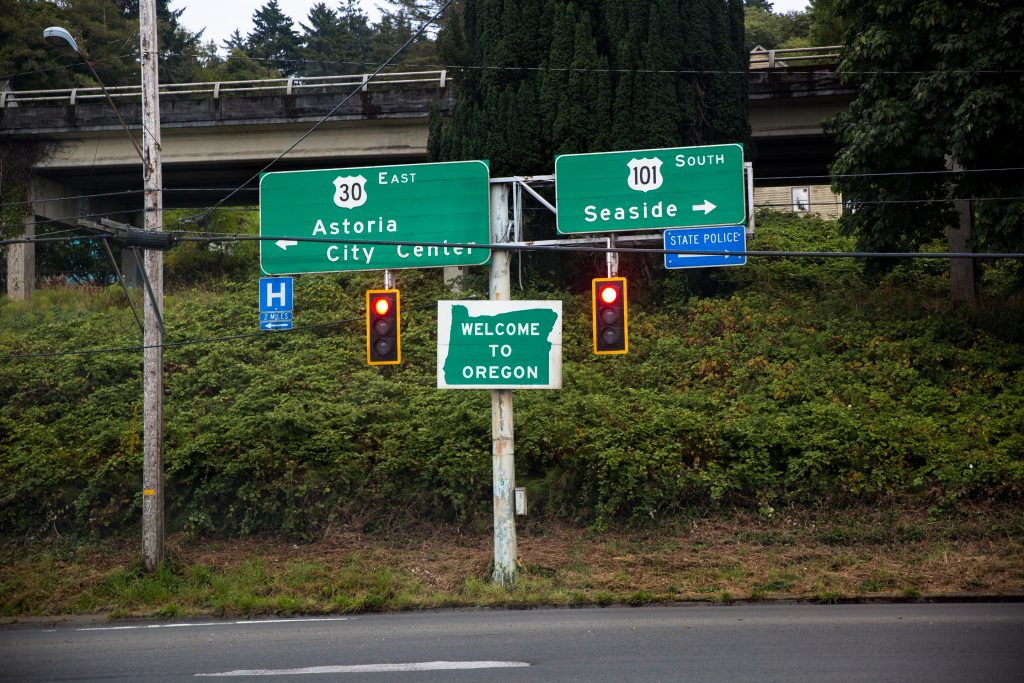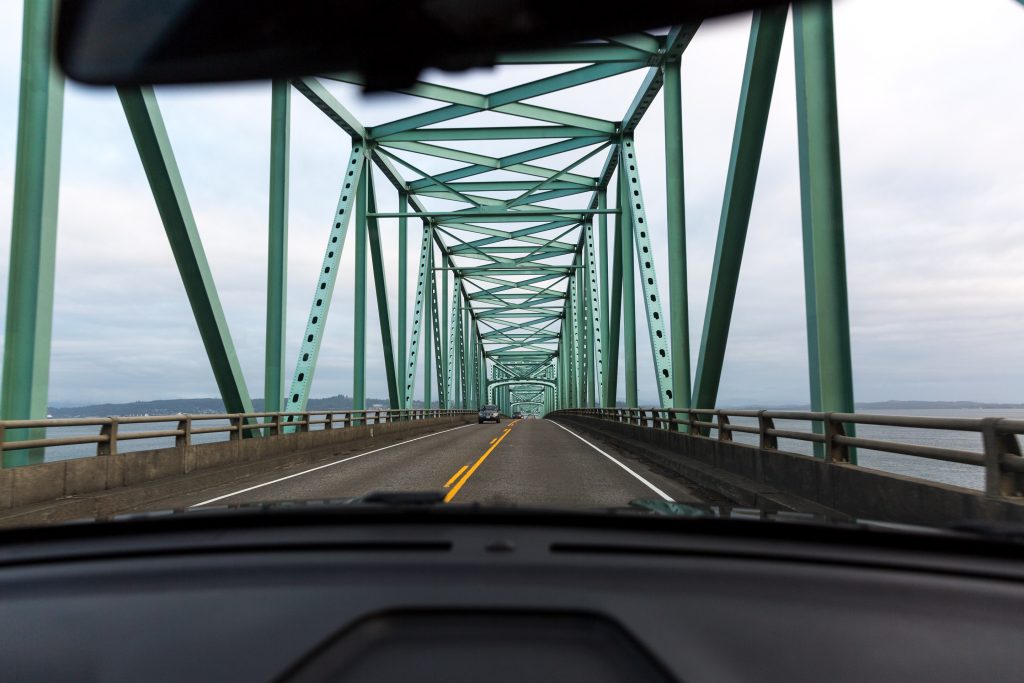 Seaside, OR: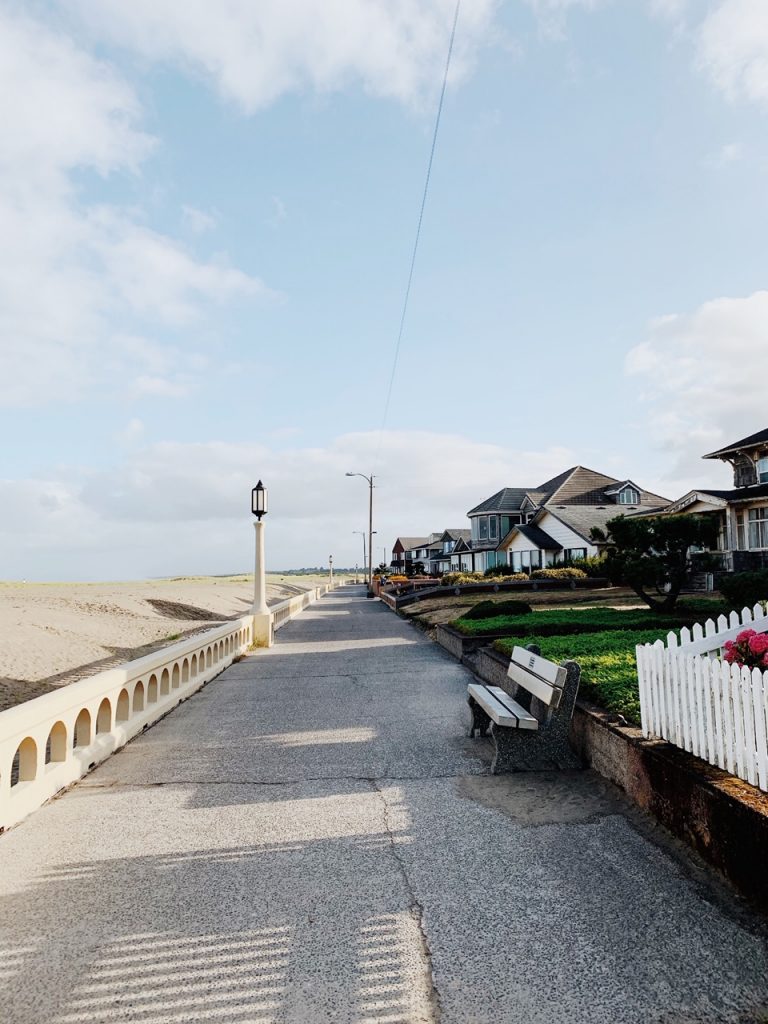 Seaside is this cute little town with a boardwalk stretching from the beach all the way into the town. The house we stayed at was incredible and right on the beach. I don't know why I don't have pictures of it to share! There was a pool table, ping pong table and it was loaded with games so when we weren't out and exploring, we were having fun in the house!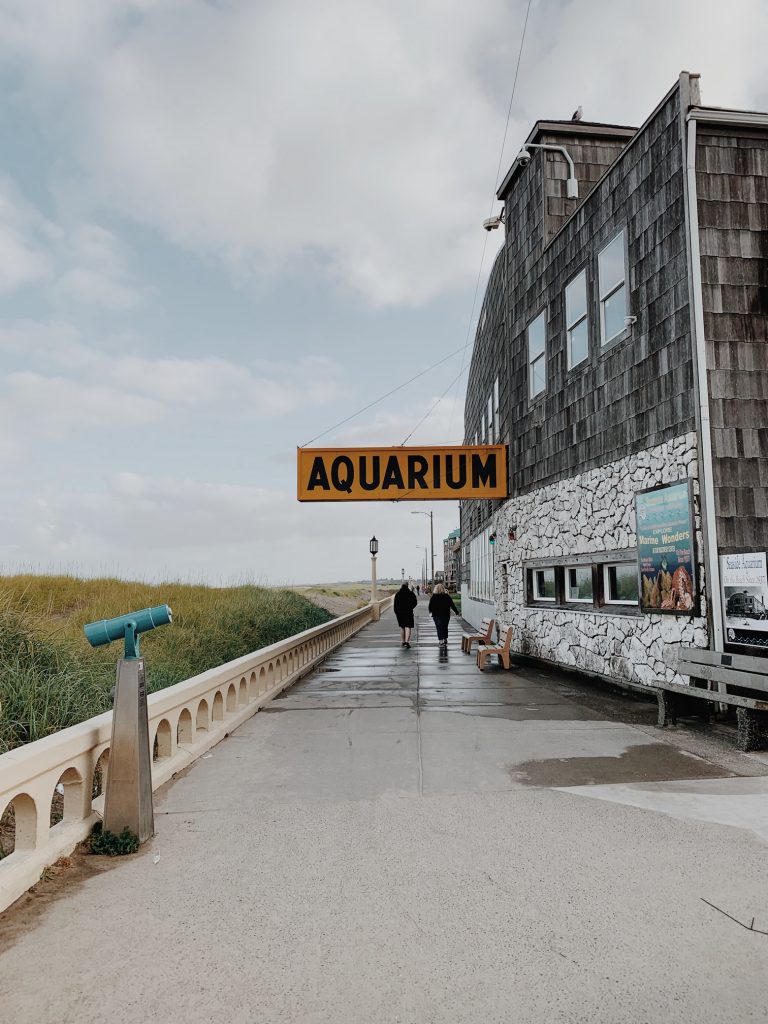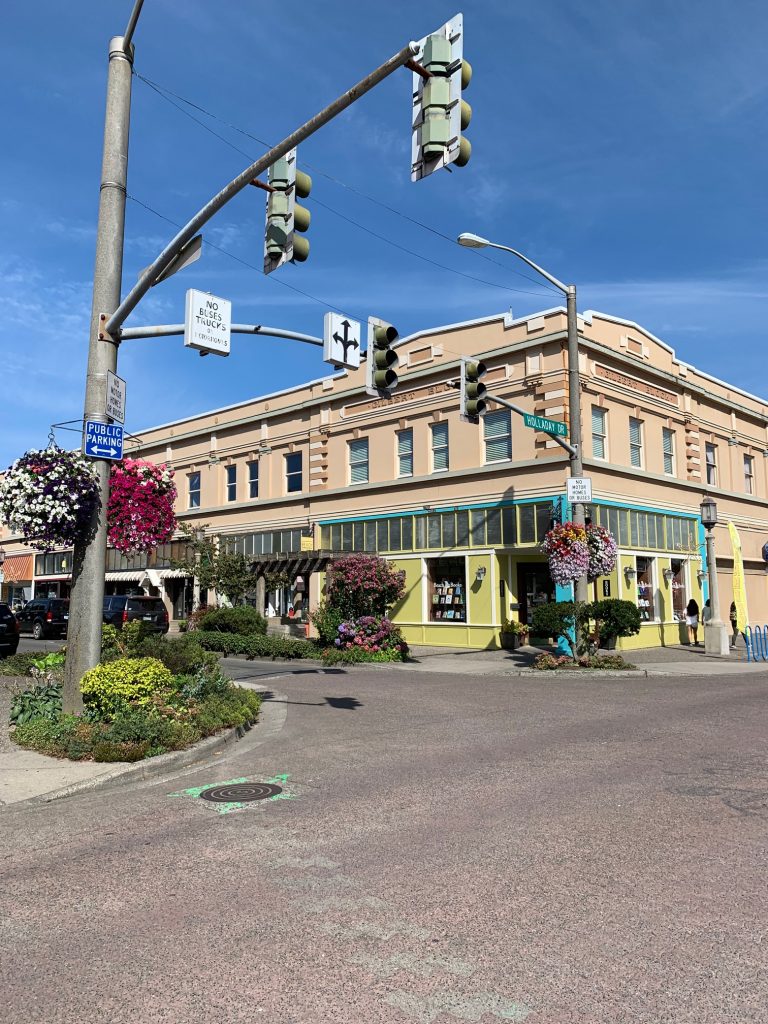 Each morning we would go for a walk into the town and get coffee.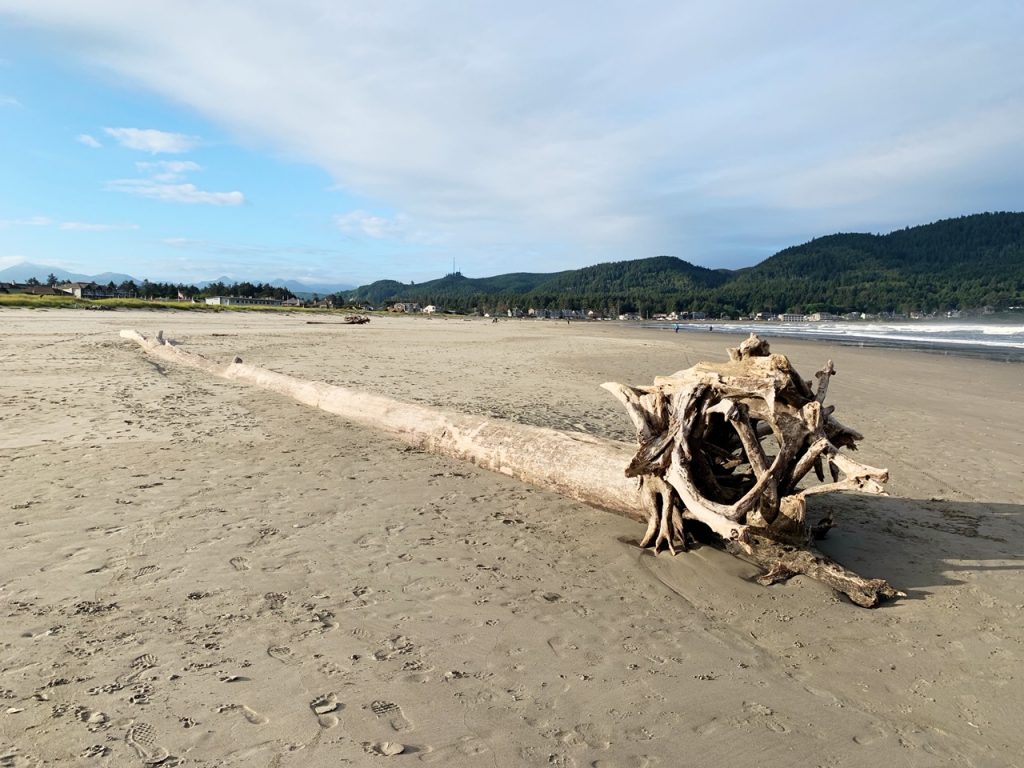 The beach was nothing like what I grew up with in Orange County, CA. It wasn't crowded and built up at all!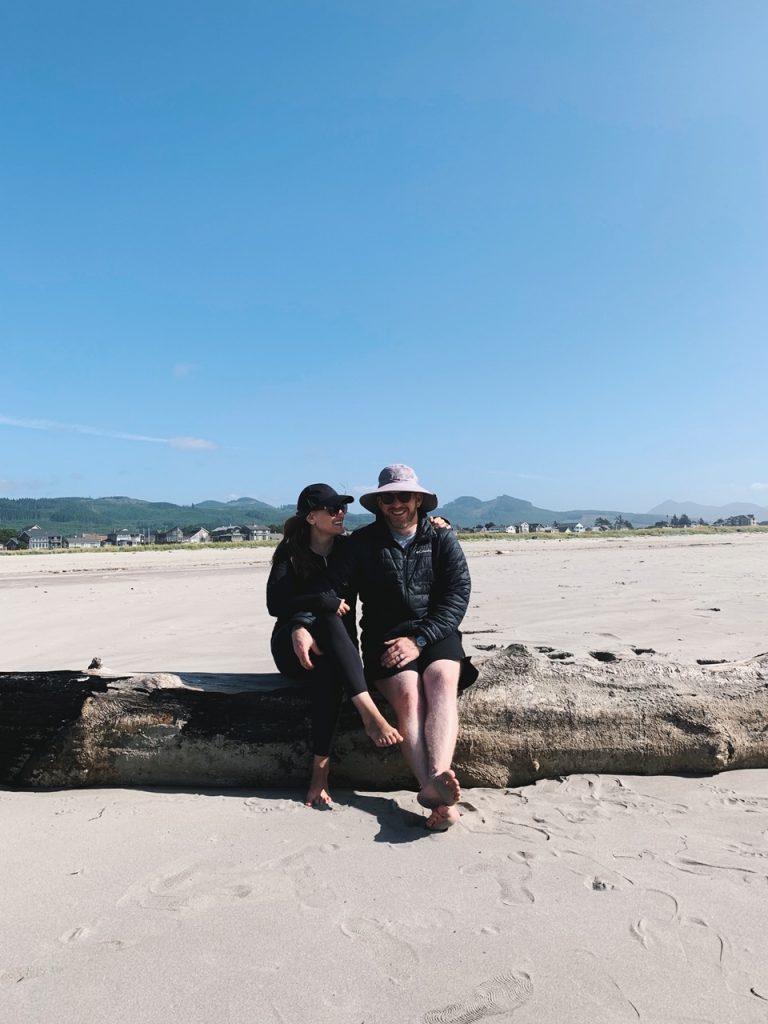 It was so lush and green!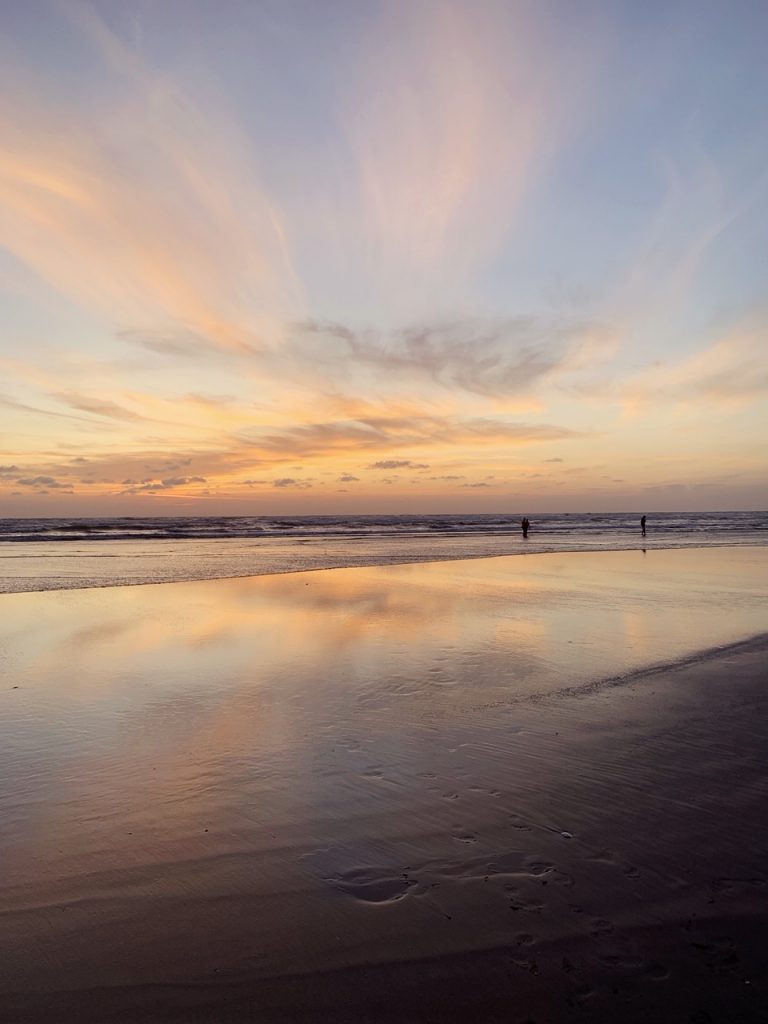 The sunsets were incredible!
On our way to the beach! The weather wasn't warm enough for bathing suits and swimming, but it was a perfect break from the Arizona heat and great to relax and get fresh air! It was in the high 60s during the day.
Everyone out for the sunset!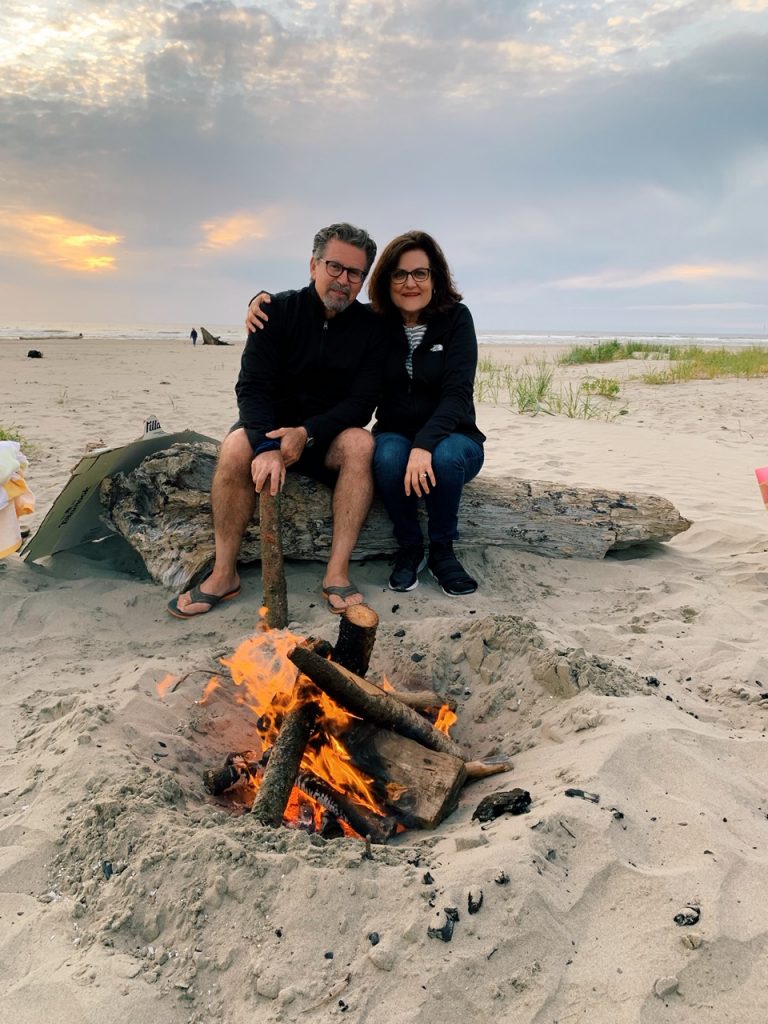 My parents celebrated their 38th wedding anniversary while on our trip!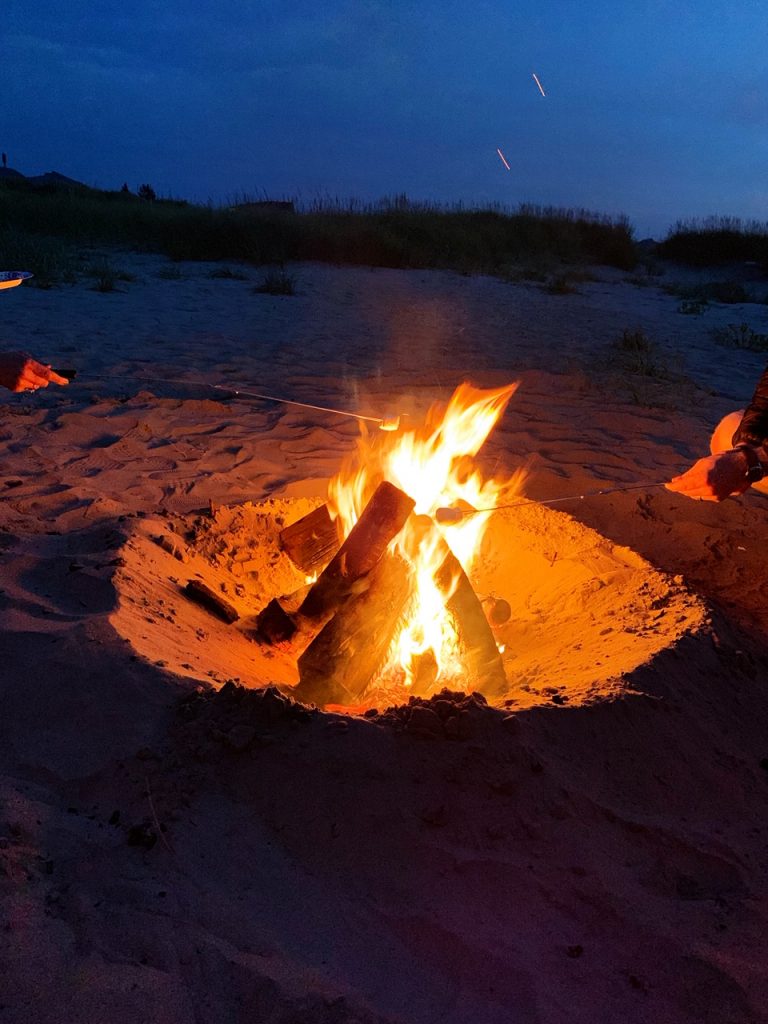 s'mores were a must! There was a Natural Grocers in the town next to Seaside, so I went and bought gluten free/dairy free marshmallows, graham crackers and chocolate so I didn't have to miss out!
Cannon Beach, OR: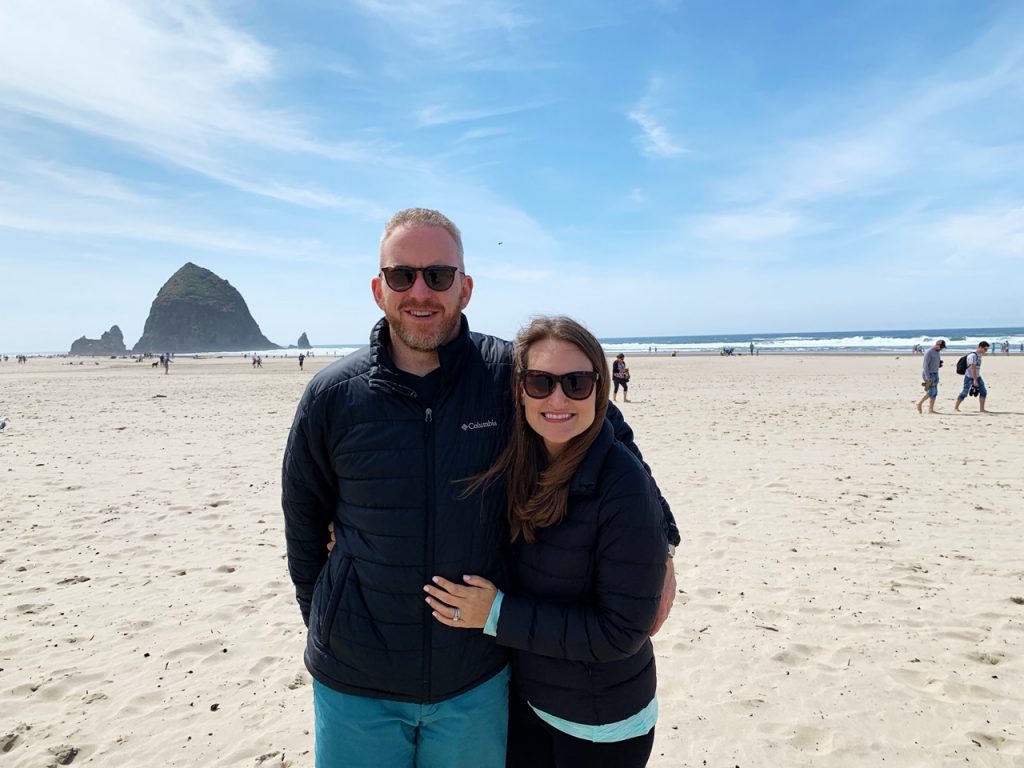 Cannon Beach is the town right next to Seaside and I'm obsessed with it! It's more of a tourist spot compared to Seaside, so it was more crowded but it was so beautiful and charming.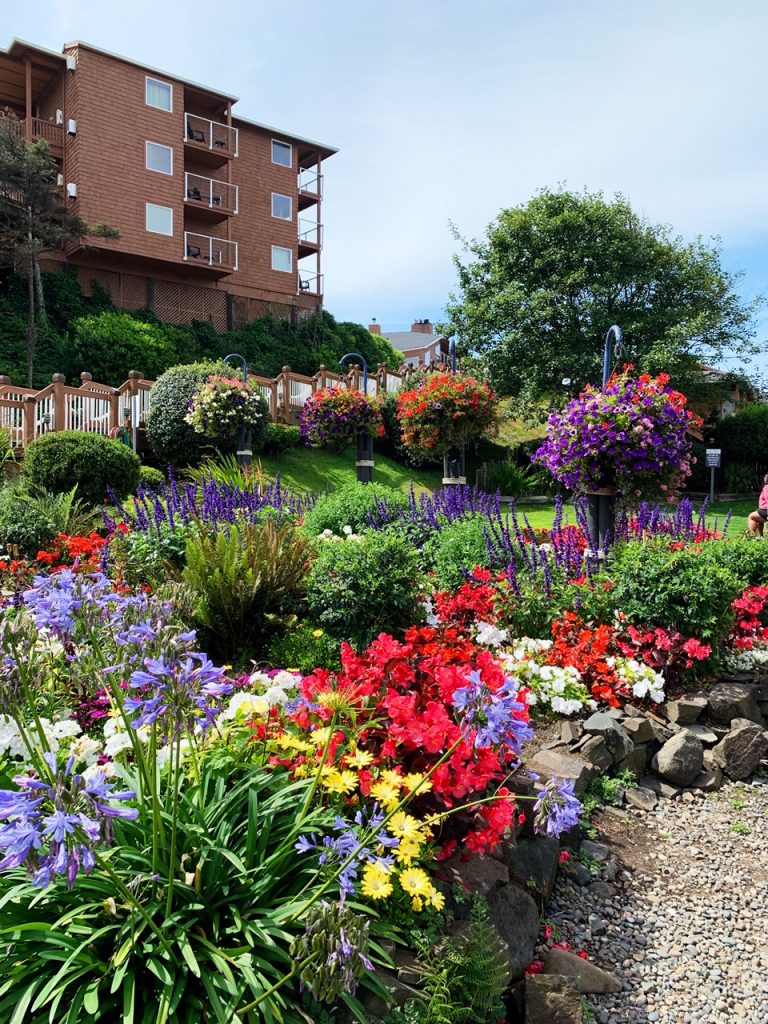 All the pretty flowers! They were everywhere!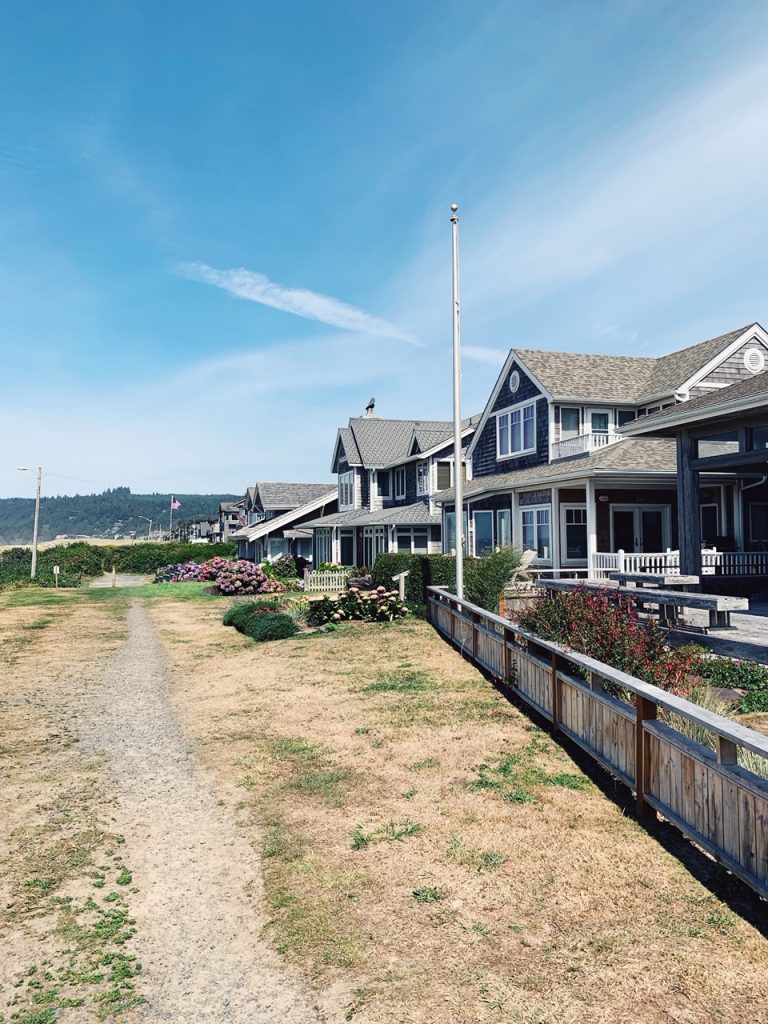 Every house was just perfect and the town reminded me of a Hallmark movie! Being there made me want to move to Cannon Beach and open a gluten free bakery or restaurant!
Food:
There are no 100% gluten free places in Seaside, Cannon Beach, Astoria, etc so I'm glad we had a full kitchen! I personally stick on the side of caution and didn't want to take any chances with eating out and possibly getting sick and ruining my trip, so I was completely fine with cooking/packing all my food.
A few people reached out to me on social media and recommended a place called "Yellow Curry Cozy Thai" and said even though it's not dedicated gluten free, they do a good job avoiding cross-contamination. I didn't go, but it's something to keep in mind if you ever visit!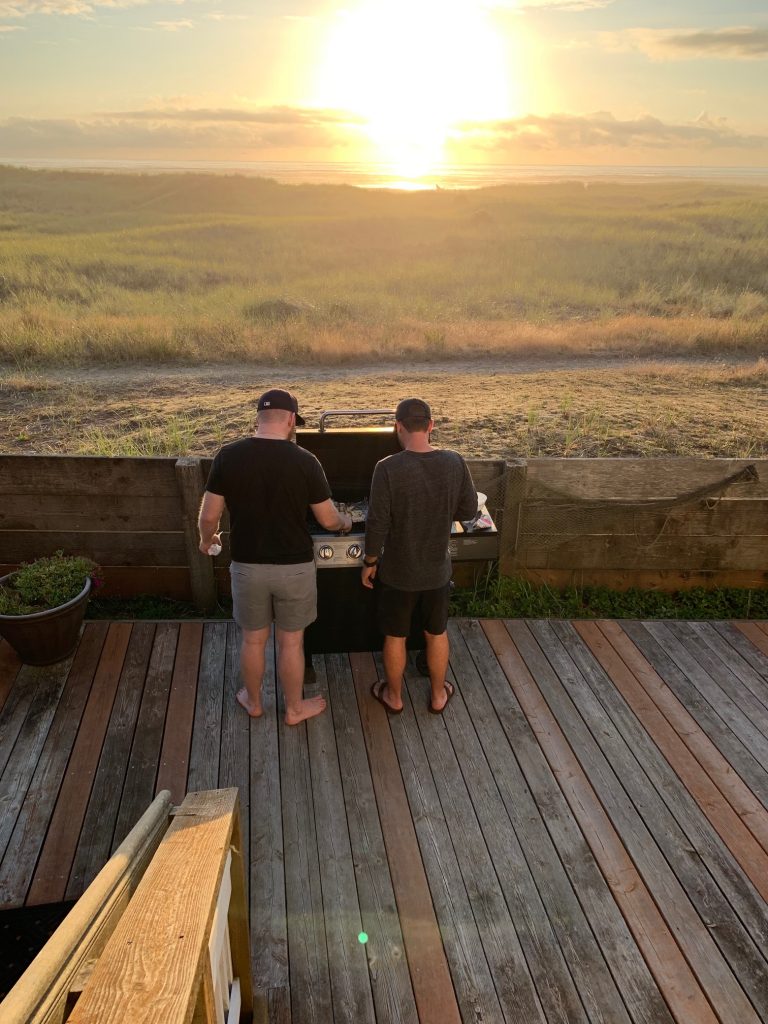 The grill masters! Look at that view!
We actually had a lot of fun cooking together. The guys would hang outside near the grill and the girls in the kitchen with music on.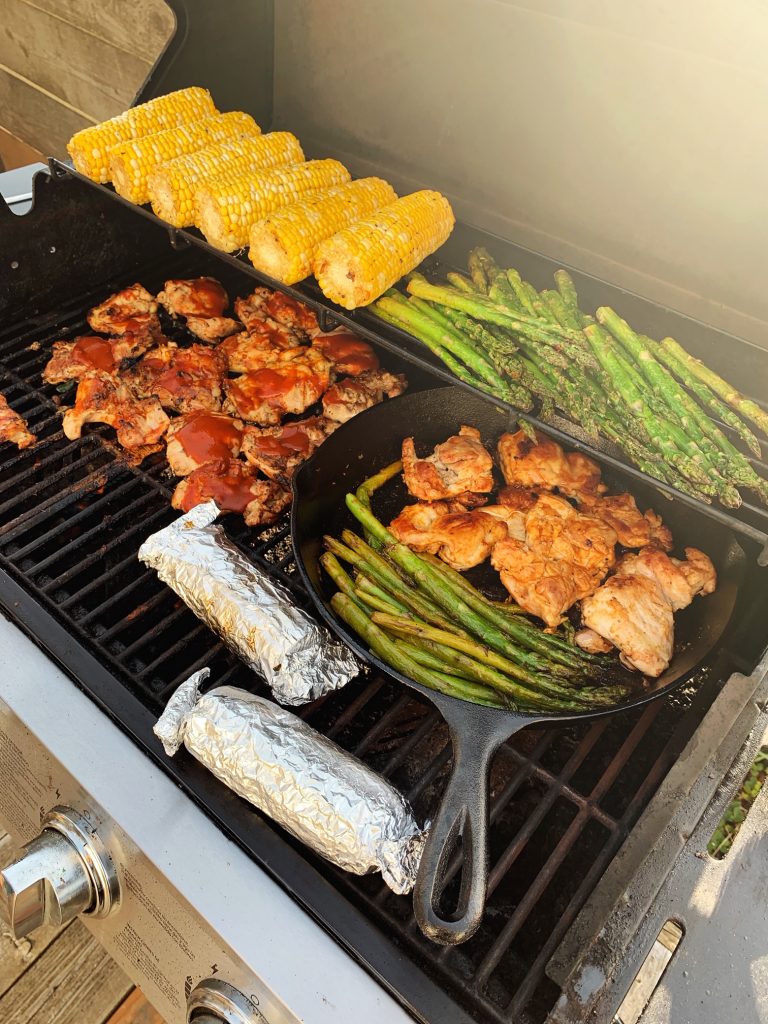 There was a Costco, grocery stores and Walmart all nearby so we were good with food!
I went to Walmart and bought a Cast-iron pan and another pan for the kitchen since they only had teflon and I wanted to avoid cross-contamination. The Cast-iron worked GREAT on the grill and now is going to be my new trick when going to people's houses for BBQs!!  I'm sure the grill had gluten on it in the past, so I cooked my food (with lots of leftovers!) on the cast-iron (and my corn in foil… I know foil isn't good for you and I never use it at home, but I'm fine using it in situations like this!).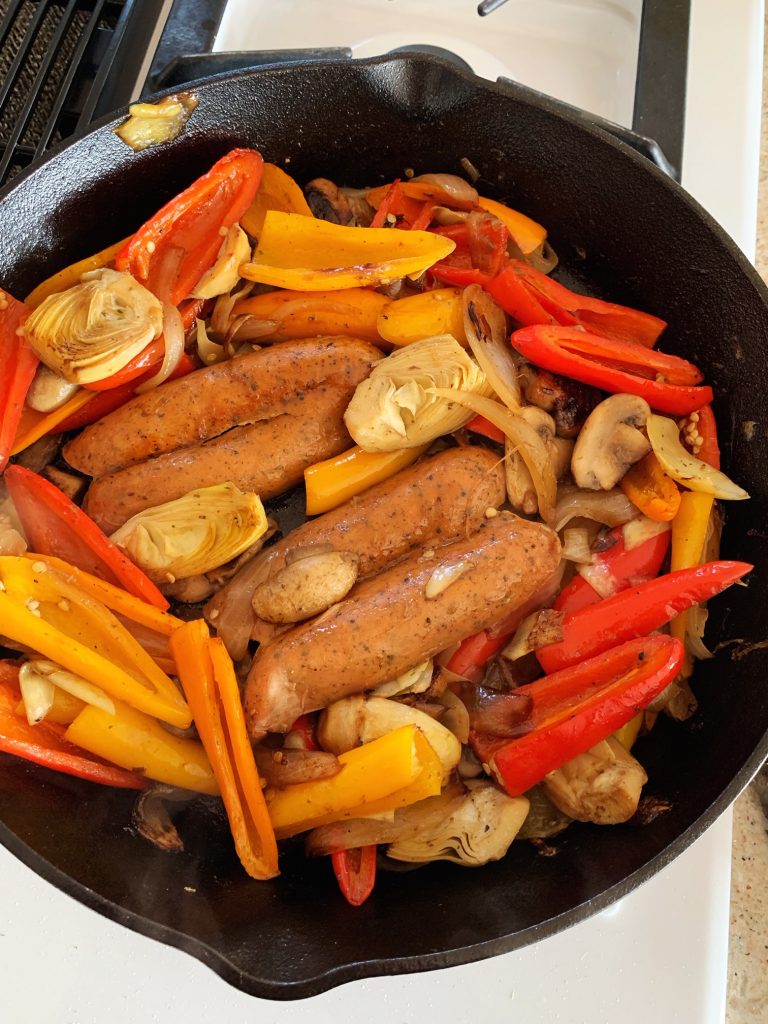 Sausage, peppers, onion, mushrooms and artichokes!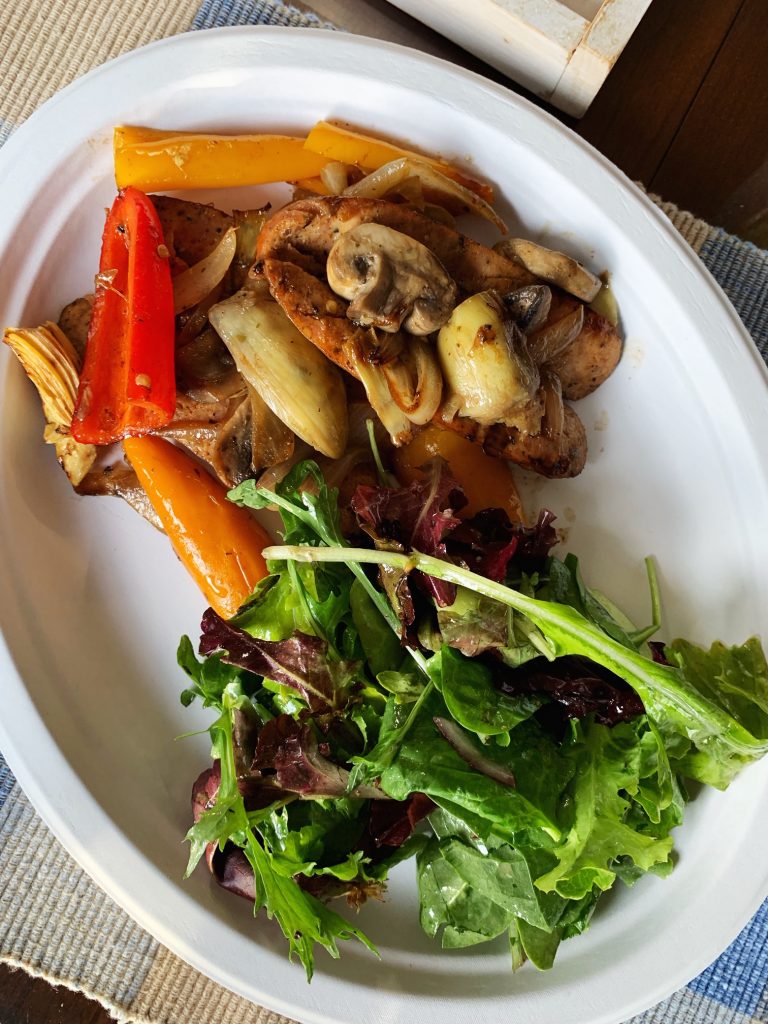 with a side of salad.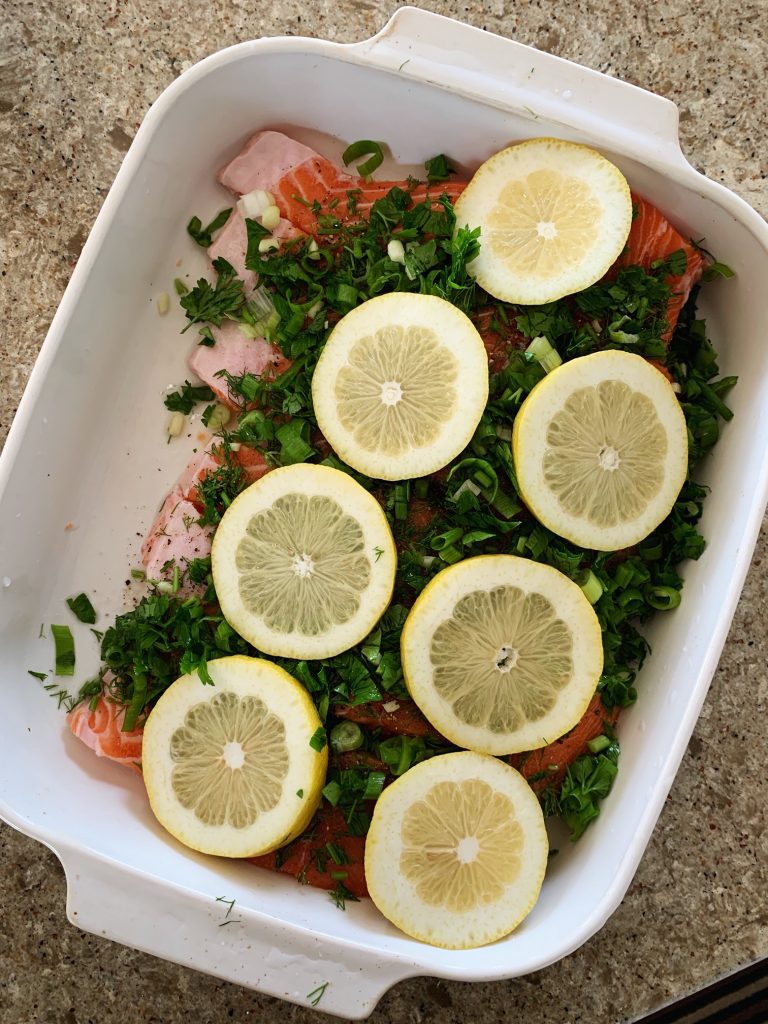 When at the coast you need fresh local wild salmon! Here it's marinating all day!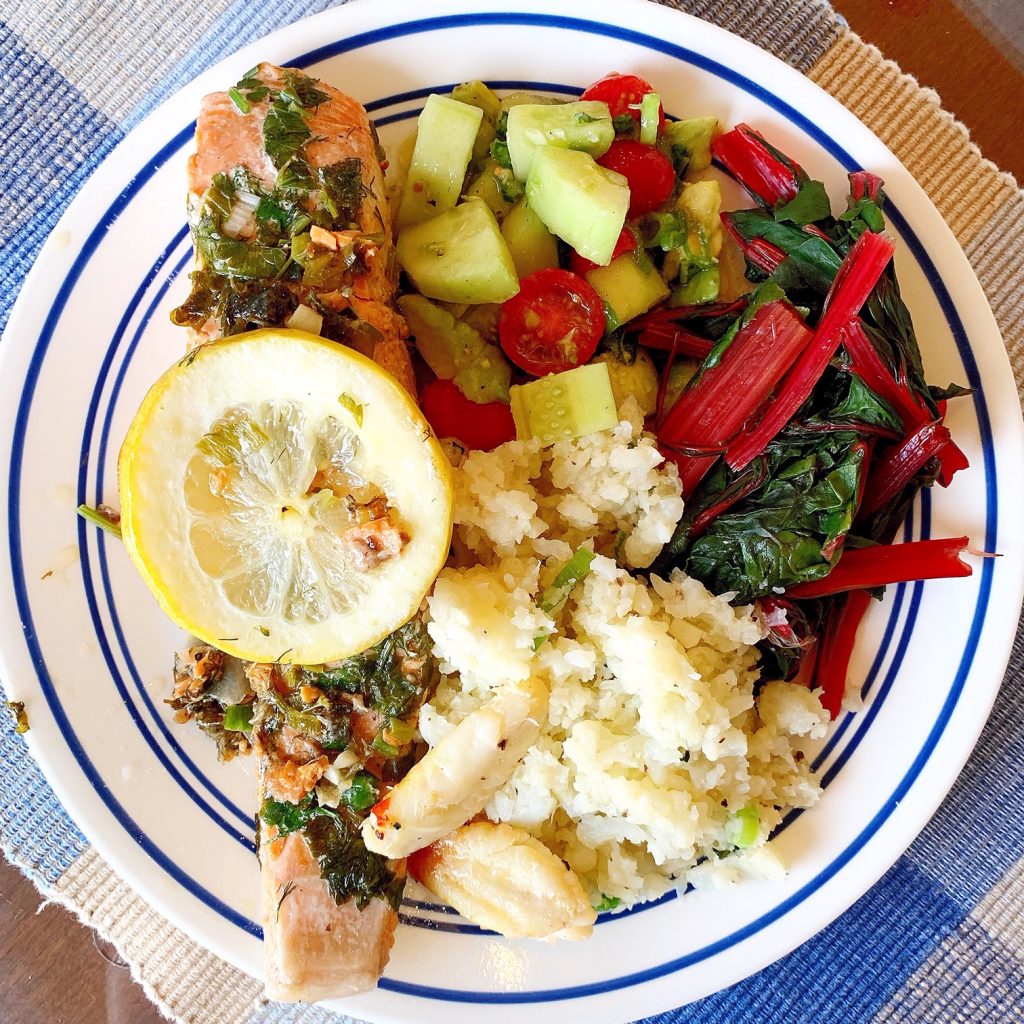 Wow! Now that's a full plate! Salmon, grilled crab, garlic-herb mashed cauliflower, swiss chard and cucumber/tomato/avocado salad. That was a team effort of cooking!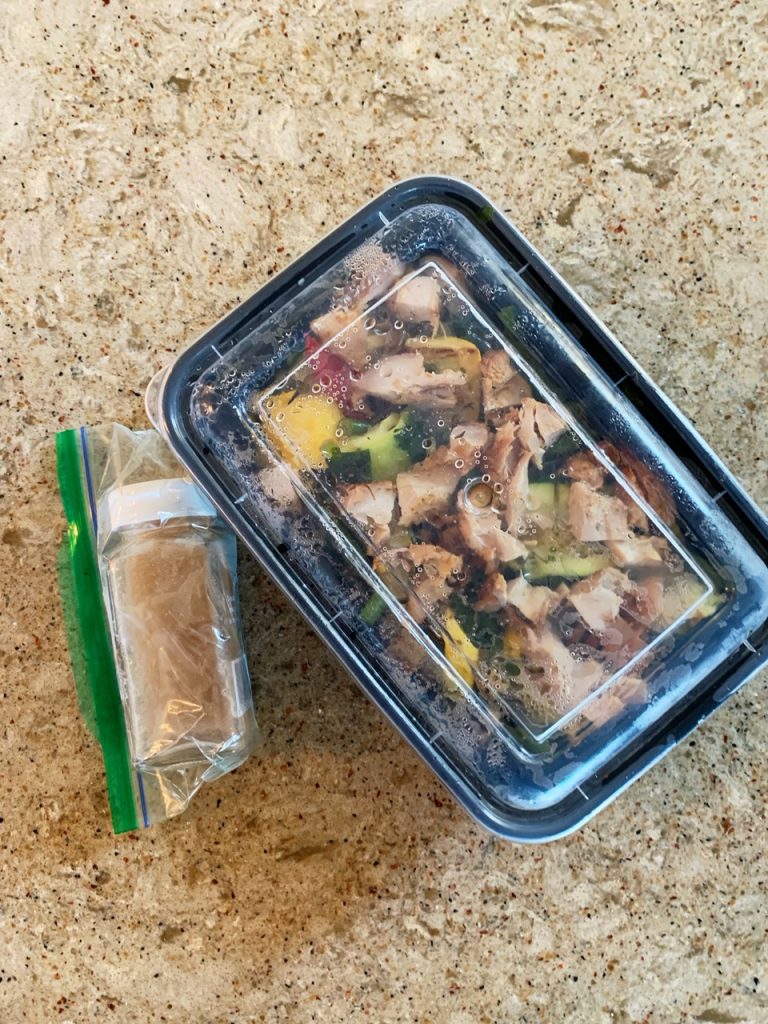 I brought my own Tupperware and empty bottle, so here I packed myself a salad with leftover grilled chicken and veggies and brought it with me to Cannon Beach. I ate my food when everyone else at a restaurant. I did that multiple times on the trip and I'm so glad I did because I felt great and never got sick!
This was my bag of food for the trip home. I made myself a sandwich and wrapped it in plastic wrap and then in a baggie (so it didn't fall apart). Don't forget, you can't use foil when traveling through an airport because they can't run it through security.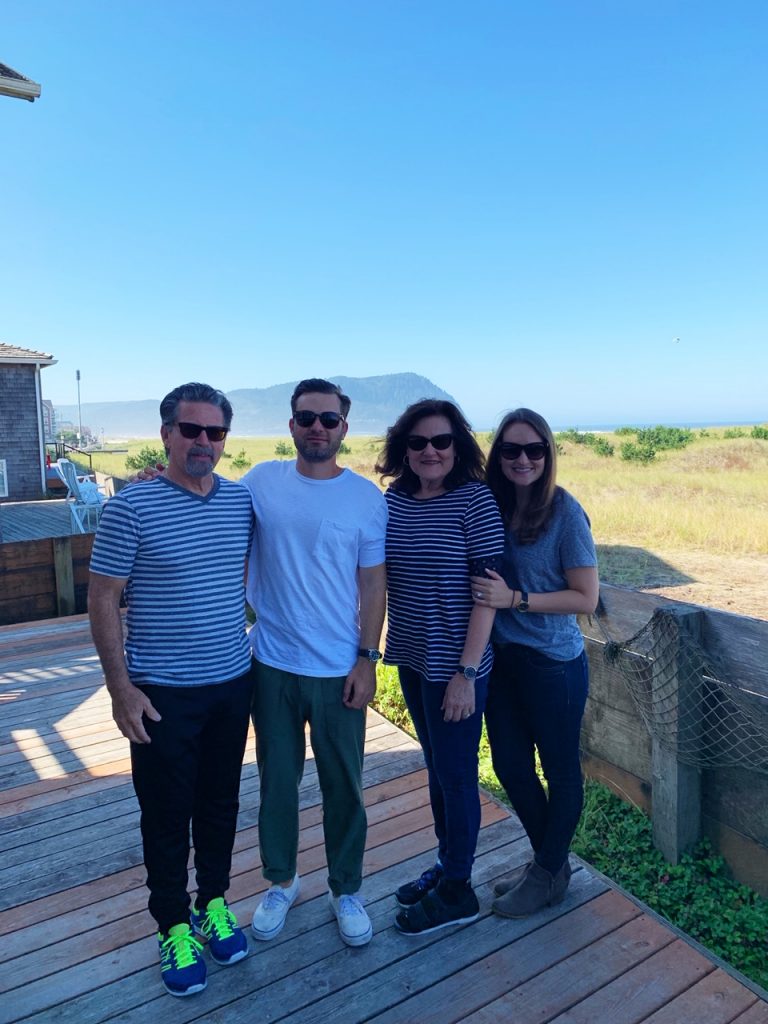 It was so nice spending quality time with my family!
If you're looking for a beautiful, relaxing trip I highly recommend the Oregon Coast!
Be sure to read through my Travel Must-Haves before you take your next trip! I used all of them on this trip!
If you don't already, follow me on social media to follow along with my life! Lets be friend! 🙂