Happy Tuesday, friends! Wow what a whirlwind it's been over here the past couple of weeks. All within less than a month we found out we were moving for a job opportunity for Erik… packed and left the only home we ever knew in Southern California and moved to Arizona, unpacked and are now trying to get settled in a new city.
Since I've been MIA around here for a couple weeks, I thought I'd check in and share about what we've been up to lately! Don't worry… I will continue with my usual posts (recipes, gluten free tips, etc) next week!
Erik, my dad and brother got a head start out to Arizona with the moving truck, so my mom and I drove out the next morning. There were some tears shed on the drive! I was excited for our new adventure, but sad to move away from family and friends. Southern CA traffic is something I for sure won't miss!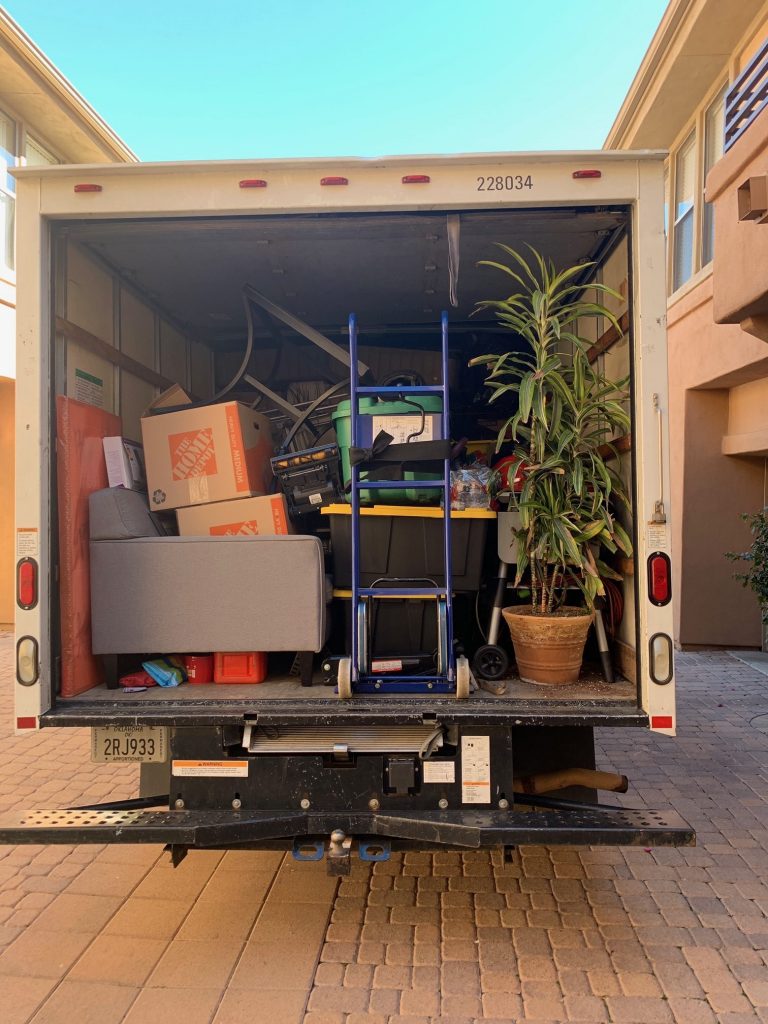 Scottsdale, we arrived! Crazy how our whole life fit into a truck.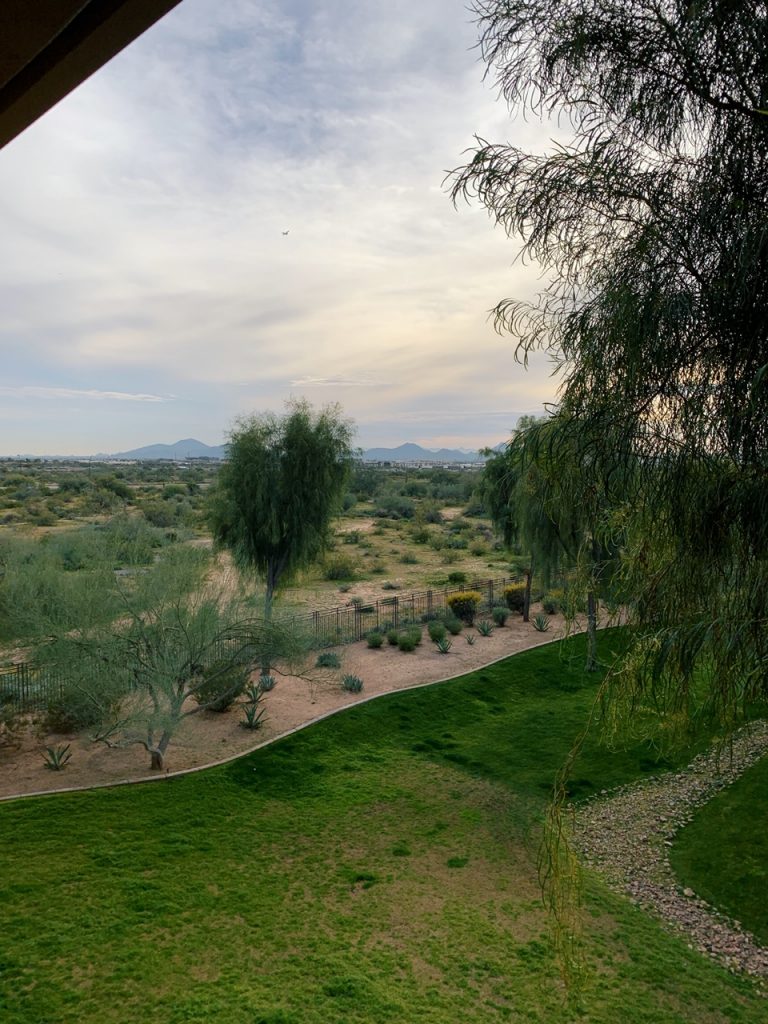 Look at the view from our balcony! I can sit outside all day and just take in the scenery!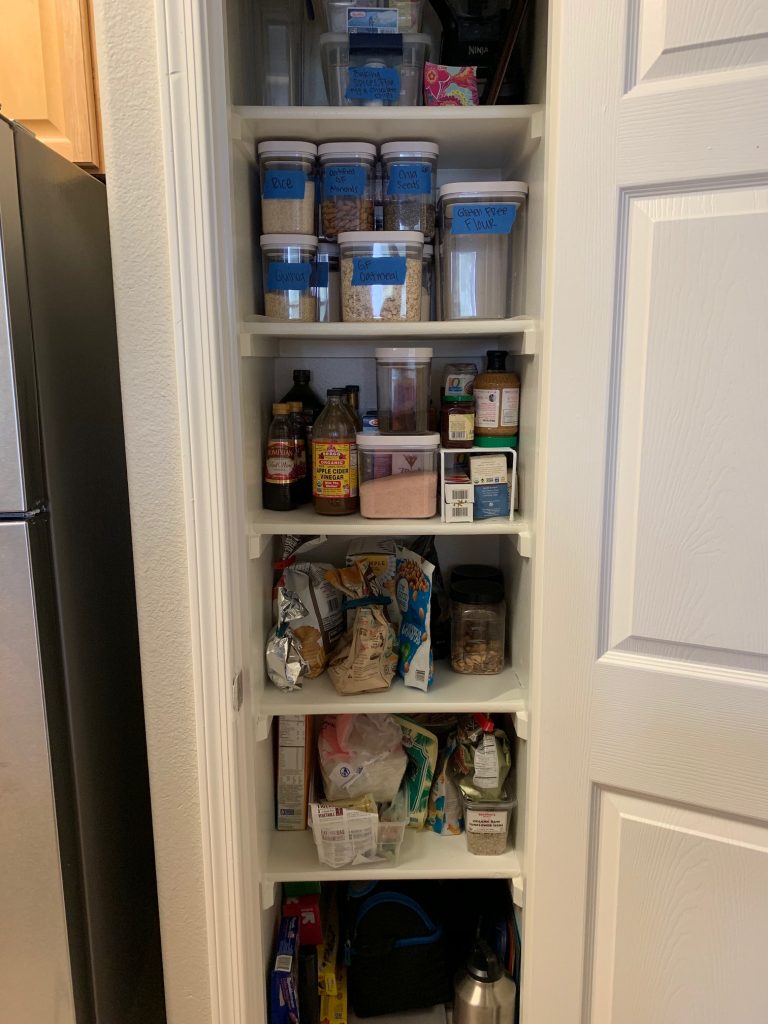 My top priority was organizing my kitchen. Being gluten free can be challenging when moving… you don't realize how much you depend on having everything in your kitchen! Don't mind the painter's tape on my containers HA- I still need to get tags for them. (Tip- store your almond butter upside down so the oil doesn't sit on the top)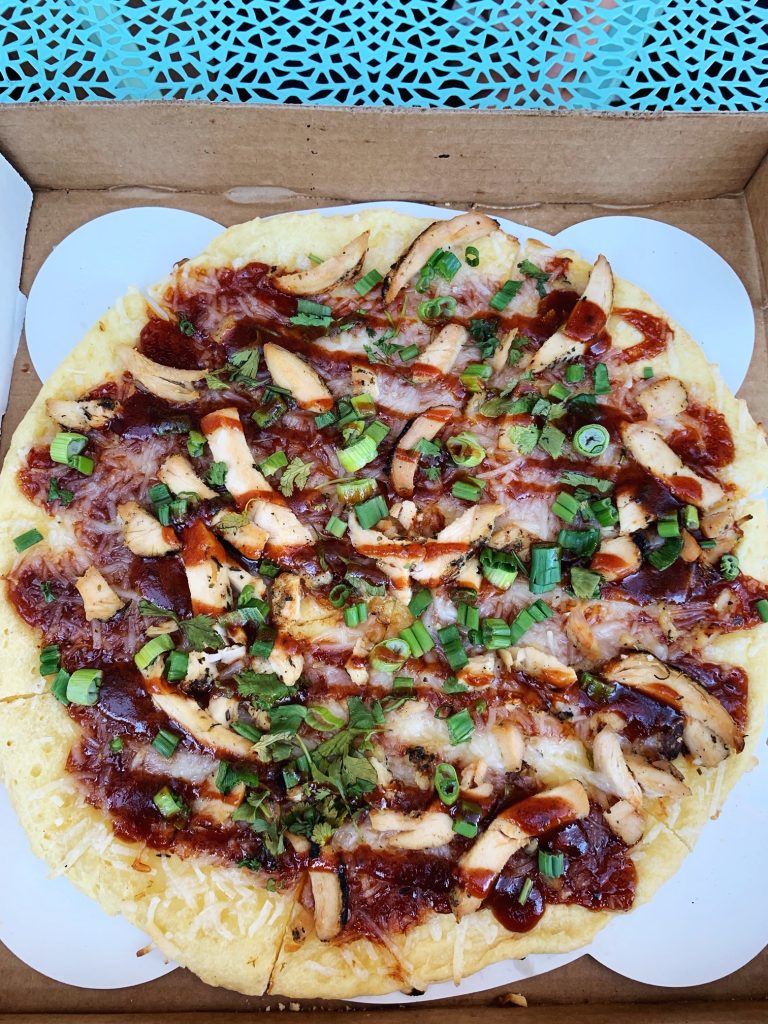 I'm really lucky to have a great gluten free restaurant a few miles from our place. If you're in the area be sure to check our Picazzo's Healthy Italian Kitchen, they have a few locations throughout Arizona! It was so helpful being able to stop and grab food when we were out running errands.
My parents and brother stayed the weekend to help us move in and get settled. I don't know what we would have done without them! While they were here we unpacked everything, hung artwork on the walls, got a new car, a new couch, furniture for the guest room, and still managed to have some fun and explore Scottsdale! I know they're only a drive or short flight away… but I'm sure going to miss them!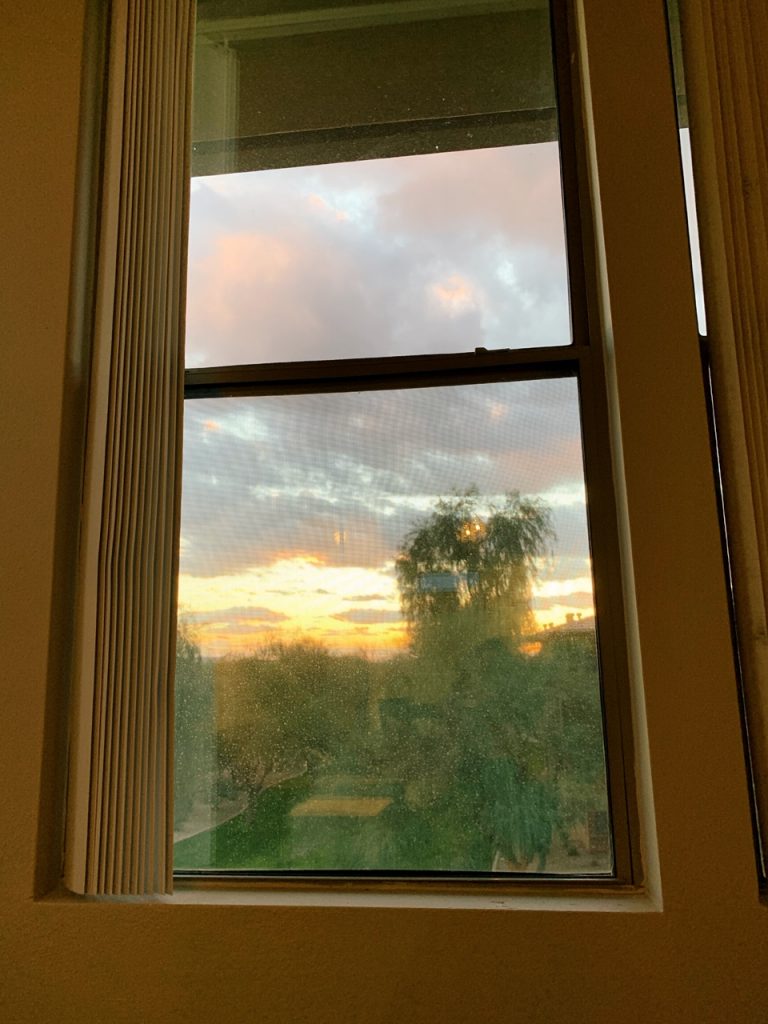 Check out the sunset! The views from our place couldn't be better!
The first meal I cooked in my new kitchen (side note: my kitchen has an electric stove/oven… which I'm really bummed about! If you have and love an electric stove, share your tips and convince me I'll love it! Ha)
I needed a quick meal while we were organizing/unpacking so I made my go-to one pan meal!
Ingredients:
chicken breasts, cut into chunks
broccoli
baby carrots
cauliflower
red onion
salt/pepper
oregano
garlic powder
olive oil
fresh parsley, to garnish
Instructions:
Preheat oven to 475F
Toss all ingredients (minus the parsley) together and add to oven safe dish.
Bake for 18-20 mins or until chicken has an internal temp of 165F
Top with fresh parsley
There is a golf course in our neighborhood, so we went for happy hour to hear live music! I opted to just have a glass of wine… no taking chances for me to get glutened (especially in my first week of living here!).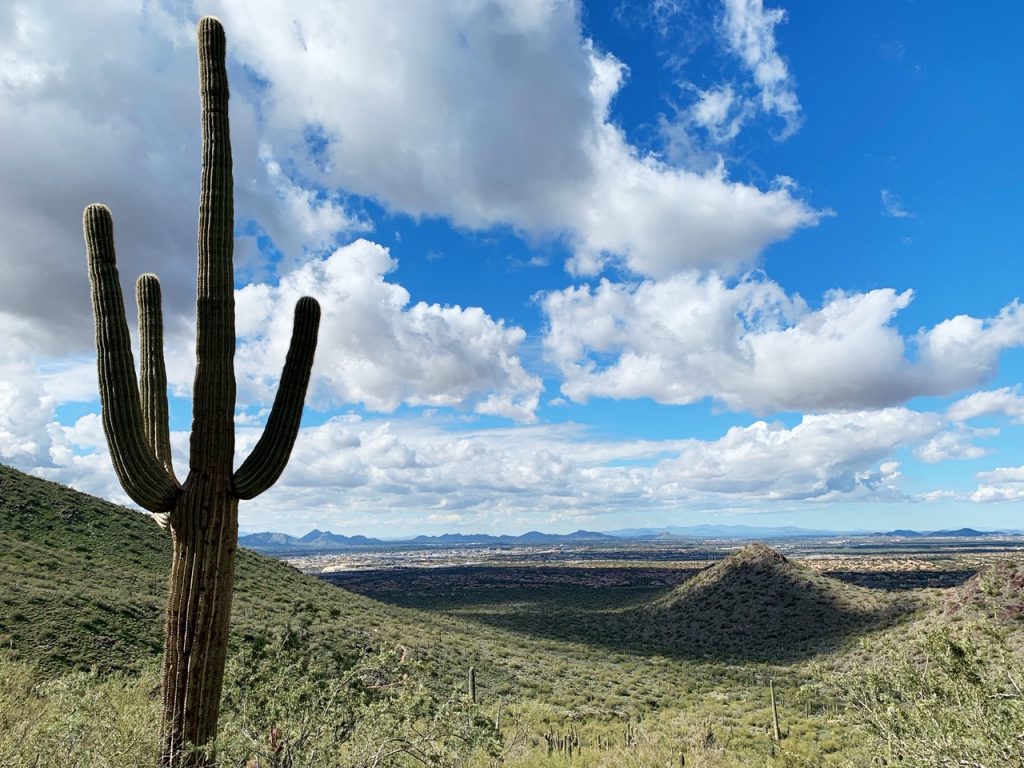 This past weekend, Erik and I decided to explore and go for a hike. If you're in the area you should definitely check out The Gateway Trail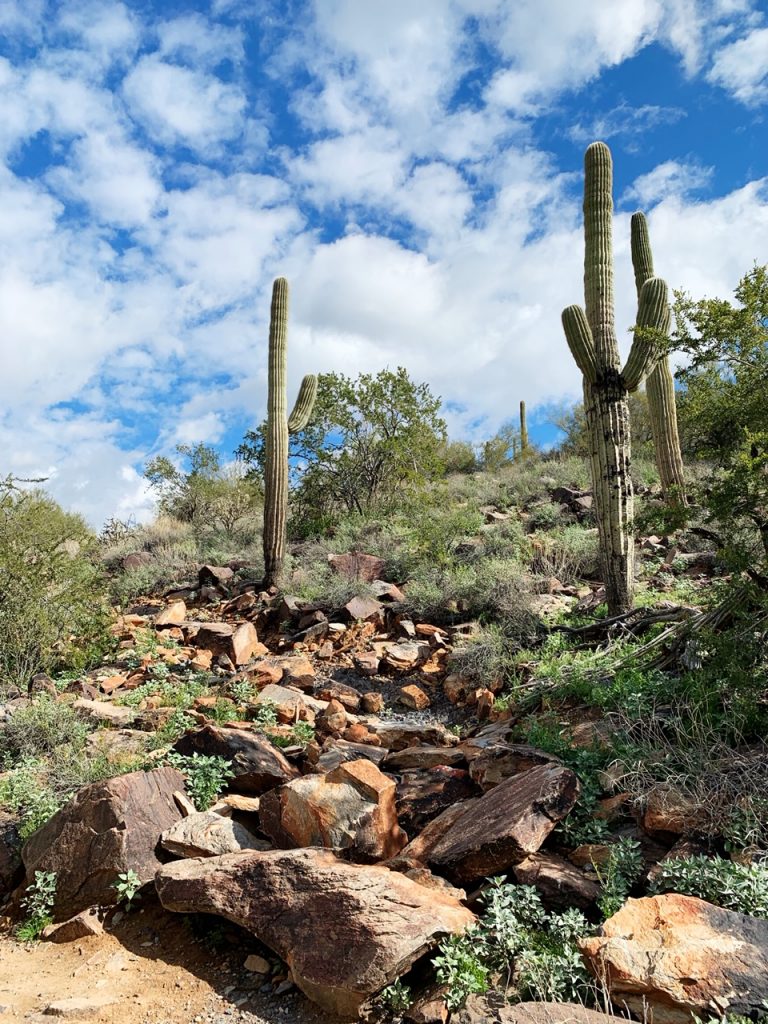 The scenery was incredible!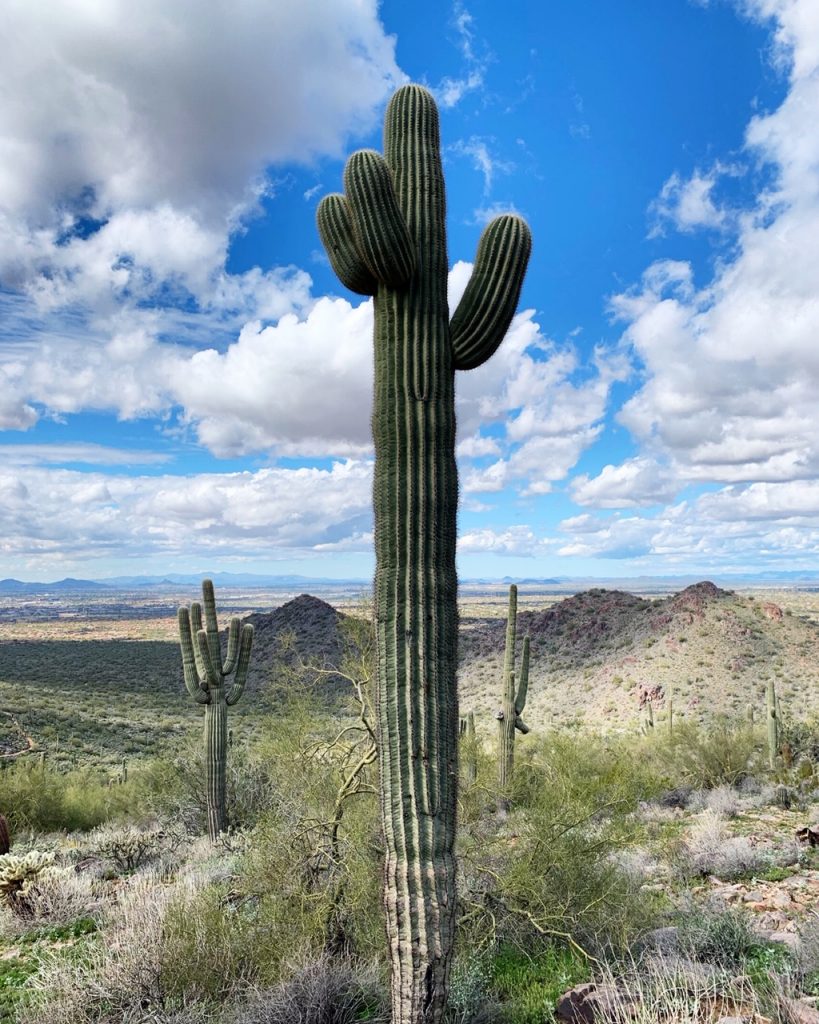 Coming from Orange County, CA I know I'll sure miss the beach… but I must say I'm pleasantly surprised with how beautiful the desert is!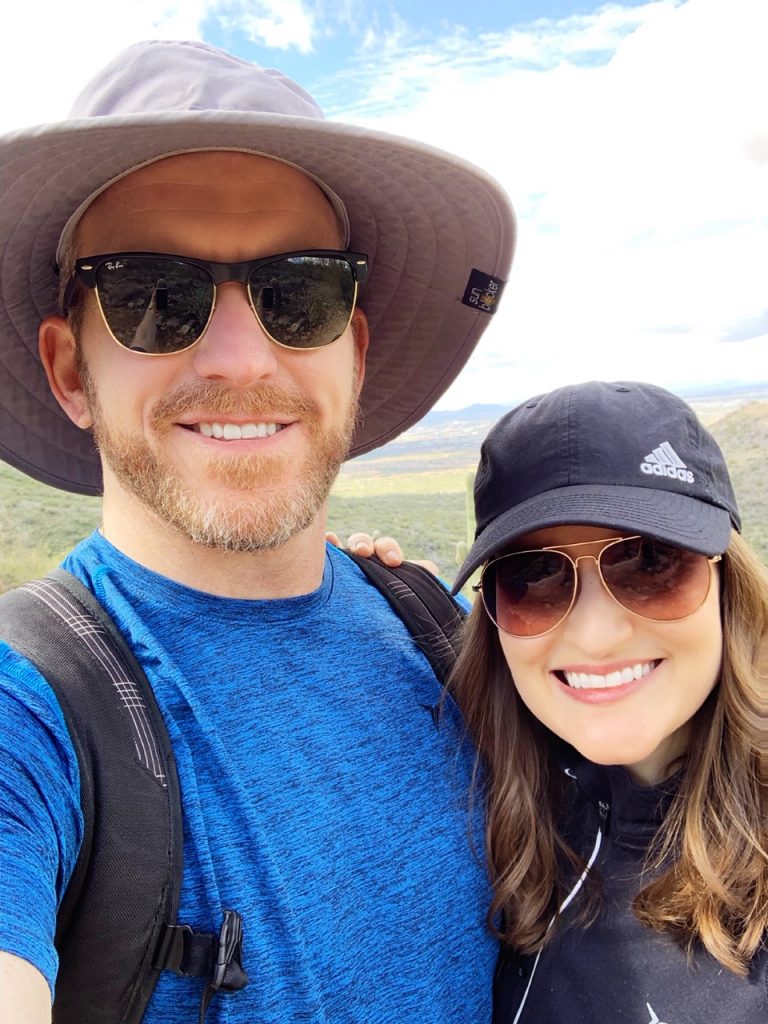 Right now it kind of feels like we're on vacation, exploring a new city but there is absolutely no one else I'd rather experience this new adventure with than my sweet husband, Erik. 
Tomorrow is actually our 3rd wedding anniversary, so it's exciting to start our third year of marriage with this adventure. We met 16 years ago in high school biology, then three years ago we got married in the Bahamas and now we're starting a new chapter of our lives in Arizona. I've learned that life doesn't always go as planned, and that's okay because sometimes great things happen when you least expect them… and I've also learned that challenging times can bring blessings as well.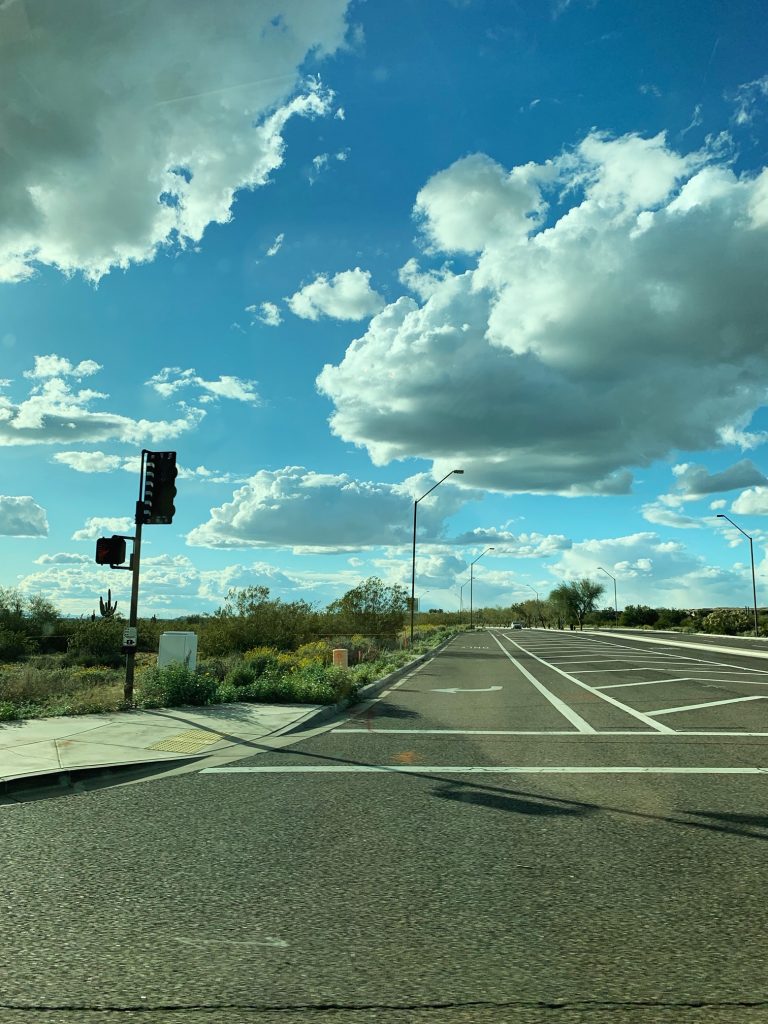 Yesterday I was running errands and had to get a picture of the sky. We don't have clouds like that often in Southern CA!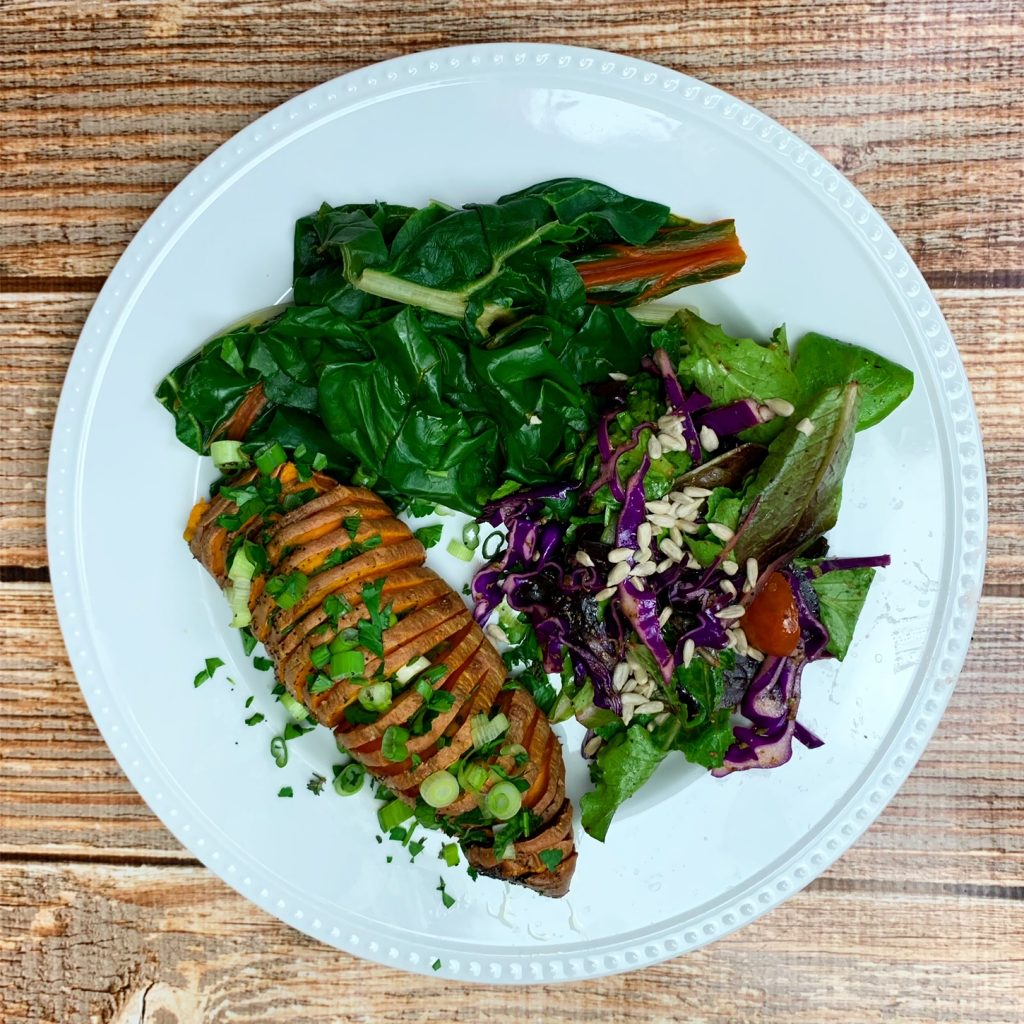 It's been hard balancing my time… finishing organizing our things, running errands, staying on top of my work (I teach online graduate courses), and cooking. I have to admit, I haven't been eating as well as I normally do… grabbing gluten free packaged snacks on the go, eating out WAY more than I ever do or like to (all at dedicated GF places) and cooking quick meals. Last night we had a much needed meatless Monday! I made sautéed Swiss chard, salad and garlic herb hassleback sweet potato.
That's pretty much my late lately… moving, unpacking, organizing, exploring, organizing more and trying to work somewhere in-between! Thanks for all your sweet comments/emails/DMs on social media offering advice, moving tips, Arizona tips, and words of encouragement on adjusting to a new city.
It's going to be a hard change for me being away from my family (we're super close!) and a little scary leaving doctors I finally trust and having to find new ones,  but I'm really excited for this opportunity and can't wait to see what the future brings! I will keep you all updated…. and be sure to stay tuned for lots of gluten free recipes/tips to come!
xo, Kristina