This moist gluten free pumpkin bread, swirled with creamy Nutella is the perfect way to start your morning this fall!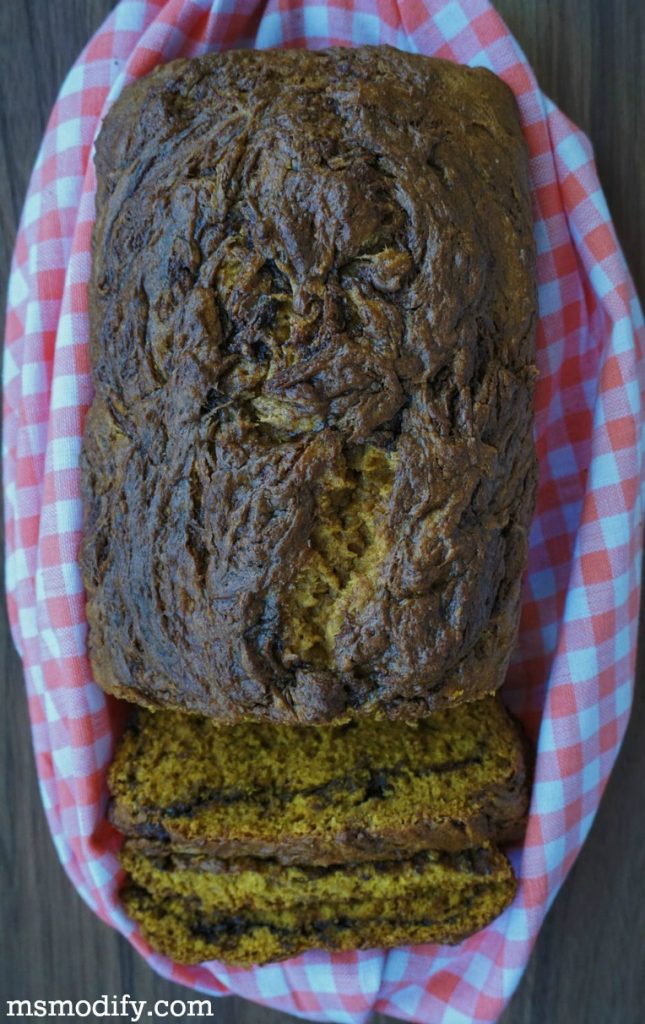 Can you believe I just tried Nutella for the first time a few months ago?! Yeah, I know! I can't believe I went my whole life missing out on the sweet, creamy goodness of Nutella! It was love at first taste and now I'm obsessed!
I decided I had to mix pumpkin and Nutella together and then this incredibly moist bread was made! Let me tell you, I bake a lot of bread… but this one has to be my favorite so far! Normally when I bake, I keep a little and then give the rest away. When Erik took one bite of this bread, he wouldn't let me give it away! Side Note: We may or may not have eaten the whole loaf in two days!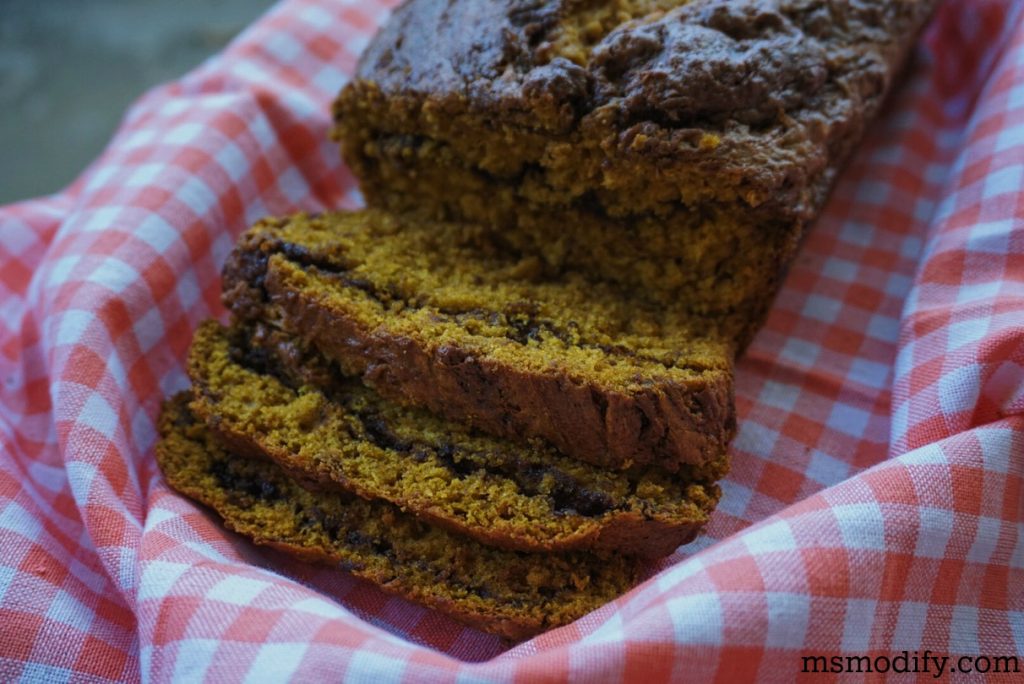 So my friends, this fall grab yourself a cup of coffee and enjoy a warm piece of my Nutella pumpkin bread!
Ingredients:
1 1/2 cups gluten free flour (I use Cup4Cup)
1 cup brown sugar
1 cup canned pure pumpkin
1/2 cup butter, melted
2 eggs
1 1/2 tsp pumpkin pie spice
1 tsp baking powder
1 tsp baking soda
1/2 tsp salt
1/4 cup Nutella
Instructions:
1. Preheat oven to 350 degrees.
2. Grease a loaf pan and set aside.
3. In a medium bowl, whisk melted butter, sugar, eggs and pumpkin.
4. In another bowl, mix together the flour, pumpkin pie spice, baking powder, baking soda, and salt.
5. Slowly mix together the wet and dry ingredients.
6. Place Nutella in a microwave safe bowl and microwave 10-15 seconds.
7. Pour half of pumpkin batter into your prepared pan.
8. Spoon half of Nutella over batter and swirl with a knife.
9. Pour remaining pumpkin batter over top.
10. Repeat with Nutella and swirl.
11. Bake 45-50 minutes or until toothpick comes out clean. (*This is based on using Cup4Cup flour. I've heard from people when using other brands, timing may need to be longer. If using another brand of gf flour, please time based off checking with a toothpick until it comes out clean!)
If you're looking for more gluten free recipes this fall, there is a great website I highly recommend called FavGlutenFreeRecipes. They have thousands of recipes, including great fall ones…and some of mine! If you need some inspiration in the kitchen, make sure you check out their site!
Enjoy!