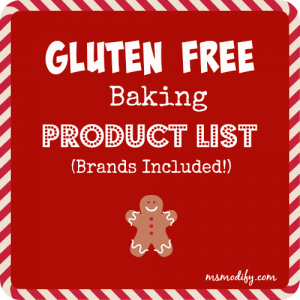 'Tis the season for baking! Baking always gets me into the holiday season, but there is nothing worse than being at the store and leaving empty handed because you can't figure out what is and isn't gluten free! I can't tell you how many times this has happened to me and then it's discouraging to figure it out and return to buy the gluten free baking products!
Since this has happened one too many times to me, I now have a list of brands I've put together and keep it in my phone so I never feel discouraged again! Don't worry friends; I have your back with a gluten free baking product list!
Happy Baking! 🙂
Baking Chips:
Hershey's
– Butterscotch
– Cinnamon
– Milk
– Mini Semi-Sweet
– Premier White
– Semi-Sweet
– Special Dark
– Sugar Free
Ghirardelli
Baking Chips
– Double Chocolate Bittersweet (60% Cacao)
– Milk Chocolate
– Mini Semi-Sweet Chocolate
– Semi-Sweet Chocolate
Enjoy Life
Dark Chocolate Morsels
Reese's
Peanut Butter Chips
Andes
Baking Chips
– Creme de Menthe
– Peppermint Crunch
Baking Powder:
Rumford
Clabber Girl
Bob's Red Mill
Argo
Ener-G
Dr. Oetker
Royal
KC
Hearth Club (Clabber Girl)
Hain
Davis
Baking Soda:
Bob's Red Mill
Arm & Hammer
Butter:
Smart Balance
Land O' Lakes
Great Value (Wal-Mart)
Cabot
Kerrygold
Earth Balance Natural Spreads
Organic Valley
Candy Canes:
Spangler
Candy Canes (All Flavors)
Condensed Milk:
Carnation
Eagle brand
Dried Cranberries/Raisins:
Ocean Spray Craisins
Sun-Maid
Sunsweet
Extracts:
McCormick
– Pure Almond
– Pure Anise
– Pure Lemon
– Pure Mint
– Pure Orange
– Pure Peppermint
– Pure Vanilla
– Raspberry
-Gourmet Collection Vanilla Beans
-Gourmet Collection Organic Pure Madagascar Vanilla Extract
Durkee
– Pure Almond
– Pure Anise
– Pure Lemon
– Pure Mint
– Pure Vanilla
Tone's
– Cinnamon
– Pure Almond
– Pure Anise
– Pure Lemon
– Pure Mint
– Pure Vanilla
– Raspberry
Spice Islands
– Pure Almond
– Pure Lemon
– Pure Vanilla
-Bourbon Vanilla Bean
Evaporated Milk:
Carnation
– Original
– Fat Free
– Low Fat 2%
Flour:
There are many out there, but my favorite is Cup4Cup
Non-stick Cooking Spray:
PAM ** "PAM Baking is not gluten-free, as it contains real flour, which is derived from wheat."
– Butter Flavor
– Olive Oil
– Original
Smart Balance
-Non-Stick Cooking Spray
– Butter
– Original
Nuts:
Planters
Blue Diamond
Diamond of California
Almonds
– In-the-Shell
– Sliced
– Slivered
– Whole
Black Walnuts
Brazil Nuts
– Large
– Shelled
Hazelnuts
– Chopped
– Large
– Shelled
Chopped Macadamias
Walnut Nut Topping
Raw Spanish Peanuts
Pecan Chips
Pecan Halves
Pecans – 3 varieties
– Chopped
– In-the-Shell
– Shelled
Pine Nuts
Walnuts
– Chopped
– Finely Diced
– Jumbo
– Shelled
Walnuts Chips
Walnuts Halves
Pre-made Mixes:
These are easy to spot at the store since it says it big on the box, but my favorite are the Betty Crocker mixes.
Spices:
McCormick
Spice Islands
Simply Organic
Durkee
Tone's
Sugars (granulated, brown, confectioners):
Pure sugar is naturally gluten free.
As always, I use my favorite shopping app when I'm grocery shopping!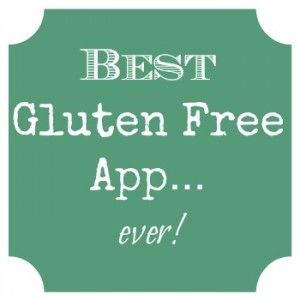 If you know of any other brands that I missed or if you want to know about another baking product that I missed, just let me know!
**This list is for the US. If you're in another country, please contact the manufacturer first.