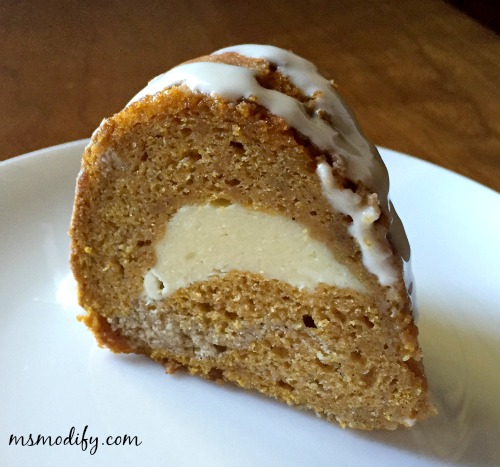 Pumpkin plus cheesecake, can it get much better than that?! I don't think so… oh wait! But it's gluten free, so yes it gets better! I came across this recipe on Pinterest and instantly knew I had to modify it to become gluten free.
Let me tell you, this is seriously probably one of the best cakes that I've ever had… yes EVER! No joke Erik ate two pieces back to back so fast I didn't even realize he had a second! #sheddingforthewedding did not happen the day I made this cream cheese filled pumpkin bunt cake!
If you're looking for a last minute dessert to make for Thanksgiving, look no further!
Modified from Real Housemoms 
Ingredients:
Cake Batter:
1 ½ sticks unsalted butter, softened
1 ¼ cups gluten free flour plus more for dusting pan (my favorite is Cup4Cup)
2 tsp baking powder
1 tsp baking soda
1 tsp cinnamon
¾ tsp pumpkin pie spice
½ tsp salt
1 ¼ cup pure pumpkin (not pumpkin pie filling)
¾ cup buttermilk
2 tsp vanilla
1 ¼ cups granulated sugar
3 large eggs
Cream Cheese Filling:
8 oz. cream cheese, softened
½ cup granulated sugar
1 large egg
1 tsp lemon juice
1 tsp vanilla extract
3 Tbsp gluten free flour
Icing:
2 Tbsp buttermilk
1 ½ cups confectioners sugar
Instructions:
Preheat oven to 350 degrees. Grease bunt pan and dust with flour (shake out extra flour). Set pan aside.
In a medium bowl, whisk together flour, baking powder, baking soda, cinnamon, pumpkin pie spice and salt. Set aside.
In another bowl, whisk together pumpkin, buttermilk and vanilla. Set aside.
In a separate bowl, cream together the butter and sugar until light and fluffy (3-4 mins). Add in the eggs, one at a time and beat on medium for about one minute.  Reduce speed on mixer to low and add in flour mixture and pumpkin mixture. Mix until batter is smooth, but don't over mix.
In a separate bowl, beat the cream cheese and sugar until light and smooth. Add in the egg and beat until mixed in. Beat the remaining ingredients and set aside.
Pour about 3 cups of the cake batter into bunt pan and smooth out. Using the back of spoon make a little ditch for the cream cheese filling to be poured into. Carefully add the cream cheese mix, keeping it in the ditch. Spoon the remaining batter on top and even out.
Place in oven and bake for 45 minutes. Then, reduce heat to 325 degrees and cover pan with foil. Bake for another 15-20 minutes, or until toothpick comes out smooth.
Allow to cool for about 5-10 minutes before removing from pan. Allow cake to cool completely before frosting.
In a small bowl whisk together confectioners sugar and buttermilk until smooth, add more of each until you get your desired consistency. Drizzle over cooled cake.
Enjoy!
If you like this recipe, you will also love: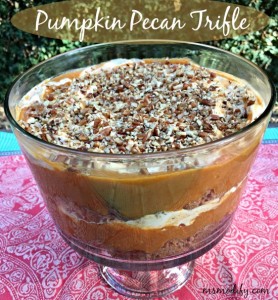 Gluten Free  Pumpkin Pecan Trifle
and