Tis' the season for holiday baking! If you're new to living a gluten free life, this time of year may seem overwhelming, especially if you're wanting to bake… but it doesn't have to be!

Something that has been a blessing to my life through celiac is that it's brought out my love for cooking, especially baking! Pre-celiac life I never baked and never cared to. If I was in charge of bringing dessert somewhere, I'd just pick something up at a bakery. Now with celiac, it's not that simple.
It took me a few years, but I finally had gluten free baking down and I actually was pretty darn good at it (if I do say so myself! haha)… and then recently something happened to me… I found out I had to go dairy free as well!
Gluten free is one thing, but throw dairy free into the mix and that really is a game changer. No more butter?! No more Cup4cup?! Ahhh… well just like every other curveball I've been thrown in life, I was up for the challenge! During this process of experimenting and modifying my favorite recipes, it opened my eyes to healthier products. 

I thought in the spirit of holiday baking, I'd share with you some of my favorite gluten free (and dairy free) baking products that I use and love.
My Favorite Baking Products:
Flour
If you've been following my blog for a while, then you know Cup4Cup is my absolute favorite flour! I would honestly say it's probably one of my most beloved gluten free products on the market. Developed by chefs of Thomas Keller's acclaimed restaurants, Cup4Cup can be used in any recipe that calls for flour and for me personally, always turns out excellent! When I bake with Cup4Cup everyone always asks me if I'm sure it's gluten free!
With that being said, you can imagine how devastated I was when I found out that I needed to completely eliminate dairy because Cup4Cup contains milk powder. Ugh… I can no longer use it! Don't worry, I already emailed them letting them know many people that are gluten free are dairy free as well and recommended they consider removing the dairy! HA
I'm SO happy to share this with you! I've been dairy free for about 6 months now but haven't shared that info with you since I knew I'd get asked about flour and I didn't like the results of the brands I was trying! I finally found another brand I can honestly say I love and I'm getting equal results with as Cup4Cup… Better Batter!
The Better Batter production facility (and all Better Batter products) are free from the top 8 most common allergens (milk, egg, peanut, tree nut, wheat, soy, fish, crustacean/shellfish), mustard, and sesame. I've tested almost all of the recipes on my blog that call for flour and they've turned out great with Better Batter! YAY!
Kirkland Signature Almond Flour:
I use almond flour when making grain free/paleo baked goods. I use and love the Kirkland brandwhich you can find at Costco, but it's very hit or miss if they carry it. When my local Costco doesn't have it, I buy it through Amazon (it is cheaper at Costco though!).
Coconut flour is another great ingredient when baking grain free/paleo. I often use almond flour and coconut flour together in recipes. I use and love Nutiva brand since it's certified gluten free, certified organic and non-gmo.
Spices

If you open my spice cabinet you will only find Spicely Organics products in there! I use them because they're certified gluten free and certified organic. I find small bottles at my local grocery store, but since I cook/bake a lot, I prefer buying them in bulk online.
Vanilla:
I also use Spicely Organics for my vanilla extract.
Sugar
White sugar is usually obtained from sugarcane or sugar beets grown in fields utilizing commercial chemical pesticides and then goes through processing where chemicals are used to decolorize the sugar. Because of this, I always choose organic sugar since it was grown without synthetic chemical pesticides and goes through the least amount of processing as possible. Wholesome organic cane sugar is the brand I use!
Madhava Unrefined Coconut Sugar:
This is the brand I use and love the results I get it! I buy it in bulk since it's cheaper that way and I bake often. Coconut sugar is a perfect 1:1 replacement to refined white sugar or brown sugar. Coconut sugar naturally contains trace amounts of nutrients like magnesium, potassium, zinc, iron, B vitamins and amino acids and it also has a lower glycemic index than regular table sugar
Butter Alternatives
Kirkland Signature Organic Coconut Oil:
Coconut oil can be substituted 1:1 in baking when a recipe calls for butter. I either melt it and allow it to cool completely before adding it in or use it solid at room temp (depending on the recipe). I use the Kirkland Signature Organic Coconut Oil. I buy mine at Costco, but if you're not a member you can also get it on Amazon!
Kirkland Signature Extra Virgin Olive Oil:
Being Greek, I can remember baking with my yiayia and most of the time she would use olive oil! Olive oil doesn't always make a great replacement for butter, especially if the recipe calls for creaming the butter with sugar. In this case, I use room temp/solid coconut oil instead. Olive oil is best used when a recipe calls for melted butter or vegetable oil. The trick with olive oil is that it's not a 1:1 with butter. Substitute three-quarters of the butter in a recipe with olive oil. For example, if a recipe calls for 1 stick of butter (8 tablespoons), use 6 tablespoons oil. Once again, I buy mine at Costco but you can also get it on Amazon.
Baking Powder
Most baking powders contain aluminum (which is not something I want in my food!) and GMO ingredients. The brand I use is Rumford Baking Powder, which is gluten free, aluminum-free and non-GMO).
Chocolate Chips
Enjoy Life products are free from gluten and wheat, peanuts, dairy, tree nuts, soy, casein, sulfites, egg, lupin, sesame, fish, mustard, crustaceans, shellfish. I always buy these chocolate chips in bulk online!
Condensed Milk
Nature's Charm Sweetened Condensed Coconut Milk: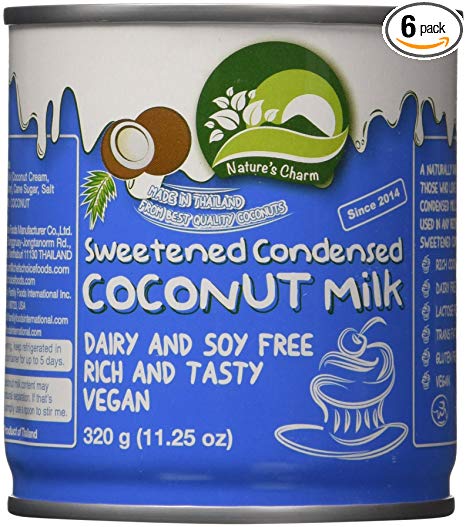 This is what I use to make pumpkin pie, coconut macaroons or any other recipe that calls for condensed milk in order to make it dairy free. I'm always really happy with the results and flavor I get when I bake with condensed coconut milk. I've been making pumpkin pies with this for the last couple years and they're always a huge hit!
There you have it, some of my favorite baking products! I hope this helps with your holiday baking!
Happy Baking!! xo
*This post contains affiliate links. You can read more about that here.