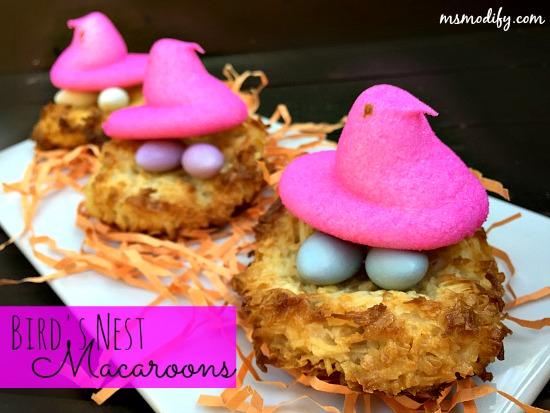 This past Christmas I made peppermint macaroons and they were a big hit, so I thought I would modify them for Easter and this is what I came up with.
I feel like these need little explanation. They taste so great and they look good… two important things when it comes to food!
Feel free to modify the "eggs" in the basket. Just remember a lot of the egg type candy out there is made with malt which is gluten!
Ingredients:
1 (14 oz) bag of sweetened coconut flakes
1/3 cup gluten free all purpose flour (I use and love Cup 4 Cup)
1 (14oz) can sweetened condensed milk
1 tsp vanilla
½ tsp salt
Peeps
Jordan Almonds
Instructions:
Preheat oven to 325 degrees.
Line pan with parchment paper and set aside.
In a mixing bowl, combine coconut, gf flour, milk, salt and vanilla. Stir until evenly mixed.
Drop about 3-4 tablespoons full onto parchment paper (you don't need to worry about leaving too much room between because cookies will not expand). Slightly push the center in using the back of a spoon.
Bake 25-27 minutes or until golden brown.
Top with eggs and a Peep
Happy Easter!