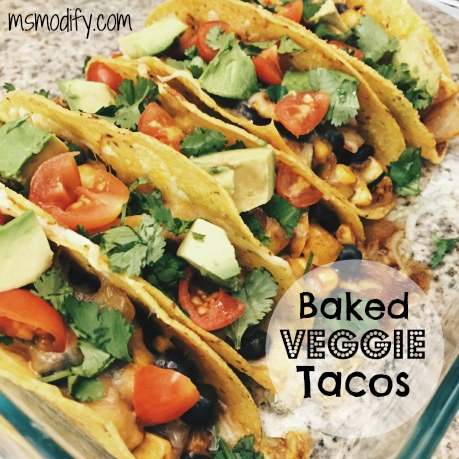 I love tacos but will be honest… I was never a hard shell fan because when you bite into it, it breaks and then half of the filling falls out! I've heard that by baking them it softens the shell while making the filling stay in place.
I gave it a try, but modified a classic taco by turning them into veggie tacos… let me tell you they passed the test with flying colors! When you bite into them, they don't break! Oh man, these are now a favorite in our house. You should give them a try!
Ingredients:
Olive oil
1 yellow onion, chopped
1 green bell pepper, chopped
1 yellow squash, chopped
1 zucchini, chopped
1 (15 oz) can black beans, drained
1 (11-15oz) can corn, drained
2 garlic cloves, minced
1 packet Frontera Taco Skillet Sauce (or your favorite taco sauce)
1 cup shredded cheddar cheese
avocado, diced to garnish
tomatoes, to garnish
cilantro, to garnish
12 hard taco shells
Instructions:
Preheat oven to 400 degrees.
Drizzle olive oil into skillet and heat over medium heat. Add onions, garlic, bell pepper, zucchini and squash to pan. Sauté until onions become translucent and vegetables are partially cooked.
Add in beans and corn, stirring everything around. Pour in taco sauce and mix so everything is evenly coated. Allow everything to cook for a few more minutes.
In a baking pan, line up all the taco shells. Fill each one with a couple scoops of the veggie mixture, and pack down. Repeat until all shells are full. Top each taco with the shredded cheese.
Place in oven and bake for 12-15 minutes, until cheese is melted.
Top with avocado, cilantro, tomatoes (and your other favorite taco toppings!).
These are gluten free, as always!
Enjoy!