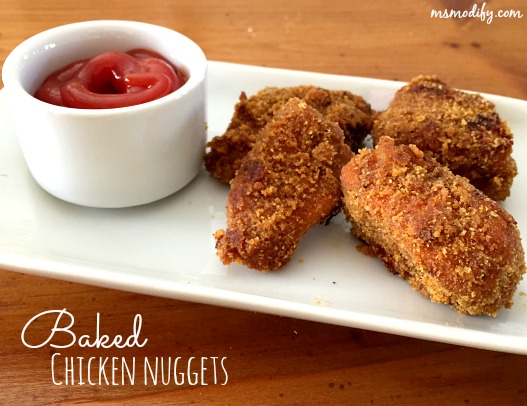 Who doesn't love chicken nuggets? I always make these during football season. They are the perfect finger food that everyone can sit around and eat during a game.
Kids love chicken nuggets too. These are so much healthier than the ones from the freezer section and they are super easy to make. I promise once you give these a try you'll never eat frozen nuggets again!
Ingredients:
1 lb boneless chicken breasts, cut into bite side pieces
Salt and pepper, to taste
½ tsp garlic powder
½ tsp oregano
A pinch of cayenne pepper *optional for a kick
3 tsp olive oil
3 Tbsp gluten free panko bread crumbs
2 Tbsp Parmesan cheese
Instructions:
Preheat oven to 425 degrees. Line a baking pan with parchment paper or spray pan with olive oil spray.
Put olive oil in one bowl and the salt, pepper, garlic powder, oregano and cayenne pepper into another bowl. Place chicken in olive oil, remove, and then rub seasoning mixture all over each piece of chicken.
Place chicken into a Ziploc bag with gf panko bread crumbs and Parmesan cheese. Zeal the bag and then mix chicken around so that the mixture evenly coats the chicken. (You may have to really squeeze the breadcrumbs onto the chicken multiple times)
Lay the chicken nuggets onto the baking pan in a single layer. Drizzle any remaining olive oil on top of the chicken.
Bake 8 minutes on each side or until the chicken is cooked through.
Enjoy!
Let's stay connected! Like me on Facebook 🙂