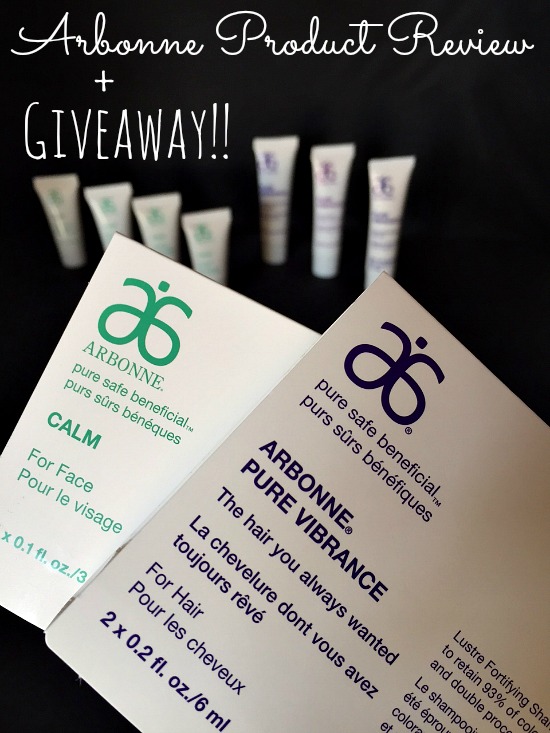 I met Clara, an Arbonne consultant at the CDF Expo and she was nice enough to send me some samples of the Calm Skincare line and the Pure Vibrance Hair product line to try and review. I had never heard of Arbonne before, but love trying new products so I gave it a try!
For those of you who don't know about Arbonne, they're a network marketing company that sells beauty/skin care/ health/diet products through direct sales (similar to Mary-Kay or Amway). They've been around since 1975 and originated in Switzerland.
"The founding principle- pure, safe, beneficial- has taken on new meaning and deeper dimensions as we explore new science, focus on green chemistry, and uphold our strict ingredient policy to deliver the safest, most beneficial formulas for families around the globe. From beneficial  ingredients to our state-of-the-art lab and world-class Scientific Advisory  Board, to our continuously evolving Ever Green Commitment, and vegan, gluten-free and cruelty-free standards"
I've mentioned it before, but according to The Mayo Clinic you don't need to worry about gluten free beauty products, unless you ingest them. I always use gluten free skincare since there is a high chance for it going in my mouth! All of Arbonne's products are gluten free! Yay!
The Calm Skincare line includes four products and is recommended to use them all.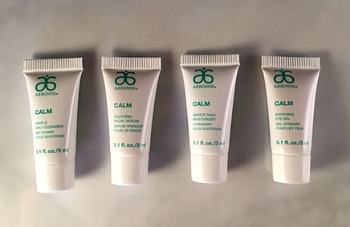 Step 1: Gentle Daily Cleanser |$26: This product washes off makeup, excess dirt and oil, while being  gentle and sulfate-free. Key Ingredients: cucumber, mallow, licorice, Japanese green tea. This product was gentle and went on smoothly. I feel like I could use it morning and night daily since it is so gentle and didn't dry my face out.
Step 2: Soothing Facial Serum  |$45: This is a lightweight serum that helps to lock in moisture, leaving skin hydrated. Key Ingredients: cucumber, mallow, licorice, Japanese green tea. This product went on very smooth and dried quickly.  I liked how it felt lightweight and didn't feel thick and sticky on my face.
Step 3: Gentle Daily Moisturizer |$36: Formulated to help provide refreshing, hydrating relief from tightness, dryness and discomfort. Key Ingredients: cucumber, mallow, licorice, Japanese green tea. It went on smooth and dried fast; leaving my skin feeling soft.
Step 4: Soothing Eye Gel |$30: Helps reduce the appearance of puffiness and hydrates the area. Key Ingredients: cucumber, mallow, licorice, Japanese green tea. This has a similar consistency to the facial serum. It went on smooth and left my eyes feeling hydrated.
Overall, I really liked all the products from the Calm Skincare line. I have sensitive skin and many creams (especially anything near my eyes) leave my face burning and irritated; these products did not. I also liked how they had a very subtle scent to them, nothing too strong. All of these products are recommended to use morning and evening. Personally, that is a little too long of a routine for me. I think it's more practical for me to use just the daily cleanser and the moisturizer.
Next, I tried a few products from the Pure Vibrance line.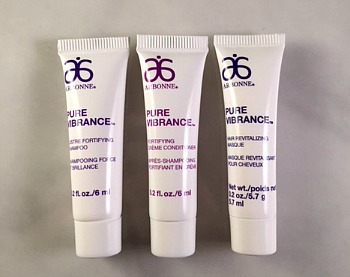 Lustre Fortifying Shampoo |$36: This is for dull or chemically treated hair, helping to restore shine and preserve color. Key Ingredients: rice, extract, artichoke leaf extract, sage leaf extract. This shampoo didn't lather like most shampoos, but I was told that's because it's made from natural ingredients and not chemicals.  It left my hair feeling very clean and shiny.
Fortifying Crème Conditioner |$36: Help prevent strands from breakage and damage, while restores moisture to chemically treated hair. Key Ingredients: argan oil, rice extract, hydrolyzed linseed extract, vicia faba deed extract.  This product was thin, not your typical thick creamy conditioner. I applied to my hair from my ears down. It left my hair very soft, while not being weighed down.
Hair Revitalizing Masque |$52: Helps bring back moisture to color or damaged hair. Key Ingredients: argan oil, rice extract, artichoke leaf extract. My hair is not damaged or color treated. It is also very fine and silky, so I found this masque to heavy for my hair and didn't give me the volume I need. It did however leave my hair feeling very soft.
All the hair products have virtually no scent. This could be good for people with allergies or sensitive to smell. For me, I prefer to have my hair products with a stronger sent, leaving me with good smelling hair! I do not have chemically treated hair, and my hair is fine. I was skeptical because when my hair was wet it felt almost too moisturized and I was afraid it would leave me with flat hair. I was pleasantly surprised that was not the case. My hair had lots of volume!
Clara is offering you a FREE preferred membership to Arbonne ($20 value) which gives you 20% off all Arbonne products ALL YEAR! You must register before 5/31/15. Just call/email her and tell her you want the Ms.Modify promotion.
And now what you've been waiting for…The GIVEAWAY!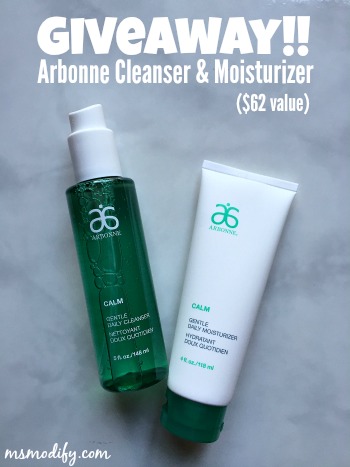 All you need to do is enter the Rafflecopter below to be entered to win! A winner will be selected and announced next Friday. One winner will receive a Gentle Daily Cleanser and a Gentle Daily Moisturizer (a $62 value!!). Best of luck!! Must be a US resident to enter Giveaway
*Arbonne provided me with products to try and review. As always, opinions are my own!