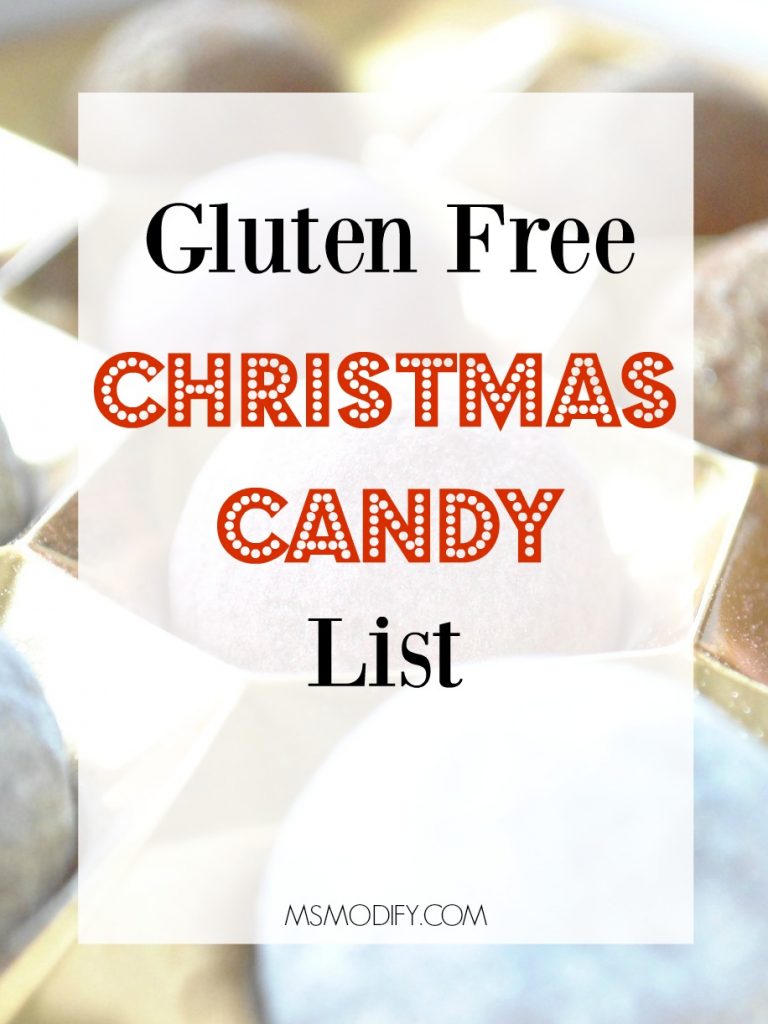 'Tis the Season for Christmas candy! Am I the only one who receives boxes of chocolate around the holidays and is unsure if they're gluten free, so they end up being given away?
I know what some of you may be thinking… "wait, how does chocolate have gluten in it?". Ahhh, yes my friends you would think that. Pure, unsweetened chocolate made from cacao beans with nothing else added is gluten free, but that often doesn't taste good… so they add to it!
The issue with even pure chocolate is if it's made on the same equipment as other products that include gluten. Also, some chocolate contains wheat (in the form of chocolate-cookie flavors) and also barley malt (used as a sweetener).
I called many manufacturers and it seems the main issue is being processed in the the same facility as gluten; risking a chance of cross-contamination.
Here is what I found out about Specialty Chocolate being Gluten Free:
Ghirardelli Chocolate: According to the company, If a product contains wheat it will say it on the package, however Ghirardelli's does not test for gluten, therefore there is a change of cross-contamination in all products. The company does clean the lines between products but since they don't test for gluten, they can't verify anything is less than 20ppm. You can contact them here.
Lindt: According to their website, "Gluten can be found in several premium chocolate products that Lindt & Sprüngli produces; either as a cereal ingredient or as a barley component. For consumers who are sensitive to gluten, we do offer certain premium chocolate products that are manufactured without cereal or barley malt, which may be suitable for consumers with such dietary restrictions. These offerings include our white chocolate products, as well as high cocoa content chocolate bars from our EXCELLENCE line – 70%, 85%, 90% and 99%.
We are sensitive to the fact that there are consumers who are unable to enjoy all of our chocolate at this time, and we hope that in the future we will be able to extend more product offerings to accommodate our consumers with varying dietary requirements." You can contact them here. 
Godiva: "ALL of our products including solid chocolate pieces may contain gluten. Any person with a gluten allergy should NOT consume ANY of our products." You can contact them here.
See's Candies: All of Sees products are gluten free. You can contact them here. 
 Rocky Mountain Chocolate Factory: According to a representative for the company, "The only two items that are gluten free are their milk truffle bar and dark truffle bar, but not every store carries them." You can contact them here.
Since you can't celebrate the holidays without candy canes, here are some gluten free ones!
Candy Canes:
Spangler: According to the company website, "Candy Canes, Dum-Dums, Saf-T Pops, and Circus Peanuts are gluten-free and free from the top 8 allergens." You can contact them here.
Bob's Candy Canes: According to the company, "all Bobs candy canes are considered gluten-free to 20 parts per million, without a possibility of cross-contamination from other gluten-containing products." You can contact them here.
Jelly Belly Candy Canes: Jelly Belly doesn't have your traditional mint candy canes, however they have six different flavors: Very Cherry, Green Apple, Orange, Tutti Frutti, Blueberry and Watermelon. Jelly Belly candies are considered gluten-free to less than 20 parts per million. You can contact them here.
Starburst Candy Canes: Starburst candy canes come in a box of 12 with six strawberry and six green apple flavor. According to the company, "Starburst candy canes sold in the U.S. are free of any gluten sources, and are not produced on equipment that also processes gluten-containing items." You can contact them here.
If you're looking for other candy brands that are gluten free, maybe to decorate your (gf) gingerbread house… make sure you read my Halloween Candy Post which includes SO many different options to choose from!
Happy Holidays!
**This list is for the US. If you're in another country, please contact the manufacturer first.
Question:
What's your favorite Christmas candy?