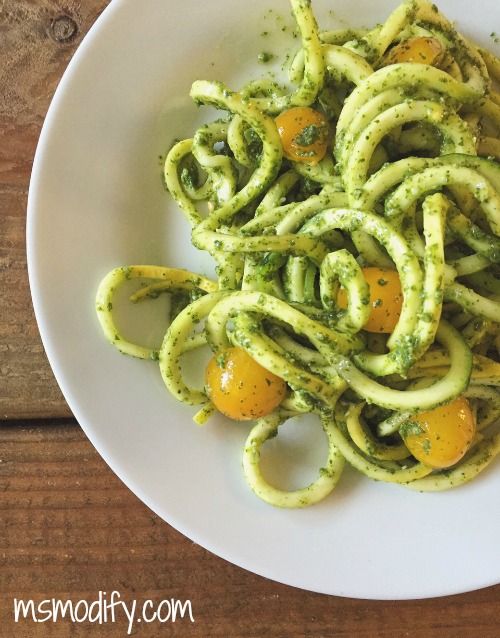 I was always intimidated to make zucchini noodles; they just seemed complicated and time consuming to make. For a wedding gift we received the Spiralizer attachment for the Kitchen Aid mixer, so I thought I'd give them a try! 
I don't know why I was ever intimidated to make them! Literally it's faster to make zucchini noodles with this attachment then it is to boil water to make pasta.
Now we prefer zucchini noodles in our house over pasta! It's a guilt free way to enjoy any of our favorite pasta recipes!
These noodles paired with my Nut Free Pesto is the perfect quick and healthy weeknight dinner!
Ingredients:
Pesto Sauce
5-6 small zucchini
1 pint cherry tomatoes
Instructions:
Using your favorite spiralizer (mine is the Kitchen Aid attachment), attach the zucchini and turn them into noodles.
Combine the zucchini noodles and pesto. Toss until zucchini is evenly coated. Add the tomatoes and serve room temperature or chilled.
If you prefer to cook the noodles, just add the noodles with pesto to a pan over medium heat and sauté for a couple minutes. It only takes a couple minutes since they're so thin, so don't overcook.
Enjoy!
Today I'm linking here.