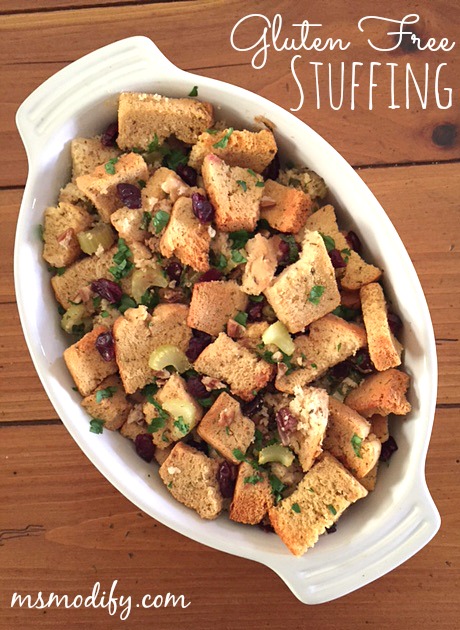 I went two Thanksgivings without eating stuffing because I didn't like the weird texture of  all the gluten free stuffing I tried. I then came across Williams-Sonoma gluten free stuffing and it was a game changer! Listen up, I'm picky when it comes to stuffing and this  is really good… like so good that no one else knew it was gluten free!
Don't bother making separate gluten free stuffing for yourself or the gluten free person in your life, all your guests will love this too!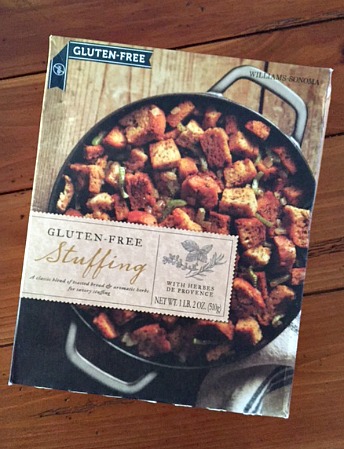 Ingredients:
(Serves 4-6)
1 box Williams-Sonoma gluten free stuffing
3-4 stalks celery, diced
½ medium onion, diced
1 cup fresh parsley, chopped
1 cup dried cranberries (Ocean Spray is gluten free)
1 cup pecans, chopped
1 pear, chopped
3 tsp poultry seasoning
Pepper, to taste
2 cups chicken broth (Kitchen Basics is gluten free)
Instructions:
Preheat oven to 375 degrees
Put all ingredients into pan, mix well.
Cover pan with foil and bake for 20 minutes.
Remove foil and continue baking until the top is golden brown and crisp, about 25 more minutes. Add more broth if needed.
Enjoy!