This is a sponsored post written by me on behalf of Farmer John California Natural Fresh Pork. All opinions are 100% mine.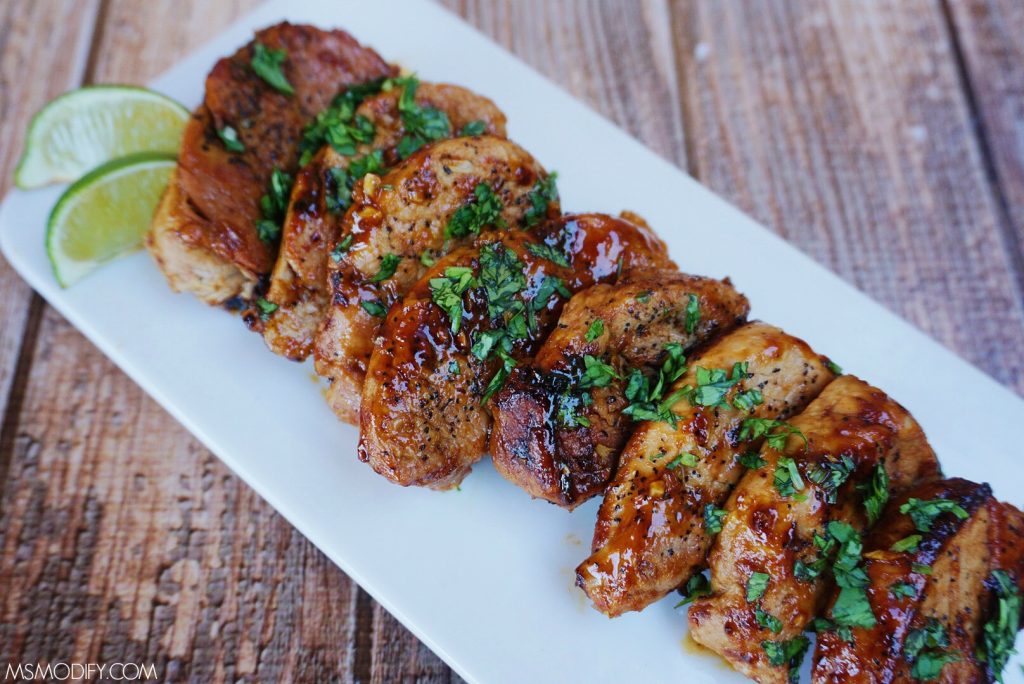 I'm so excited to share with you a simple, yet tasty way to cook pork tenderloin. I don't know about you, but I was always intimidated to cook pork tenderloin and I'm not even sure why! Pork tenderloin is something my mom would make when she had dinner parties, so I think I always associated it with taking a long time to prepare… but this is NOT the case! I was majorly wrong about this! In fact, pork tenderloin is cooked when it reaches an internal temperature of 145-160 degrees (depending how you prefer it cooked) which means it takes less time than chicken to make!
I know I say this often, but it's a big part of my life… having dietary restrictions means having to cook at home practically everyday. Let's be real, cooking 3 meals a day can get tiring and boring! Sometimes I feel like I'm in a rut on figuring out what to make and I get sick of my same-old weeknight menus or go-to chicken and beef recipes. This is when I decided to shake up my meals by including Farmer John California Fresh Natural Pork into the mix!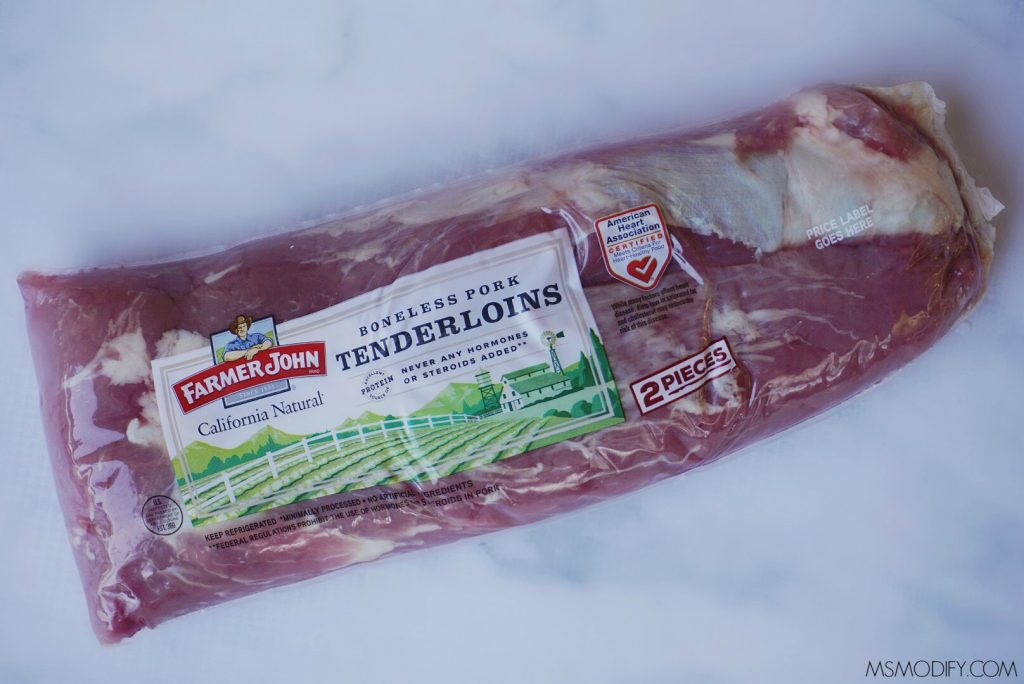 The West Coast Original since 1931, Farmer John California Natural Fresh Pork is made from 100% fresh pork with no artificial ingredients, and comes in a variety of cuts, including boneless loins, chops, ribs, ground pork, tenderloins and more.
Another great way to shake things up in the kitchen is to get creative with your pork tenderloin leftovers! Since it's just my husband and I, a tenderloin gives us plenty of leftovers and I love all the possibilities. I took my recipe and got 3 nights of dinner with it… yup 3 nights!
The first night I served my Sriracha lime pork tenderloin with a side of rice and steamed broccoli. The second night I took spiralized sweet potato noodles, topped them with roasted baby bok choy and added the tenderloin and extra sauce to our bowls (my husband said this was one of his favorite meals I've made in a long time!- little did he know, I whipped it up in about 15 mins!). Then the last night I sliced the tenderloin into thinner strips, added them to tortillas, and topped with pickled cabbage for simple tacos!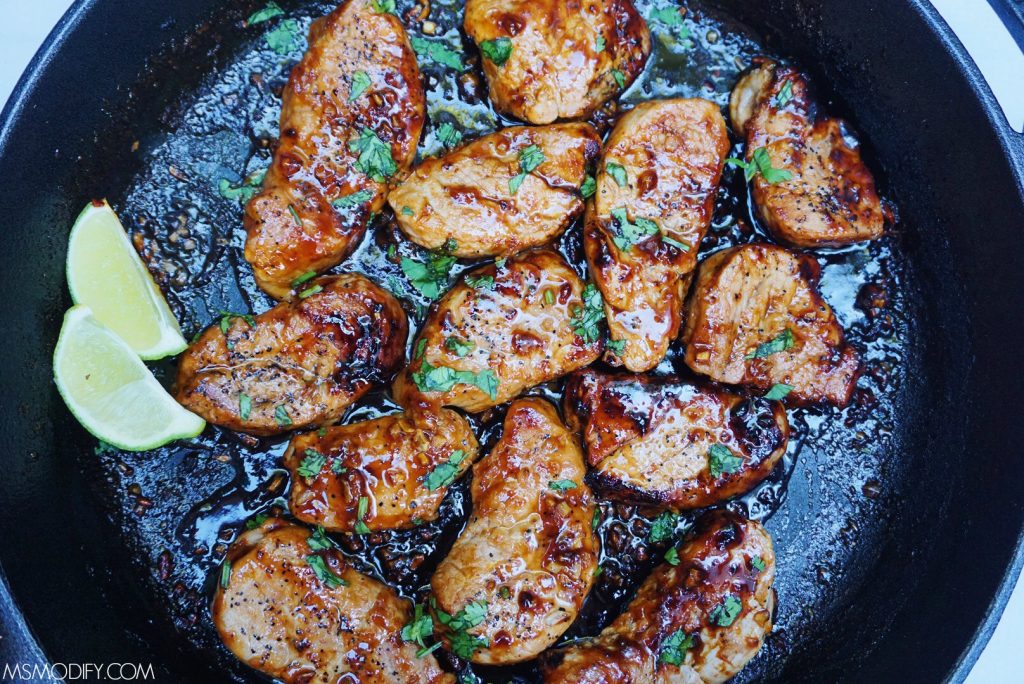 Farmer John has tons of great recipe inspiration on their site too, so be sure to run to the store to buy your pork product of choice and then head over to their site for ideas! Fresh pork is really versatile, so you can grill, roast, sauté, or slow-cook it for a delicious, home-cooked meal in a matter of minutes.
Farmer John Fresh Pork is available at your local Smart & Final or Stater Bros. Markets stores.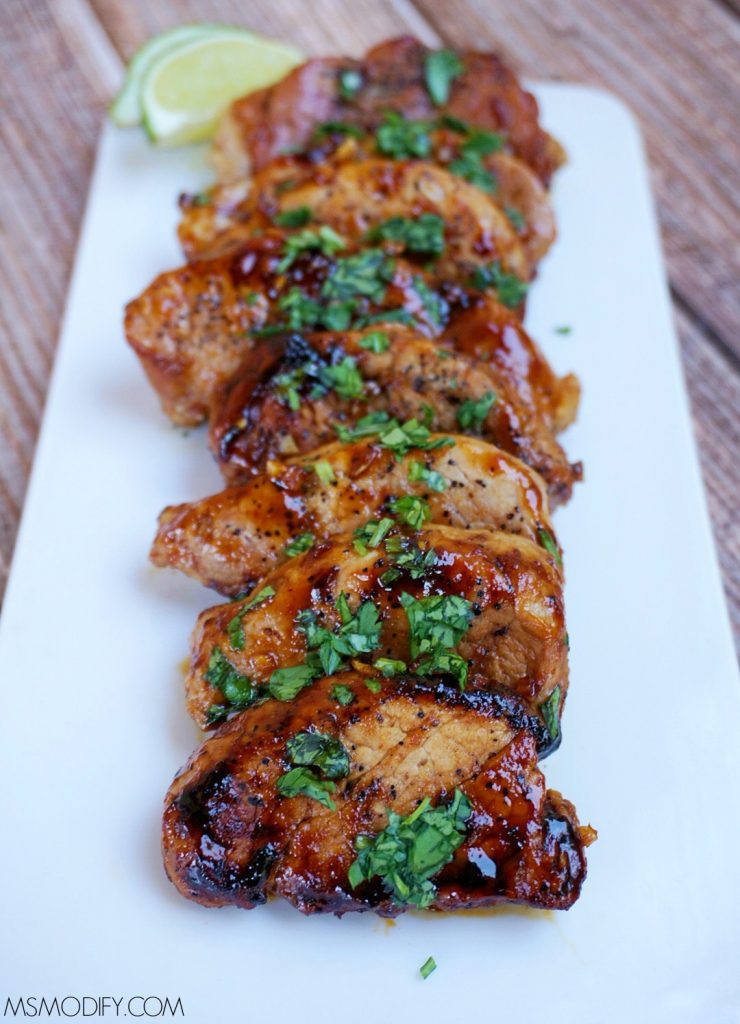 Now on to my recipe! Sweet, spicy and tangy is one of my all-time favorite flavor combinations and this Sriracha Lime Pork Tenderloin did not disappoint! The honey cancels out a little bit of the spiciness, but feel free to adjust the Sriracha sauce to fit your preference! This recipe is done start to finish (yes, I'm talking prep time included!) in less than 30 mins! Now that's a win for busy weeknight cooking!
Ingredients:
1-1.5 lbs Farmer John Pork Tenderloin
Salt & pepper, to taste
½ cup honey
¼ cup gluten free soy sauce (if you're Paleo, use coconut aminos instead)
2 Tbsp olive oil
3 garlic cloves, minced
2 limes, zest & juice
1 tsp fresh ginger, minced
¼-⅓ cup Sriracha sauce (adjust amount based on your preference of spiciness)
Cilantro, to garnish
Instructions:
Slice the pork into 1 inch medallions (this speeds up the cook time!) and then push down with your palm to flatten.

Sprinkle salt and pepper on each side of the pork medallions.

Heat your skillet over high heat and add olive oil.

Reduce heat to medium and add pork medallions to the pan.

Cook for 2 mins on each side.

In a small bowl, add honey, GF soy sauce, garlic, lime zest and juice, ginger and Sriracha sauce. Mix everything together.

Pour sauce into pan over the pork medallions and cook for an additional 2 mins or until internal temperature reaches at least 145 degrees.

Remove pork medallions from pan and set aside.

Increase heat to medium-high to thicken sauce.

Once sauce thickens and begins to bubble, turn off heat.

Add pork medallions back to pan and coat each side with sauce.

Once coated with sauce, remove and place on serving dish. Top with cilantro.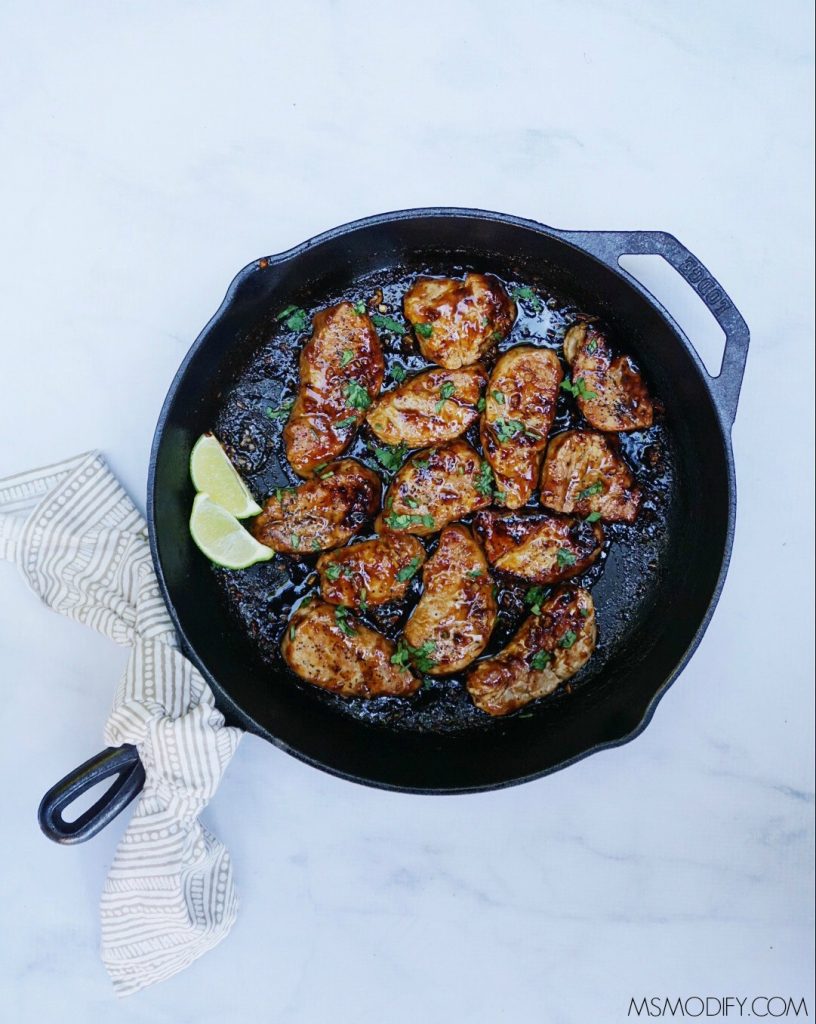 Enjoy!