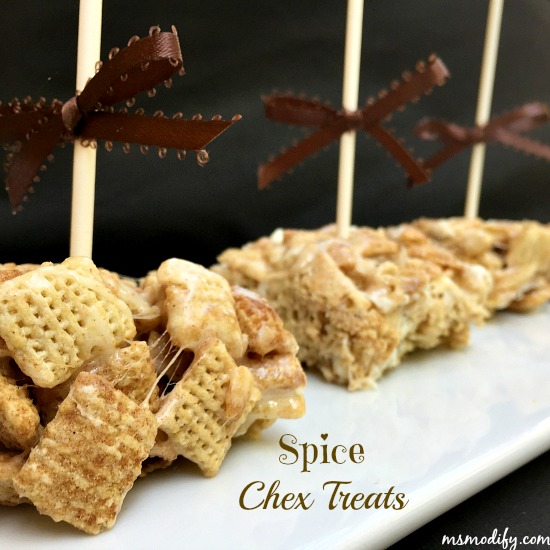 Rice crispy treats are always a big hit at holidays or parties with the kiddos. They are so easy to make and always turn out good.
I thought I would modify them and use Chex cereal instead. Lately I've been on a huge spice kick, so I tried Cinnamon Chex. Let me tell you, I'm so glad I did! These are so good!
I always try to only eat a little bite or piece of what I make… Okay I confess I had like four (maybe five) of these!
Ingredients:
4 cups mini marshmallows
6 cups Cinnamon Chex cereal
3 Tbsp butter/ margarine
¼ tsp ground ginger
½ tsp nutmeg
½ cup white chocolate baking chips
Instructions:
Grease a 9×13 pan and set aside.
In a large saucepan melt butter over low heat. Add marshmallows and stir until completely melted. Remove from heat.
Add in ginger and nutmeg. Stir in completely. Add Chex cereal and stir until well coated. Fold in white chocolate chips.
Using a spatula evenly press mixture into prepared pan. Cool and cut into squares.
Enjoy!