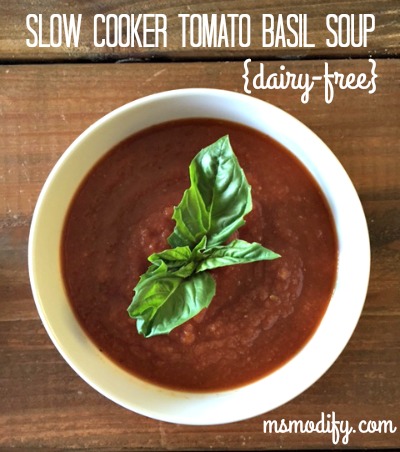 Happy meatless Monday! One of my goals this month was to use my slow cooker at least two times and let me tell you I'm so glad I have done that!
Monday nights I work late, so my goal is to use my slow cooker then. It's the best feeling coming home from a long day to dinner ready!
I'm a huge fan of tomato basil soup, but my stomach can't handle the heavy cream that you typically find inside it… so I decided to modify classic tomato basil soup by making it dairy-free. It still has the thickness of the classic version, but is healthier!
Ingredients:
3 medium carrots, diced
3 celery stalks, diced
1 medium yellow onion, diced
2 Tbsp olive oil
4 garlic cloves, minced
3 (28oz) can whole Roma tomatoes
1 (32 oz) carton vegetable broth
½ cup chopped fresh basil, plus more for garnish
2 bay leaves
½ tsp herbs de Provence
Salt and pepper, to taste
1/3 cup dry red wine
1 Tbsp balsamic vinegar
Instructions:
Heat olive oil in a skillet over medium-high heat. Add carrots, celery and onion and saute for 4-5 minutes, then add garlic and saute for one minute longer. Pour mixture into slow cooker. Add tomatoes, vegetable broth, basil, bay leaves, herbs de Provence, red wine and balsamic vinegar. Stir and add salt and pepper to taste.
Cover and cook on high for 3-3 ½ hours or on low 6-7 hours.
Remove bay leaves. Using an immersion blender, blend until soup is smooth (or carefully in small batches in a blender).
Serve with chopped fresh basil.
Enjoy!