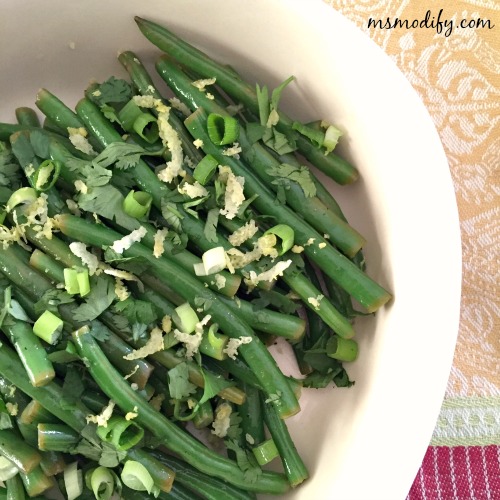 Do you ever feel like you make the same side dishes for every holiday or dinner party? I used to feel that way too! Now I try to create new recipes by looking in my refrigerator and experimenting with different flavors that I love. When it comes to vegetables, I know what you're thinking… aren't they all gluten free? Well yes in their pure form. But, often times sauces and seasonings are added that contain gluten in them.
These lemon green beans are super simple to make, gluten free and will be a big hit the next time you make them…whether that be for a large party or just dinner for two!
Ingredients:
(makes 3-4 side dish servings)
1 lb fresh green beans, both ends trimmed
1 large lemon, zest and juice of
1 ½ Tbsp olive oil
3 green onions, chopped
½ cup fresh parsley, chopped
salt & pepper, to taste.
Instructions:
Cook green beans in boiling water for about 10 minutes, or until they are tender-crisp. Once cooked, remove from stove and drain.
While cooking: zest/juice lemon, chop parsley and green onions and set aside.
Return pan to stove over medium-low heat and add olive oil. Add green beans and lemon juice to pan. Stir a few times and cook for a few minutes, allowing green beans to infuse lemon flavor. Season with salt and pepper.
Remove from pan and place in a bowl. Add lemon zest, parsley and green onions. Toss and serve.
Enjoy!