Happy Wednesday, Friends! In case you were wondering why I didn't blog last week and if you don't follow me on social media… last week we went to Lake Tahoe (CA and NV) on vacation. I haven't shared much about my personal life lately, so I thought we'd mix it up and I'd share pictures from my trip with you!
I don't know about you… but is it only me that feels like I need a vacation from my vacation?! Don't get me wrong, I had a blast on our trip… but I'm still recovering from it (between the 9 hour drive, all the hiking, and then unpacking, laundry etc.)!
Grab your coffee and sit back and enjoy the pics…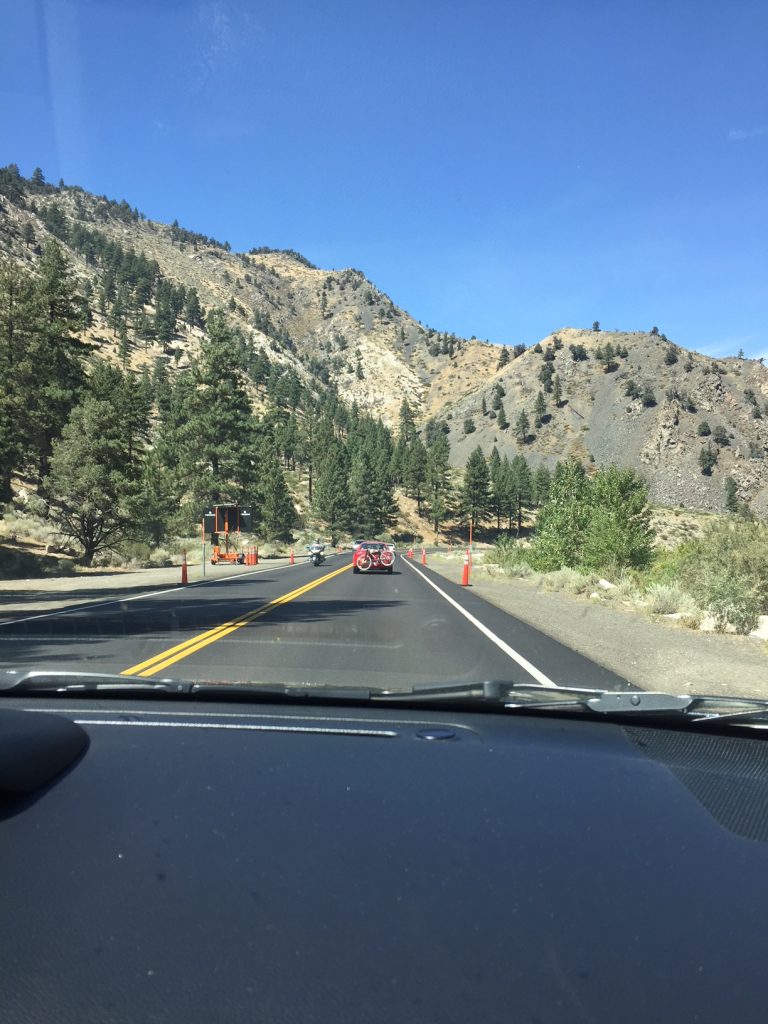 We took the scenic route (to avoid traffic and to take in the views) so it was about an 8-9 hour drive from Orange County, CA. If you're unfamiliar Lake Tahoe is located on the border between Nevada and California, right inside the Sierra Nevada mountains.
On the way there I think because we were so excited the drive didn't seem bad… but on the way home, I was just ready to get out of the car. On the way home I downloaded the audio book "Crazy Rich Asians" and we listened to it which helped!
Northern California has had so many fires recently, we actually saw a little one on the way up.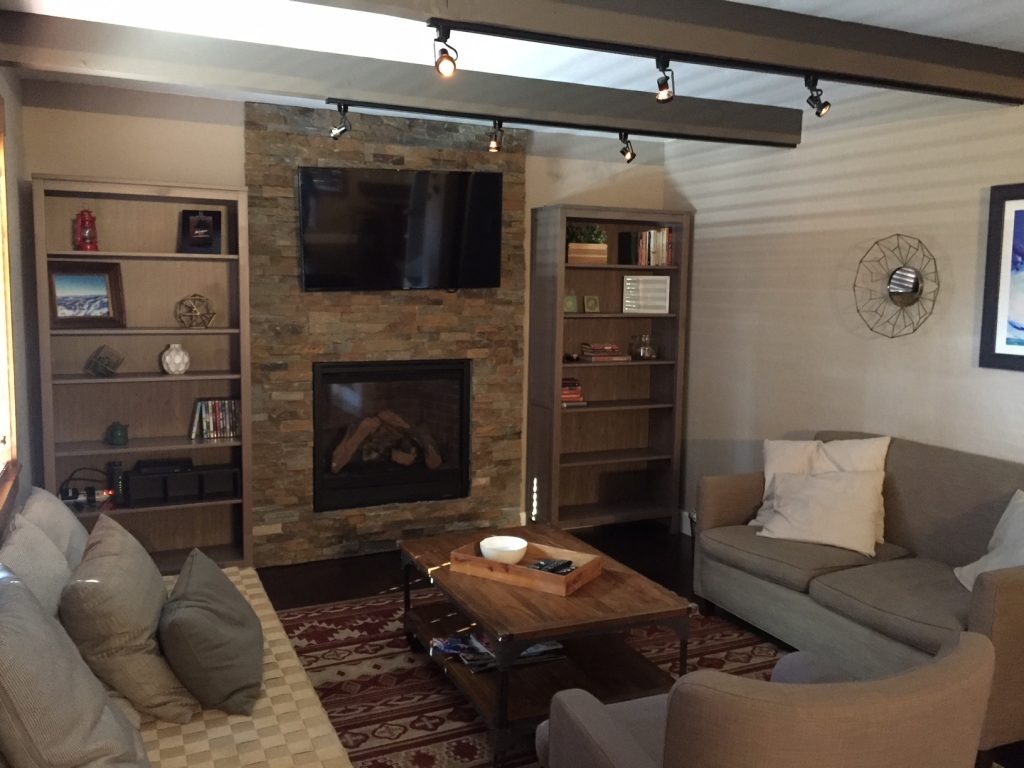 We stayed at an Airbnb for the first time and I was a little nervous about what to expect, but it was so great! It was a cabin in Tahoe City so it was centrally located.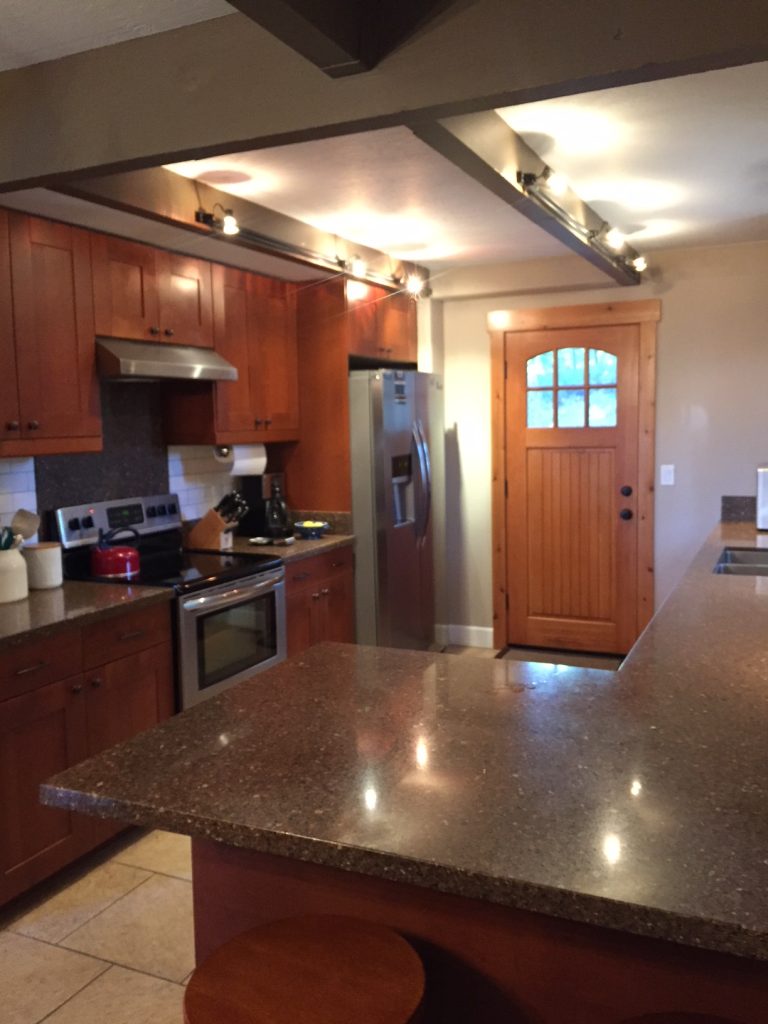 Having a full kitchen took away any stress that I normally have when vacationing due to celiac. Even though it was fully equipped, I still brought from home a pan, pot, cutting board, and wooden spoons. These are item that can get contaminated, so I felt more comfortable packing my own. I also packed a bunch of snacks (I'll do a separate post on that, so stay tuned!).
I have a confession…. I intended to document everything we cooked/ate up there but I didn't! In all honesty I was so tired every night from our daily adventures that I just wanted to eat and rest!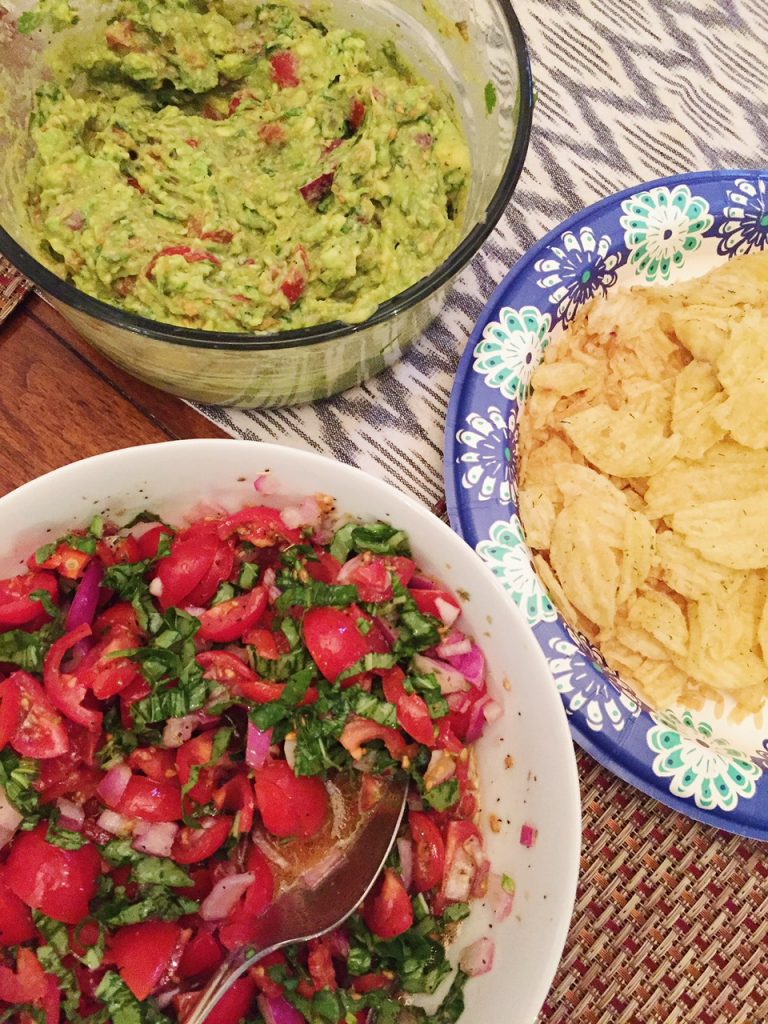 Oh wait… I did document our guacamole, bruschetta mix and chips! #priorities
And…. me relaxing with a glass of wine laying with the fireplace on! Ha
Between you and I, I'm not the "outdoorsy" type of girl. My ideal vacation is relaxing at a beach resort or exploring a city… but not hiking. Erik on the other hand is very athletic and loves being one with nature (as he puts it!). Lake Tahoe is a place he's wanted to go for years and I've never been too thrilled with the idea. However, this past year I've made a conscious effort to get out of my comfort zone and say "yes" to new experiences. Needless to say Erik was beyond excited for this trip and I made a promise to myself to push myself… and I have to tell you… this was honestly one of the BEST trips we've taken!
Northstar & Truckee:
The first day we just wanted to explore the area and one place we stopped was Northstar. It's a resort, but also has condos, shops and restaurants. It was a little quiet in the summer, but I imagine it's spectacular during the winter. They have an area with an ice rink, fire pits and it's surrounded with ski slopes.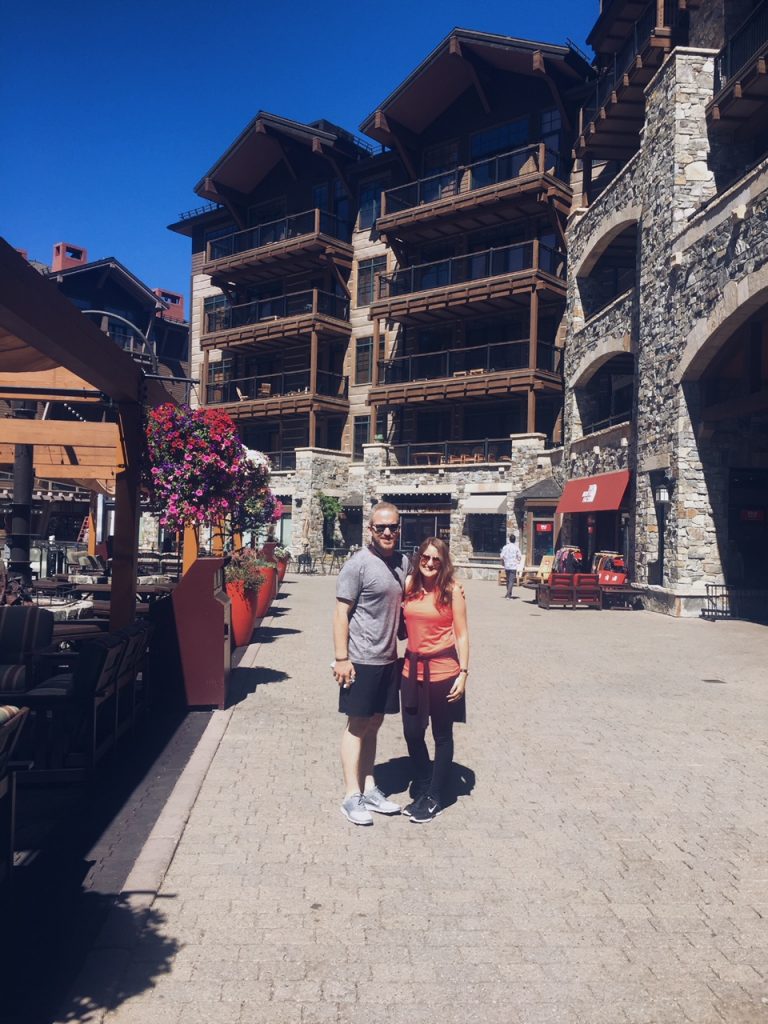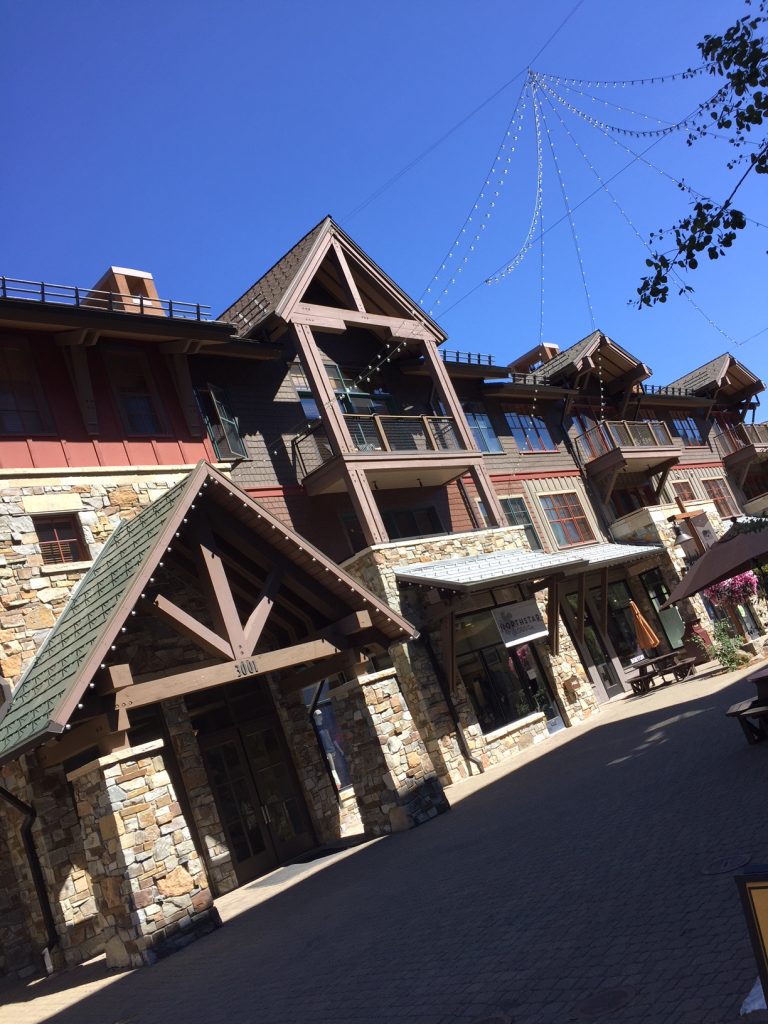 We then headed to Truckee, CA. It's known for the cutest historical downtown and the Truckee River that runs through it.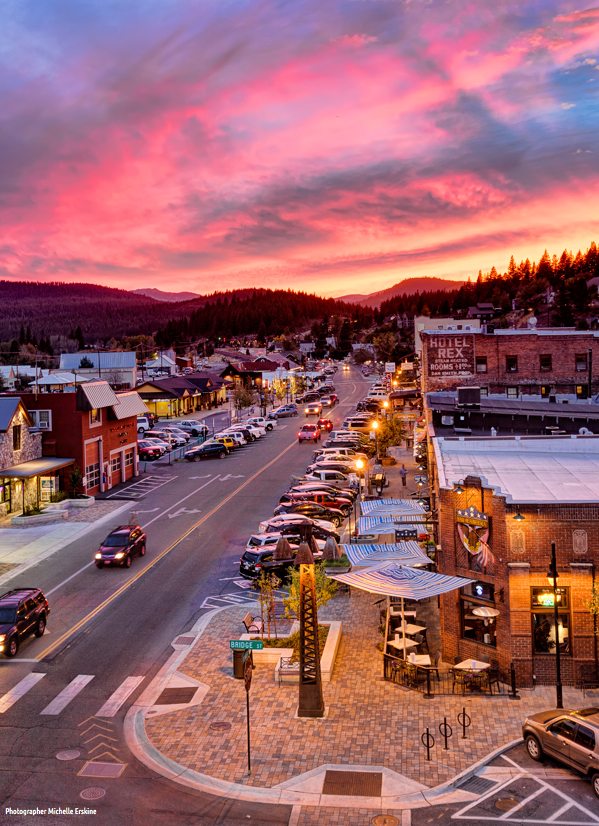 I didn't take a picture of Downtown Truckee, so I found this pic on their city website. Truckee is the most charming little town, it reminded me of a Hallmark movie! I bet it's magical in the winter.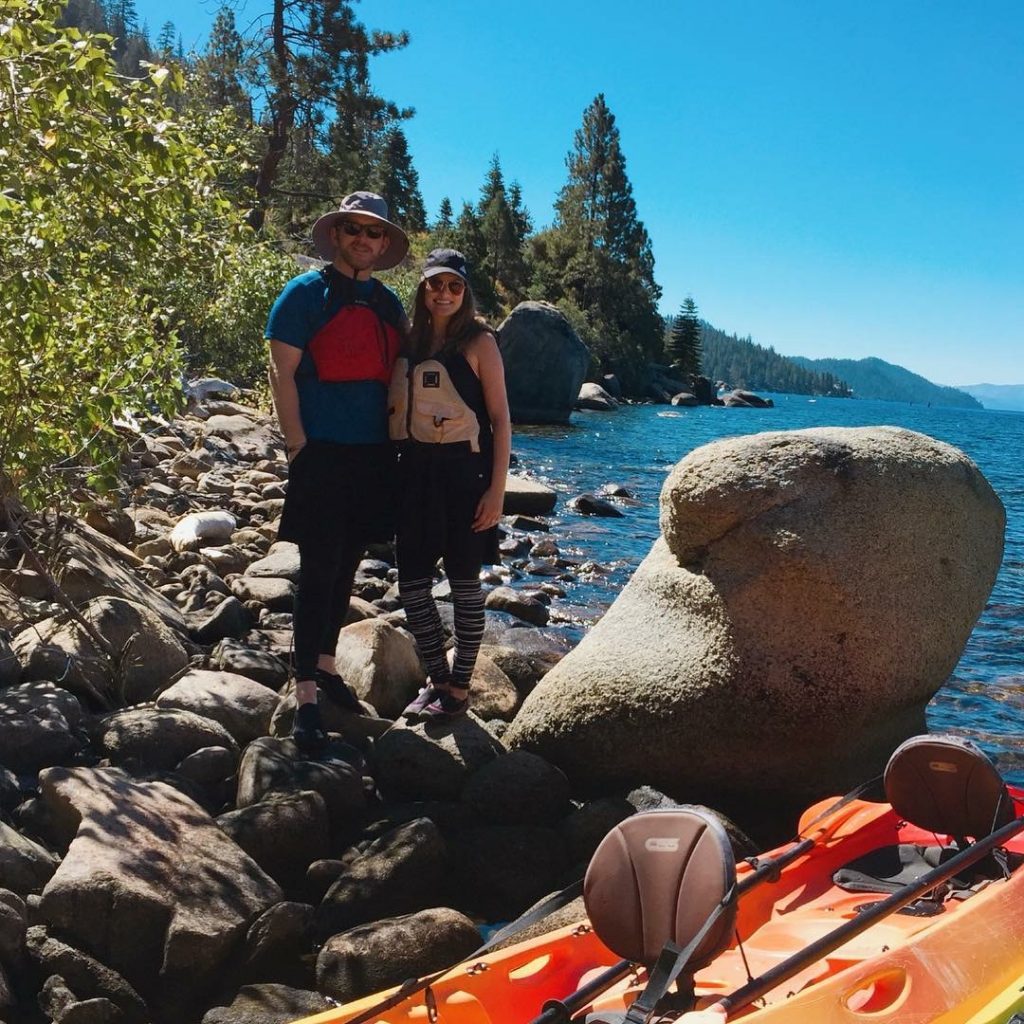 When researching things to do in Lake Tahoe during the summer, kayaking in Sand Harbor is something that kept popping up. Hands down, this was my favorite thing we did! Sand Harbor is known for big rocks and clear water. The pictures don't do it justice.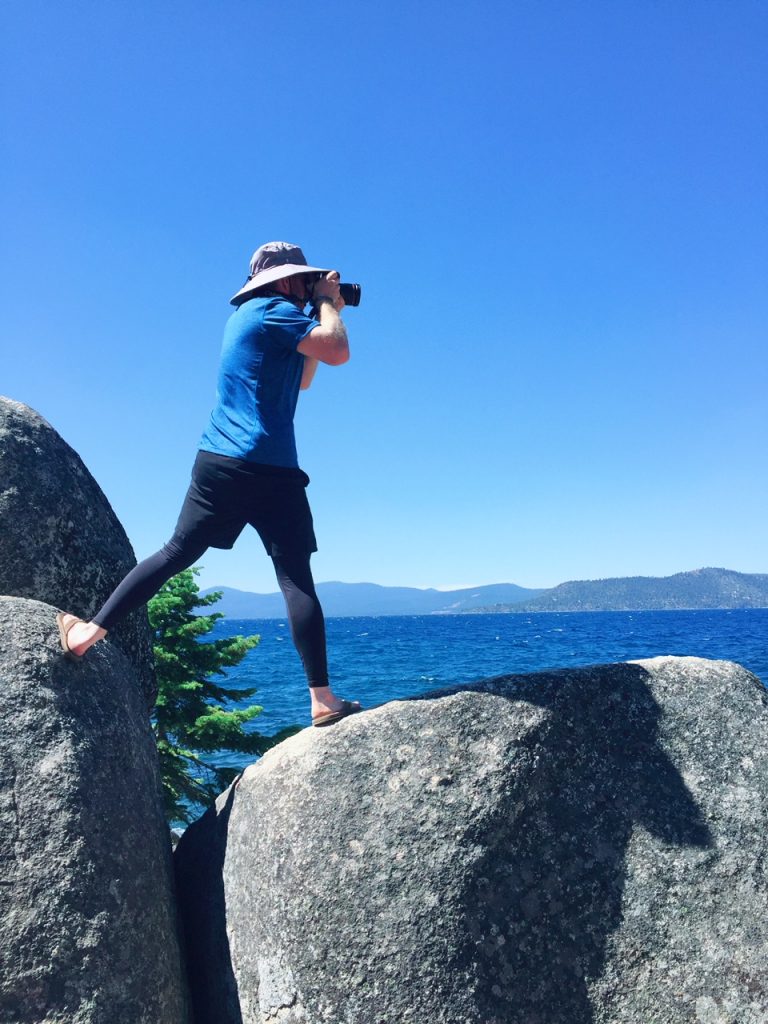 It amazes me how Erik can just so causally jump onto big rocks! Side note: He likes to wear compression pants/leggings under his running shorts (you'll often see basketball players wear these). I sent this pic to our aunt and she asked me if was wearing yoga pants!
After kayaking we did a short hike that was nearby where you cross over the California/Nevada border and the view was spectacular!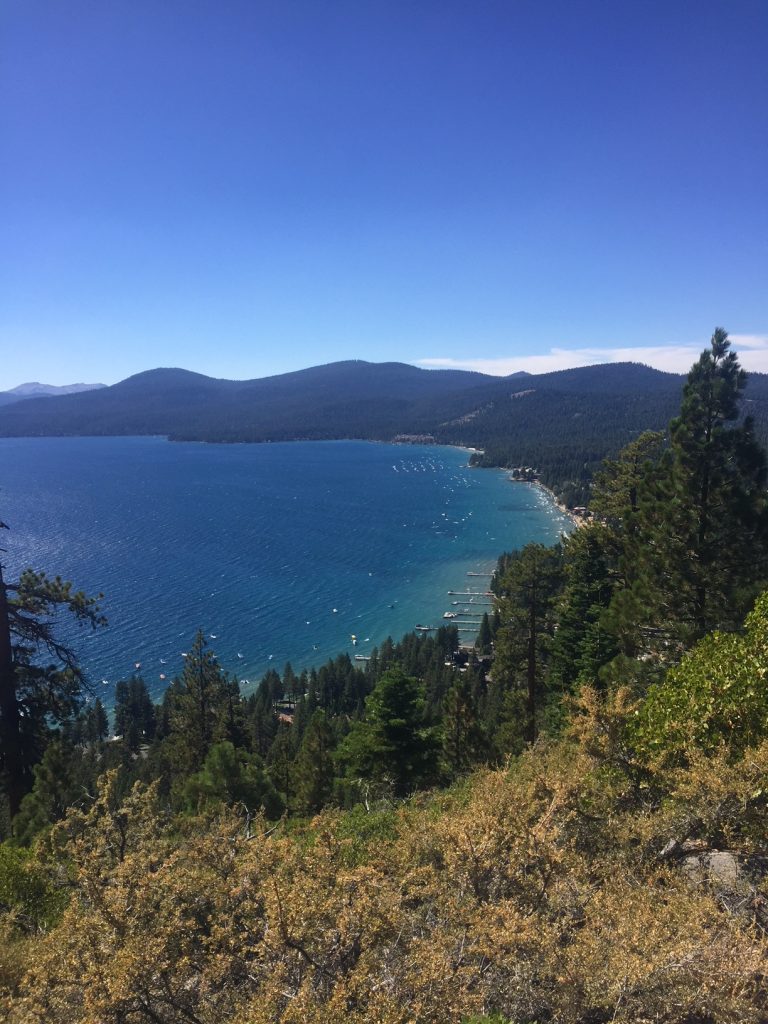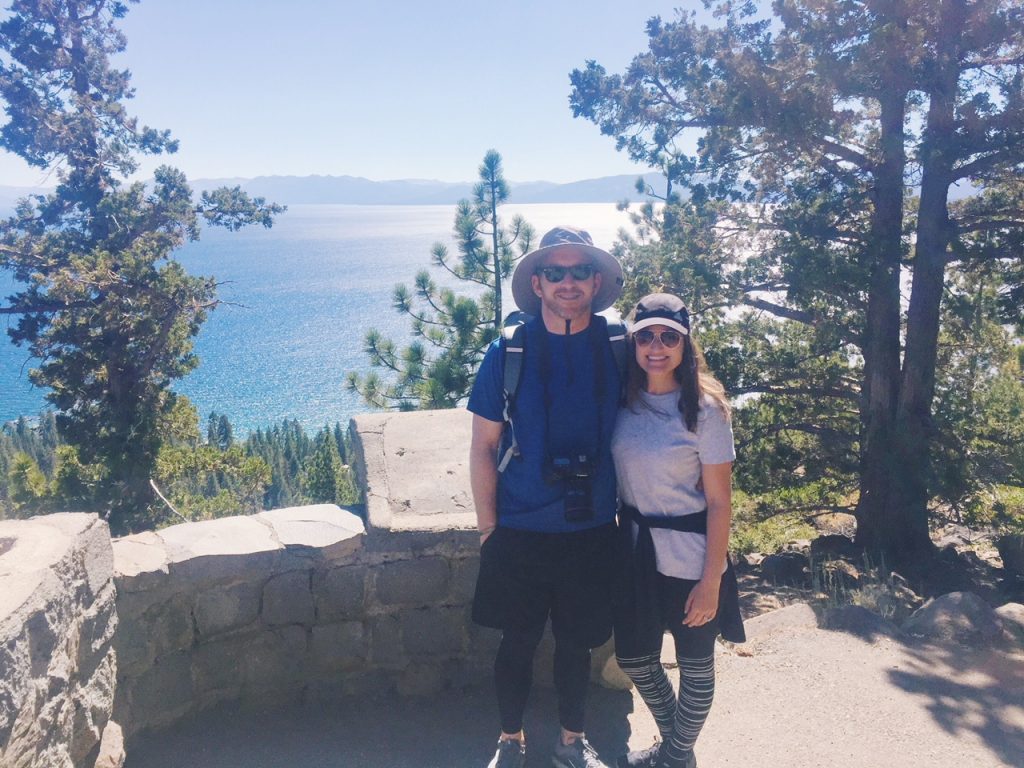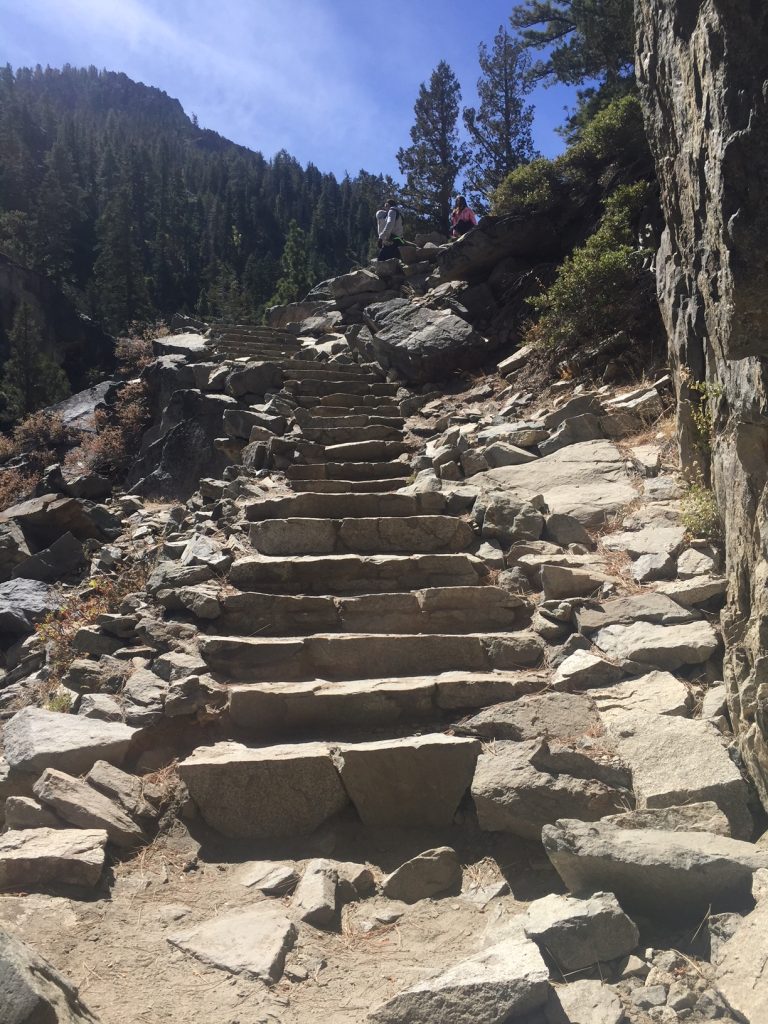 This hike was a little intense (I'm so glad I've been doing StairMill workouts out the gym… it prepared me!), but Erik kept reminding me it would be all worth it once we got to the top!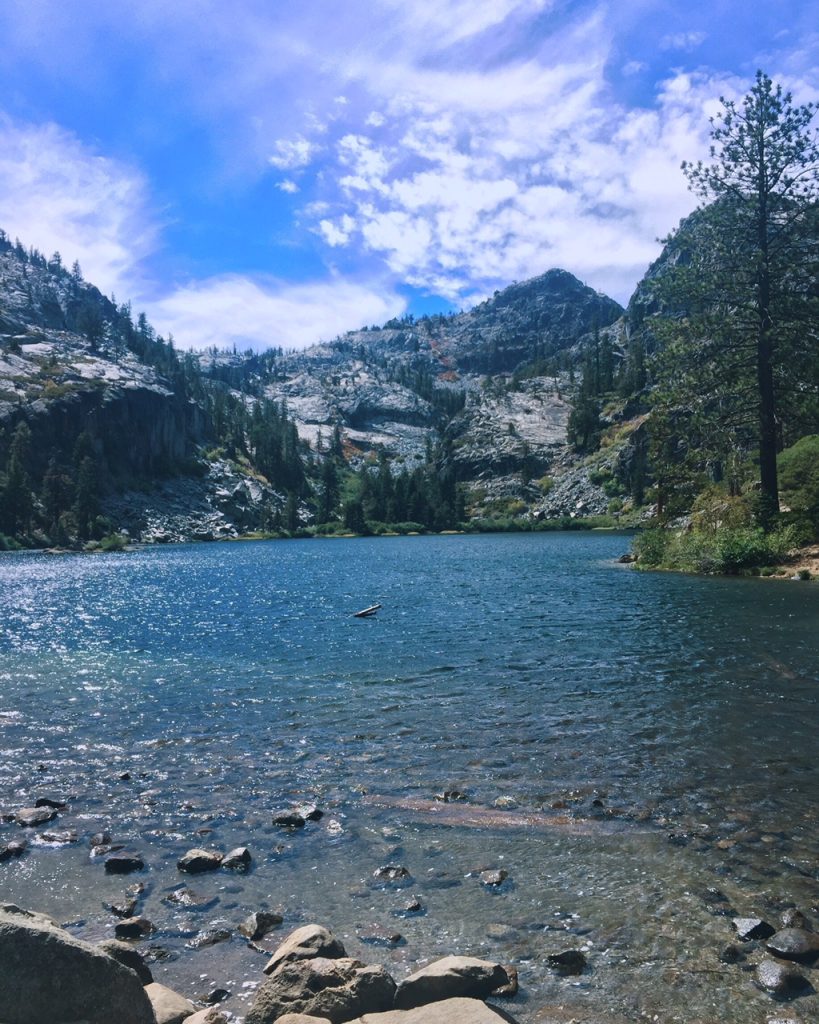 At the top there is a lake! So gorgeous and so worth it!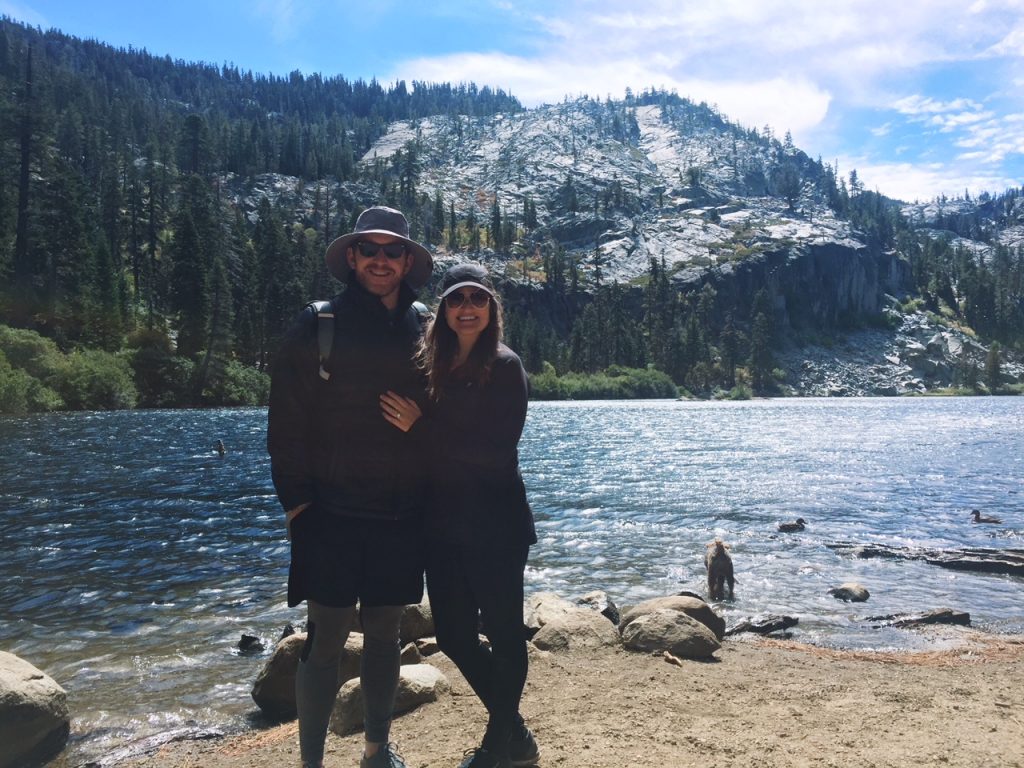 When it's hot, they say people swim in the lake to cool off after hiking. On this particular day, it was chilly and really windy!
We also did the Vikingsholm Trail which takes you to a castle! I just forgot to take pics!
 Tahoe City Marina: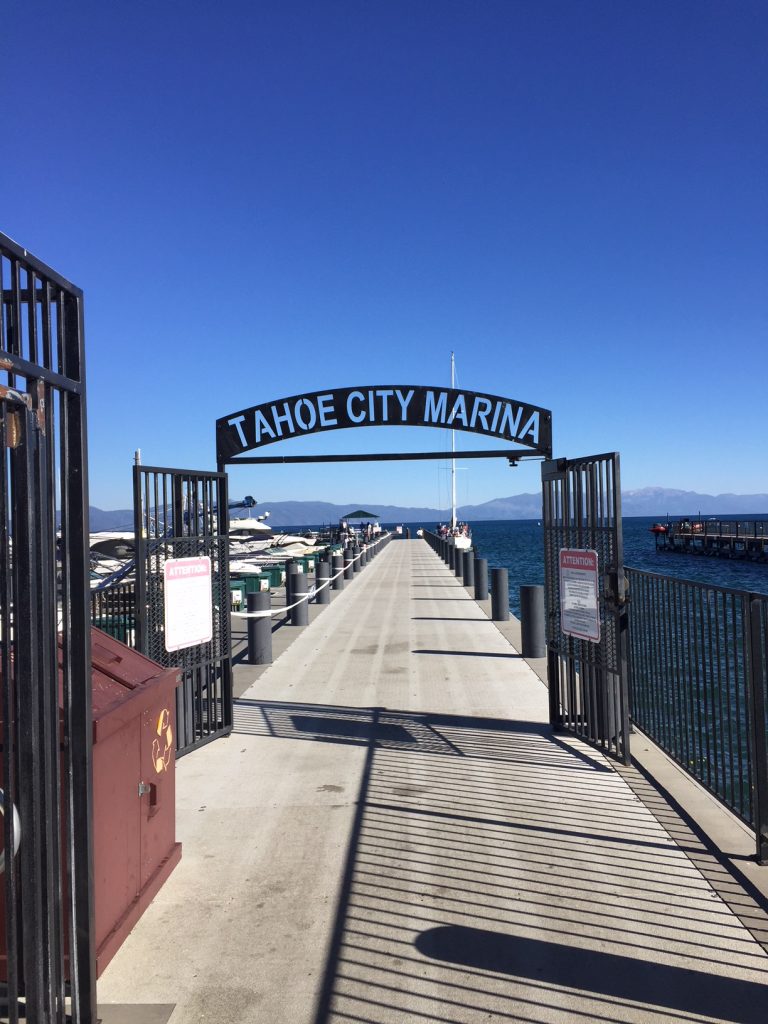 The marina was close to our cabin and was a nice place to walk around. We planned to do a sail boat tour, but it was really chilly and windy so we decided to pass on it. Next time!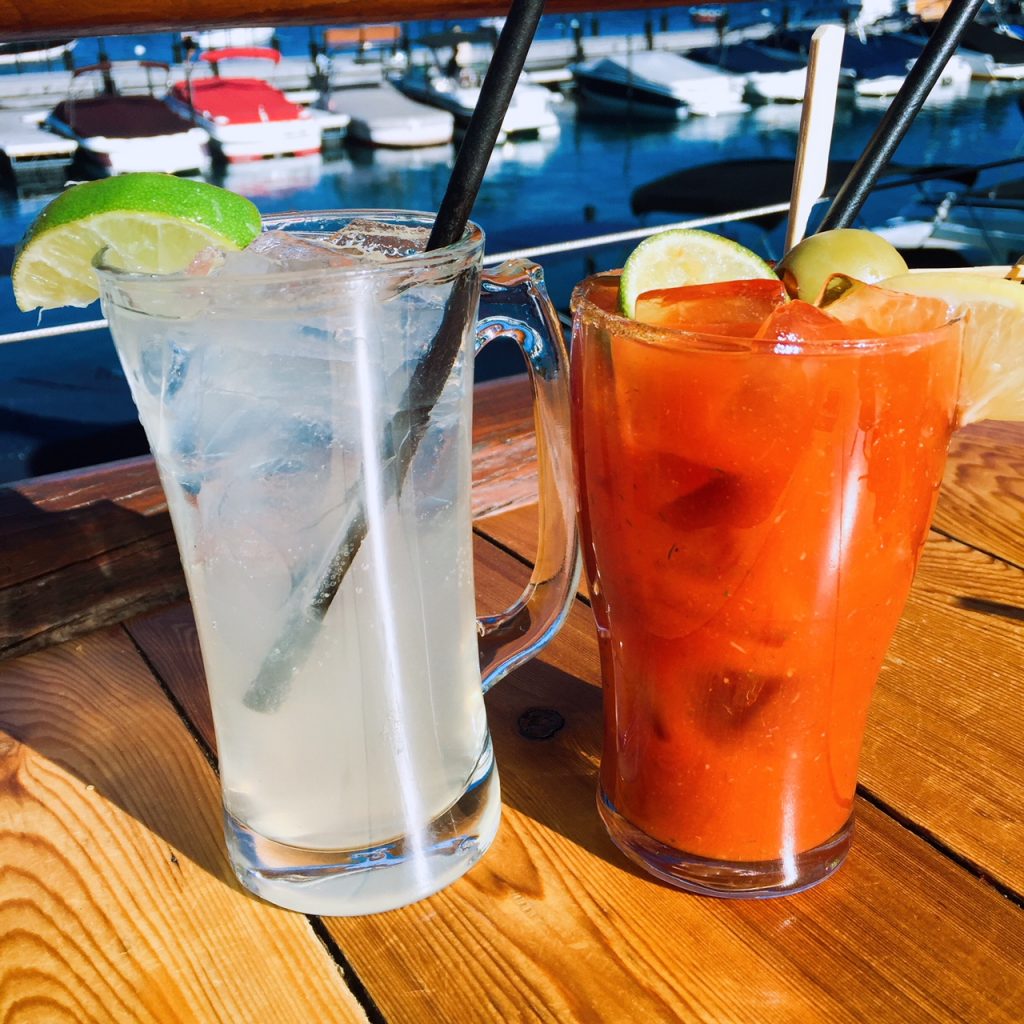 If you follow me on Instagram, you saw I posted this pic and joked that he wanted to hike, I wanted happy hour… so we hiked to happy hour! We had a drink at Sunnyside Resort (I read about how their patio has one of the best views… agree!) I researched ahead on their menu the drinks they served and made sure there was a celiac safe option. I got the "Tahoe Mule" which was made with Titos vodka (gluten free!), fresh lime juice and ginger beer (I also googled the brand to make sure it was gluten free!)… Many bloody Mary mixes unfortunately contain gluten!
If you are planning a trip to Tahoe, I highly recommend staying in Tahoe City because it's centrally located and getting an Airbnb!
It was seriously such a great trip and it made me realize I like hiking and doing "outdoorsy" things more than I thought. Lesson learned… say "yes" and push yourself to make new memories and do things out of your comfort zone because that's the only way we grow!
If you don't already, follow me on social media to follow along with my life! Lets be friend! 🙂