Greek spiced ground turkey, smothered in tzatziki sauce in a crunchy taco… a twist on tacos everyone will love!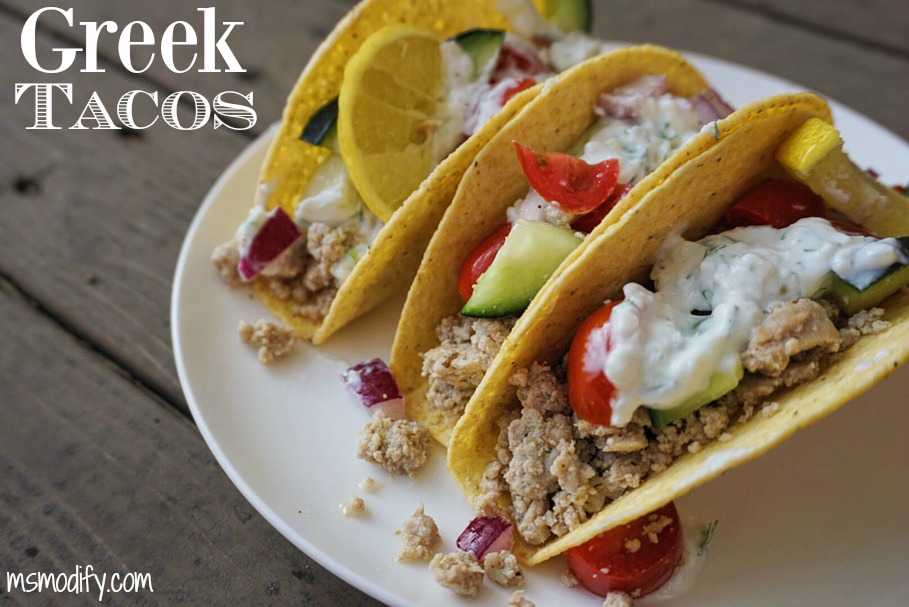 Have you ever met a taco you didn't love? I know I for sure haven't! I decided to put a Greek twist on classic healthy turkey tacos and so glad I did. These Greek Tacos bring big flavor with little work!
I hope you love them as much as I do!
Ingredients:
6-8 hard taco shells
1 pound ground turkey
1 1/2 tsp dried oregano
salt and pepper, to taste
olive oil
1 cup cherry tomatoes, halved
1 cucumber, chopped
1/2 red onion, chopped
1 cup tzatziki sauce
lemon wedges, to garnish
Instructions:
Make your tzatziki sauce and set aside.
In a large skillet, over medium-high heat drizzle olive oil and add in your turkey. Cook turkey until lightly brown and add in your oregano, salt and pepper. Continue cooking until cooked fully.
Add your cooked ground turkey in each shell and top with tomatoes, cucumber, onion and tzatziki sauce. Serve each with a lemon wedge.

Enjoy!