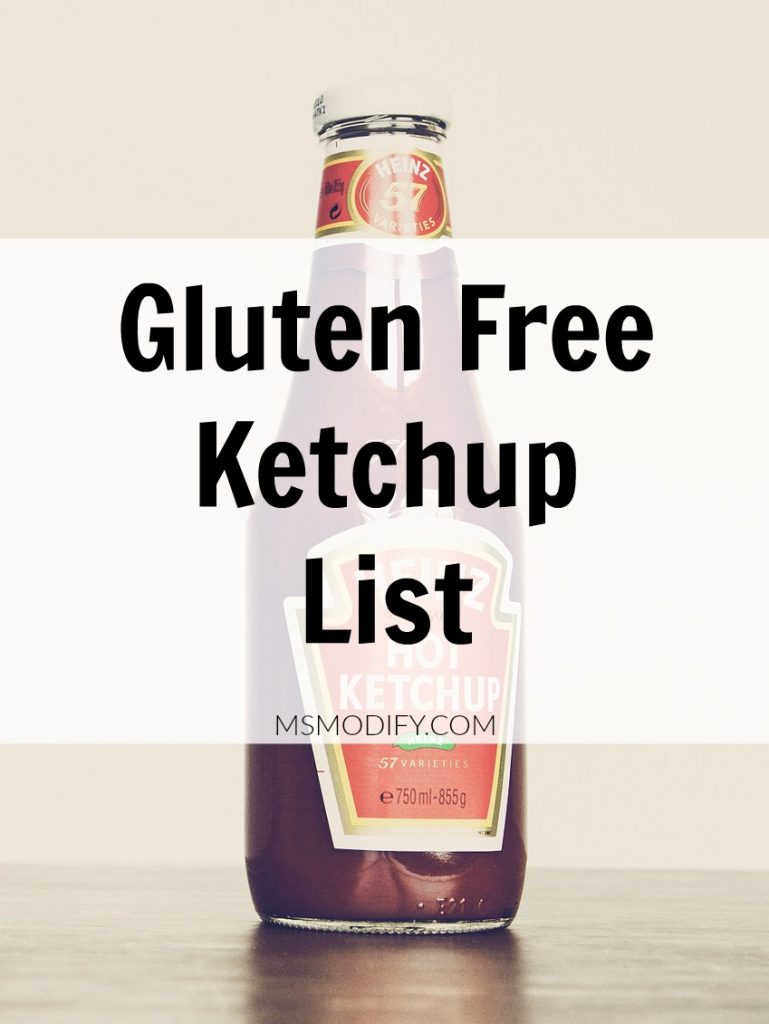 Ketchup is one of the most popular condiments out there and with summer around the corner, that means lots of hamburgers & hot dogs to lather it on! Did you know that in the US more than 10 billion ounces of ketchup are sold each year?!
In the US most ketchup is gluten free (less than 20 parts per million) however when I previously created my gluten free condiments list many people wanted more specific info about companies… so here you go!
Heinz: They report their ketchup is distilled from vinegar made from corn, not gluten containing grains.
Original

Balsamic Vinegar

Hot & Spicy

No Salt

Organic

Real Jalapeno

Reduced Sugar

Simply Heinz Tomato Ketchup
Hunts: According to the company, their ketchup does not contain added gluten, however they do not test for gluten. They also use vinegar distilled that can be derived from gluten containing grains.
Del Monte: According to their website, the following products do not contain wheat, oats, rye or barley/malt ingredients.
Original Ketchup

Quick Squeeze Ketchup
French's: They report their ketchup is gluten free (testing to less than 20 parts per million), however the vinegar they use can be distilled from wheat, so if you're sensitive to distillation even if it tests less than 20 ppm I would avoid this brand.
Annie's Naturals: According to the company, they test to 20 parts per million and the vinegar used in their ketchup is derived from corn or beets, not wheat.
Organicville: All their products are USDA certified organic, gluten free, dairy free, vegan, and made with agave nectar.
Sir Kensington's: According to the company "Our facilities have processes in place to prevent cross contamination of products. All of our condiments undergo routine gluten testing and are tested at under 10 ppm."
Classic Ketchup

Spicy Ketchup
Tessemae's: This ketchup is Dairy Free, has No Added Sugar, Vegan, Gluten Free, Non GMO, and Whole30 compliant. The vinegar in their ketchup is apple cider vinegar.
**This list is for the US. If you're in another country, please contact the manufacturer first.
Question:
What's the one thing you have to put ketchup on?!