All the delicious flavor enchiladas bring, with the comfort of pasta. This simple one-pan gluten free enchilada pasta casserole calls for little prep and easy clean up!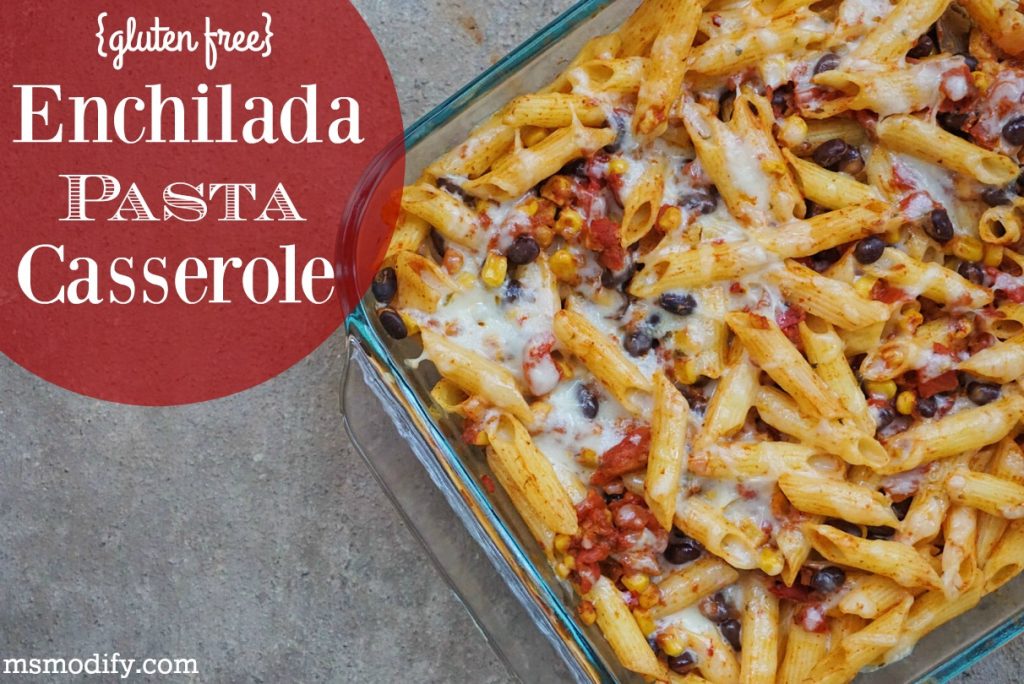 Two of my favorite food categories are Mexican and Italian. If they had a baby, they would have this enchilada pasta bake! It encompasses the bold flavor of enchiladas, but all the ease to make and comforting taste of a big bowl of pasta!
Toss these ingredients together, throw it in a casserole dish, place it in the oven and then there you have it… dinner made easy!
Ingredients:
1 box gluten free pasta (I used penne)
1 can corn, drained and rinsed
1 can black beans, drained and rinsed
1 (10 oz) can diced tomatoes with chiles (Del Monte, Ro-Tel and S&W are gf)
1 pack gluten free taco seasoning (I used McCormick gf taco seasoning)
1/2 red onion, chopped
olive oil
1 (10 oz) can enchilada sauce (Las Palmas and La Victoria are gf)
1 cups shredded cheese (I used pepper jack, but you can use your favorite)
Instructions:
1. Preheat oven to 350 degrees.
2. Cook pasta according to package instructions.
3. In a large skillet, drizzle olive oil in pan over medium-high heat and add onions.
4. Sauté onions until they soften and begin to turn translucent.
5. Add corn, black beans, diced tomatoes, taco seasoning and half of your cheese.
6. Stir everything, so it's evenly mixed.
7. Drain your cooked pasta and add it to your skillet.
8. Make sure everything is well mixed and evenly coated.
9. Pour into a large casserole dish and top with remaining cheese.
10. Bake for 15 minutes or until cheese has completed melted.

Enjoy!
Today I'm linking here for Allergy Free Thursdays!