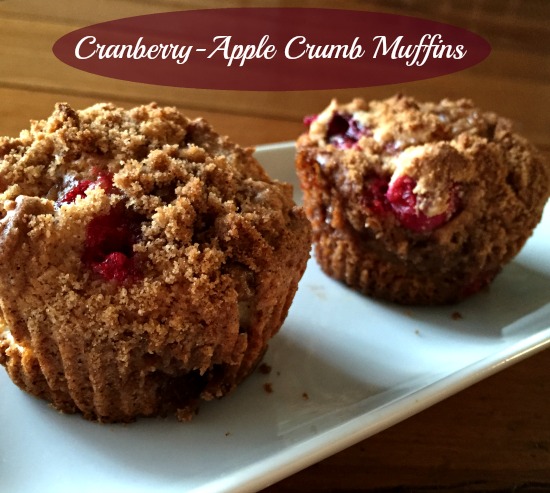 I think I have said this many times now, but these are officially my favorite thing I've baked. They don't even need an explanation other than they are so good!
I made this at night hoping to have them for breakfast for a few days, and literally they were gone the next day. Yeah, they didn't last long… see that's how good they are!
I hope they become your favorite too!
Recipe modified from: allrecipes
Ingredients:
1 ½ cups gluten free flour (I use Cup4Cup)
1 tsp baking soda
1 tsp baking powder
½ tsp salt
¾ cup sugar
1 egg
1/3 cup butter, melted
1 cup cranberries
¾ cup apples, peeled and diced
1 tsp vanilla
1 tsp cinnamon
½ tsp nutmeg
Topping:
1/3 cup brown sugar
2 Tbsp gluten free flour
¼ tsp cinnamon
1 Tbsp butter, cut in pieces
Instructions:
Preheat oven to 375 degrees.
 Line muffin pan with muffin papers (or grease pan).
 In a bowl, mix flour, baking soda, baking powder and salt.
 In another bowl, beat egg, sugar, vanilla, cinnamon, nutmeg and melted butter. Pour into flour mixture and stir so evenly mixed. Fold in cranberries and apples.
 Spoon batter into muffin papers.
 In a small bowl, mix the topping ingredients together until it becomes crumbly. Sprinkle topping mix over each muffin.
 Bake 18-20 minutes, or until toothpick inserted in the middle comes out clean.
 Enjoy!