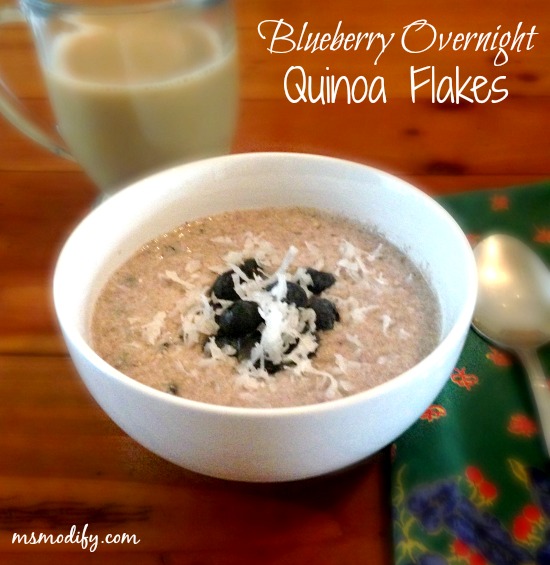 Growing up my mom always told me that breakfast was the most important meal of the day… and I never believed her. Now that I'm older and wiser (haha) I know my mom was right (when is she wrong?)!
I'm not sure if it has to do with celiac, but I'm always hungry! It seems like an hour after I eat, I'm ready for another meal! Don't worry… I resist the temptation (sometimes). Now I'm conscientious about the choices I make for meals (or snacks). I try hard to eat protein with every meal, so I was thrilled to discover quinoa flakes as a breakfast option.
Overnight anything I love! I don't know about you, but I love waking up and not having to think about making breakfast… just pour this in a bowl and you're good to go! This gives me a good 15 extra minutes on Pinterest in the morning!
(Serves one generously)
Ingredients:
½ cup blueberries
½ cup quinoa flakes
1 cup unsweetened almond milk
1/8 tsp pure vanilla extract
¼ tsp cinnamon
2 tsp pure maple syrup
A pinch of salt
Toppings:
¼ cup blueberries
1 tsp shredded coconut
Instructions:
Smash blueberries in a bowl with the back of a fork. Put all ingredients into a jar and mix. Put lid on and store in the refrigerator overnight. In the morning, pour into a bowl and top with blueberries and shredded coconut.
Enjoy!